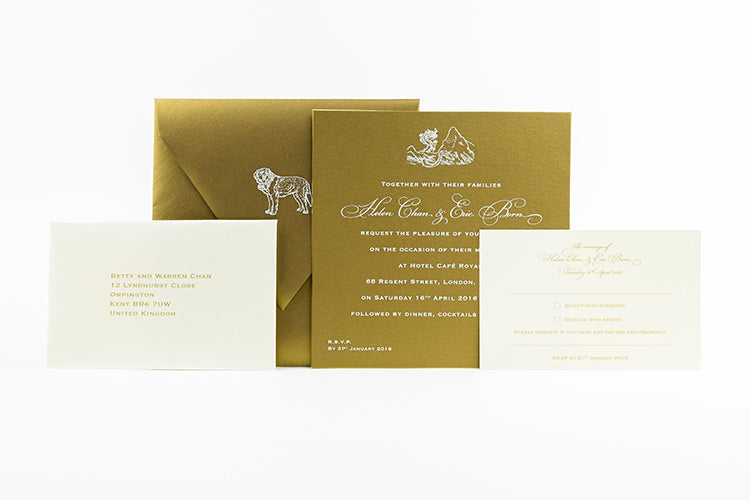 Wedding Invitation Etiquette
Are you lost when it comes to wedding invites or just looking for some beautiful designs? Your wedding invitation is what sets the tone for your celebration so you want to make sure that they are right for your wedding.  We asked Lewis R. Stevenson from Leeming Brothers for some tips.
Set your budget
Knowing what you can spend will help keep you focused. Costs vary widely depending on what printing method and paper you use, the quantity and the number of enclosures.
Picking your design 
I often find it is best for couples to come to you with some ideas of items they have seen, and then you can create something bespoke for them based on that. If you are working from a blank slate, spend some time with the couple, learn about their relationship, and favourite things, which should give an idea as to where to start with their wedding stationery, as their wedding stationery should show their styles and personalities. The type of invitation and the wording also depend on what type of ceremony they are having.
Trends
At the moment, metallic foils and botanical finishes are in. Lots of flower based cards, with gold writing and edges.
Printing types
The print method you select is integral to your suite design. These are the most common options:
Letterpress  – Blocks of metal with raised type are inked and pressed onto paper, leaving deep impressions on the surface. Creative types love this pricey technique for its hand-done, one-of-a-kind effect.
Foiling – Similar to letterpress (hot foil stamping) but uses a metallic foil rather than an ink. It creates beautiful metallic de-bossed lettering and patterns.
Engraving  – A design is etched onto a copper plate and filled with ink. When a heavy weight pushes paper onto it, crisp, raised type is formed. One of the oldest methods (and often the most expensive), it's still the gold standard for black-tie affairs.
Thermography – Raised letters are created by applying ink to paper, dusting it with a resinous powder, then heating the mix. If you want a look similar to engraving at about half the cost, this simpler process is a good choice.
Flat Printing – A catch-all term for offset and digital techniques, this inexpensive, informal, and very flexible method produces stationery that's smooth to the touch, with no raised or recessed type.
Save the Date cards
Save the date cards are more of a modern invention. Being so, means that there is no tradition or rules when it comes to the best way to word them. Do not over complicate things. The save the date is purely there to ask your potential guests to put the date in their diary so they do not get double booked. Apart from the date, the only time you might want to include a specific is if the wedding is abroad, so that your guests can start looking accommodation and flights. Send out 'Save the date' cards: 6-8 months in advance – if you're planning a destination wedding the more time you can give your guests the better.
Wedding Invites
Your wedding invite is the main piece in your wedding suite. The type of wedding you are having will determine how traditional or non tradition your wedding invitation design and wording should be. However it is wise to make sure you always include the below information:
Who – Include the full names of the bride and groom. For a formal invitation, include the full names of the hosts, too.
When – Clearly list the time, date, month and year of the event.
Where –  Include where the event is taking place, with a full address.
What – State if invitation extends to the ceremony, reception or evening party .
Guests – If you are inviting a friend plus their partner, the partners name should be included on the invite. If you are inviting children, the childrens' names should be included.
RSVP – date to RSVP and how.
Dress code – leave off if none otherwise include a dress code in the lower right-hand corner of the invite or on a reception card; "black-tie," "cocktail attire" or "casual attire" are all acceptable.
Sending out the invites
Invitations should be sent out 3 months before the wedding, so at the latest should be ordered or at least speaking to your chosen stationer 4 months before. Giving plenty of time to plan and design your suite, before printing it.
RSVP
Give your guests between 4-6 weeks to RSVP unless a venue needs answers for food and seating numbers by a certain time. In my experience, couples include a self address card or envelope, but not normally a stamp, but this is entirely up to you.
Thank you cards
Thank you cards should be sent within 3 weeks of the wedding (or honeymoon) finishing. That way your guests will still have ripe memories of the event, rather than sending them 6 months later, and they have completely forgotten what you are thanking them for!
All wedding stationery by Leeming Brothers – Leeming Brothers are experts in fine stationery and offers wedding invitation designs that suit all styles of wedding as well as bespoke wedding stationery. View their wedding range here >
For more wedding stationery inspiration – take a look at our Pinterest board >
Looking for more tips, read Caroline's tips on finding your designer wedding dress >