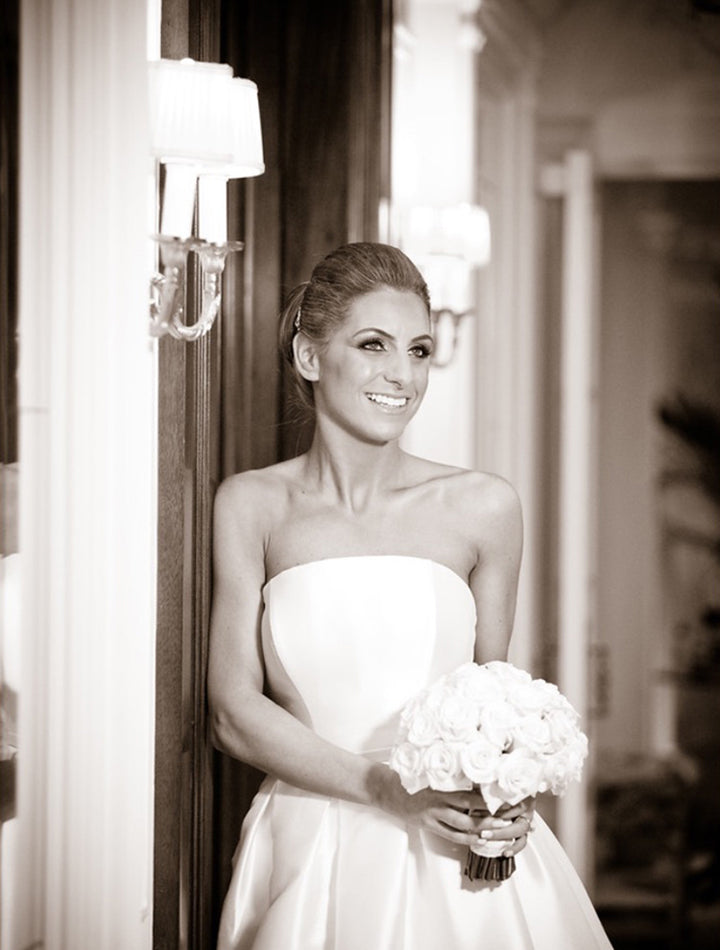 Sophie & Nick's stunning wedding at The Savoy
Sophie met husband Nick at primary school, but he didn't ask her out until he was 27. On their first date they went for a drink followed by a summers stroll in Regents Park and Sophie says she knew he would be the one she would spend the rest of her life with on date two.
The couple got married in December 2015 at the Savoy, which they fell in love with immediately when looking for the perfect venue. Sophie looked stunning in her bespoke Caroline Castigliano designer wedding gown.
The Dress
My dress was the best thing ever! Fitted me like a glove, so comfortable to wear, and made me feel like an absolute princess. I didn't want to ever take it off. I did at around 4am after the wedding, but my husband then put me into my dress the next morning to go down to our wedding breakfast with family and friends. It was absolutely stunning, every detail of the dress, my lace tops and veil, total perfection. Caroline also helped me add the little personal lovely details to the dress which made it even more special for me. My dad has had a pair of jeans that he still insists on wearing even though he has had them since I was born. I stole these and Caroline and the team sewed in a denim heart into the top of my dress, close to my heart, which was my something blue on my wedding day. I also had a pouch fitted to the inside of my dress which contained my something old, a brooch from my late grandma left for me, and my something borrowed, a handkerchief from other grandma that shared my special day with me. And of course my gorgeous wedding gown was my something new to finish all the details off!
Best moment of the day
The best moment of my wedding day was the 1st time I saw my husband Nick just before the ceremony as we had not seen or spoken to each other for the week prior to our big day! It was a really special moment, one I will never forget. The ceremony was also really special, surrounded by family and friends and officially becoming husband and wife!
Sophie's tips for brides-to-be
When it comes to the wedding dress, you know when you put on the dress that it is the right one for you. It just feels right! Enjoy every second of the day, it goes so fast but it truly is the best day in the world. And remember, enjoy the build up, it really is the best bit to share this with all your family and friends, it is such a beautiful time so relax and smile and enjoy it all!
Thank You
I can't thank the girls at Caroline enough for all their help and guidance in the build up to our special day. In particular Anna and Jess; who made the whole experience of designing my dress from start to finish even more special and beautiful. Loved every second of the process and wouldn't change anything about my experience or my dress – a dream come true!
Wedding Photography by Chiko Photograhy
.