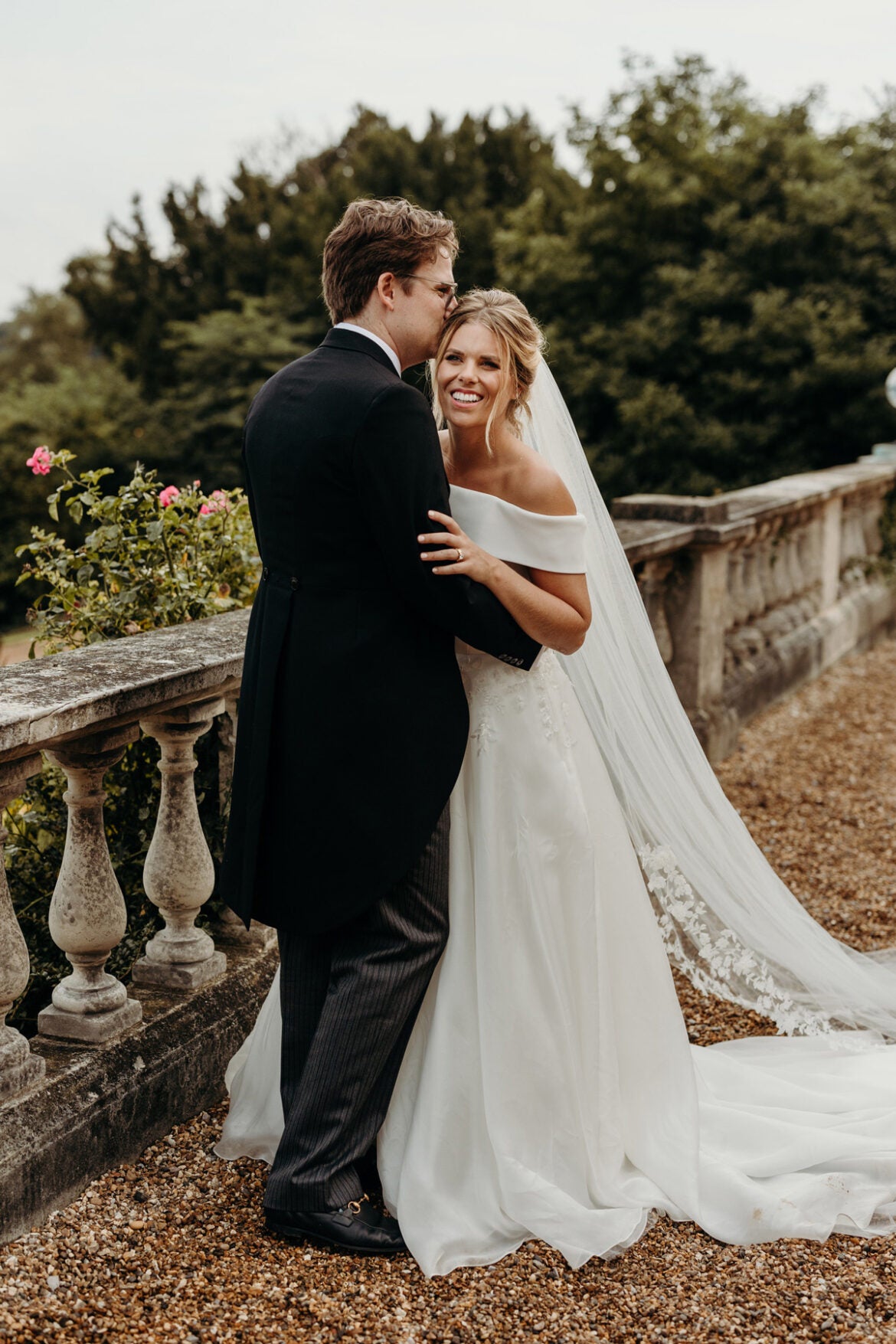 Gemma and Max's Wedding at Harrow School
After getting engaged on a beach in Bermuda, Gemma and Max decided to hold their wedding back in the UK at Max's old school for a day with a classic, timeless feel.
Where and when did you get engaged?
We got engaged in November, 2019 on a beach in Bermuda. We had been together for nine years at this point and had been living together in Bermuda for 3 years. Max was down and up like a yo-yo!
Where did you get married? Ceremony and reception? Why did you choose your venue(s)? We got married at Harrow School, which is where Max had spent his teenage years. We wanted a venue that meant something, at least to one of us, but was also in close proximity to Central London as we had a number of guests coming in from overseas. Harrow School has the most beautiful Chapel, which we were married in and Greenhill Marquees put up the most fabulous marquee on the Chapel Terrace for our reception. There are also incredible views over London from the Hill! We felt so lucky as we booked the venue in December, 2019 – pre-Covid – and did not have to change our date.
 Did you have a theme or any specific décor?
We wanted the day to feel classically British and timeless. We kept our colour scheme quintessential with greens and whites. We wanted a statement bar, which truly turned out to be a wow factor with a huge floral piece hanging above. We are big foodies so the food was a huge component for us – Bubble Food did such a fantastic job. Our dessert was an edible candle!
How did you feel in your Castigliano gown?
I truly felt like a princess in my Castigliano gown. We created a custom piece, which was the top of one Castigliano gown and the bottom of another that were put together. I immediately fell in love with the neckline but wanted some additional detailing – as soon as we overlaid the bottom of another gown (which had beautiful floral embroidery around the waistline), over the top I knew it was the one (I immediately burst into tears!).
What did you enjoy the most about your Caroline Castigliano experience?
The Caroline Castigliano team were fantastic – Adrienne was incredible. They were so attentive; they truly made it feel all about you. Living overseas and with the pandemic it made it so much more challenging to travel back for fittings. The team were so accommodating and were able to work around my schedule and ability to get back to the UK. I miss going in to the Knightsbridge store!
Best moment of the day?
Every part of the day was incredible – but went so so fast! We felt so lucky that we were able to celebrate our day exactly how we wanted (no Covid restrictions) and that travel eased in time for all our overseas guests to make it. It certainly was the best day of our lives.
Any tips for brides-to-be? This is so helpful for brides, they love reading about other girls experience.
No matter how prepared you are, the day will not go exactly as you planned and you can't control the weather! As I said before it really does go so so fast – you blink and the day is over – so please don't sweat the small (or big!) stuff. We had to start our ceremony an hour later than planned. Unfortunately an accident had happened up ahead of the coach we had put on to get over half our guests to the ceremony; they were 2 miles away. My car had gone another route and made it there on time – I had to sit in the car for an extra hour waiting for our guests to make it! The support we had from all our suppliers including Harrow, Bubble and Lucy Meehan was fantastic – I couldn't have got through the day without them, their nimbleness or the support from our families. The rest of the day was so seamless and unforgettable – the delay now only makes for a good dinner party story also!   
Photography: Richard Skins
Florist:  Fran and the Flower
Caterer: Bubble Food
Cake: Sarah Arrowsmith
Wedding stationery:  White Olive Design Studio and Made by Wood and Wood
Wedding Planner: Lucy Meehan
Brides Shoes: Jimmy Choo
Bridesmaids: Dessy
Grooms outfit: Morning Suit – Ede and Ravenscroft, Waistcoat – Neal and Palmer
Band/DJ: Scintillate
Make Up: Aimee Garner Make-Up Artist
Videographer: DFilms
Marquee: Greenhill Marquees