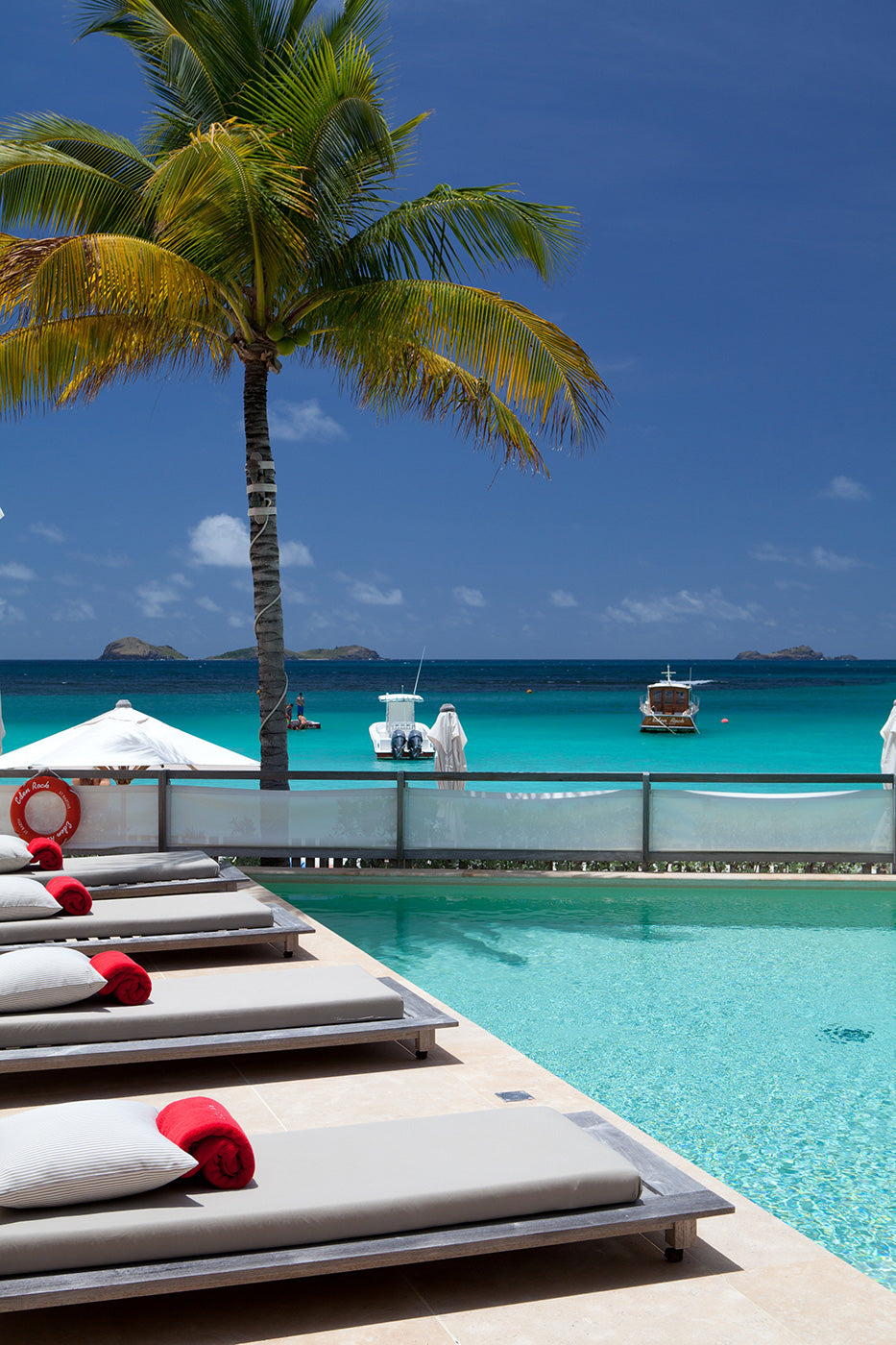 Eden Rock - St Barth's Island Oasis
At Caroline Castigliano Bridal, crafting the perfect gown for our brides' special day is what we do best. But nothing complements a stunning, handmade Castigliano bridal gown better than an island oasis venue like the Eden Rock Hotel—St. Barth's.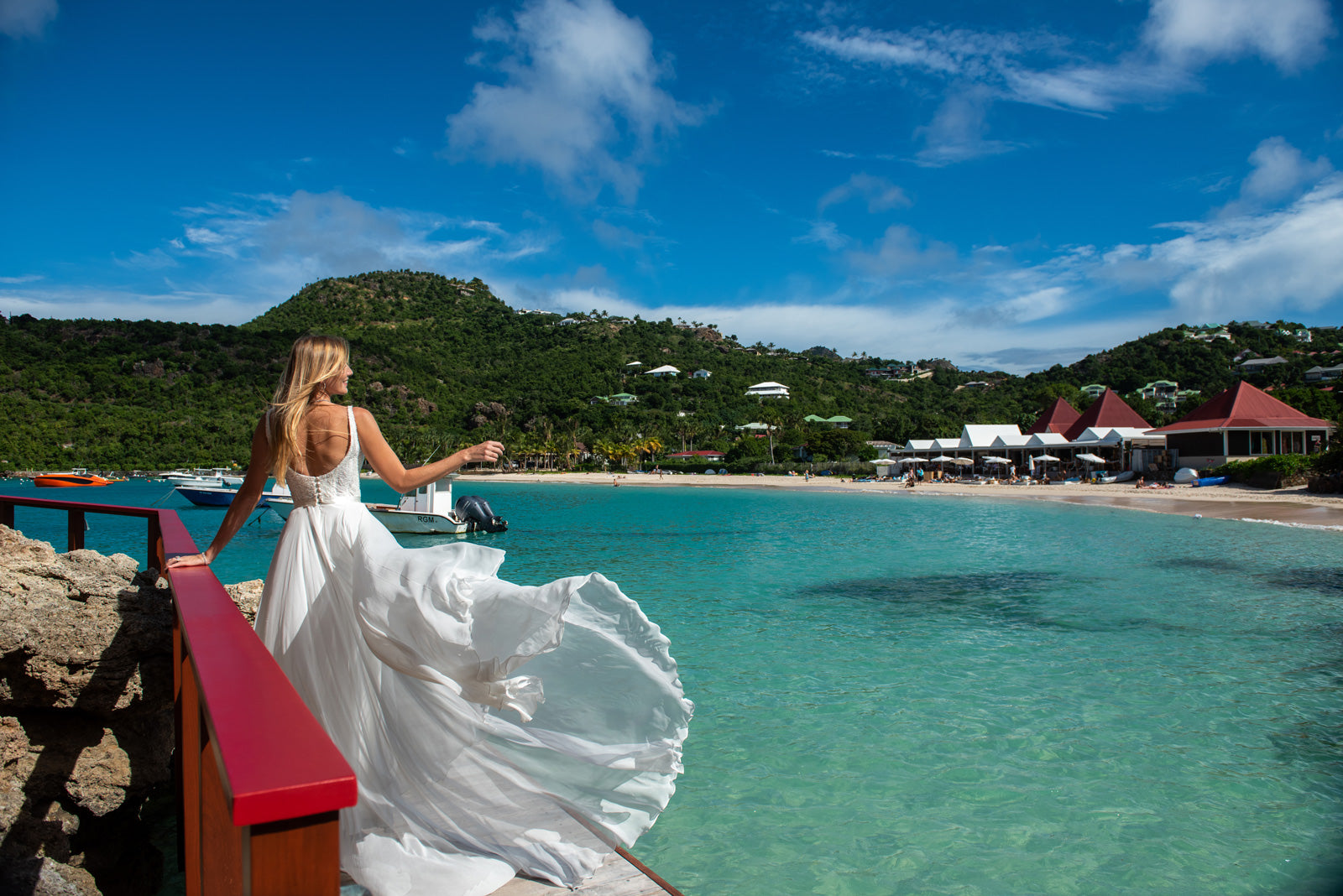 Floating within the Caribbean is St. Barth's: a dreamy island strewn with palm trees and lined with dozens of soft white-sand beaches. It's an oasis known for more than just its beautiful mountains, seascape, and untamed nature—it also has a vibrant history. St. Barth's has done an incredible job maintaining and strengthening its unique island identity, making it a magical destination for luxury, romance, and discretion. It was the perfect location for our photoshoot of the Caroline Castigliano Love Story 2021 Collection.
Eden Rock was the first hotel established on St. Barth's in the 1950s, and it's one of several luxury hotels that are some of the best in the world in the Oetker Collection—others are located in the West Indies, Paris, and Germany, to name a few. Designer Caroline Castigliano sat down with Eden Rock's General Manager Fabrice Moizan for an interview, which can be seen on the Caroline Castigliano IGTV. Moizan emphasizes that everything that Eden Rock embodies is chic and luxurious, making it an ideal wedding destination—it was voted "Best Hotel in the World" by Condé Nast Traveler in 2016. To call it iconic would be an understatement.It sits atop a rocky promontory surrounded by iconic white sandy beaches, crystal clear waters dotted with coral reefs home to colorful sea life. And the rooms are just as magnificent. They have 37 different rooms, ranging from beach front suites to pool-side villas to match any travel style. Each room is adorned with classic wooden details to complement the breathtaking views. Nothing beats the Villa Rockstar though—a 1480 square meter ultraluxe multi-faceted house resembling "a two hundred-million-dollar yacht on land." And it just so happens to be Leonardo DiCaprio's favorite villa at the resort, with chef and butler service around the clock for all 12 guests. Leo isn't the only celebrity who loves Eden Rock—Beyoncé, Rihanna, and Jennifer Lopez along with Greta Garbo, Howard Hughes, Robert Mitchem and David Rockefeller have all  stayed there too.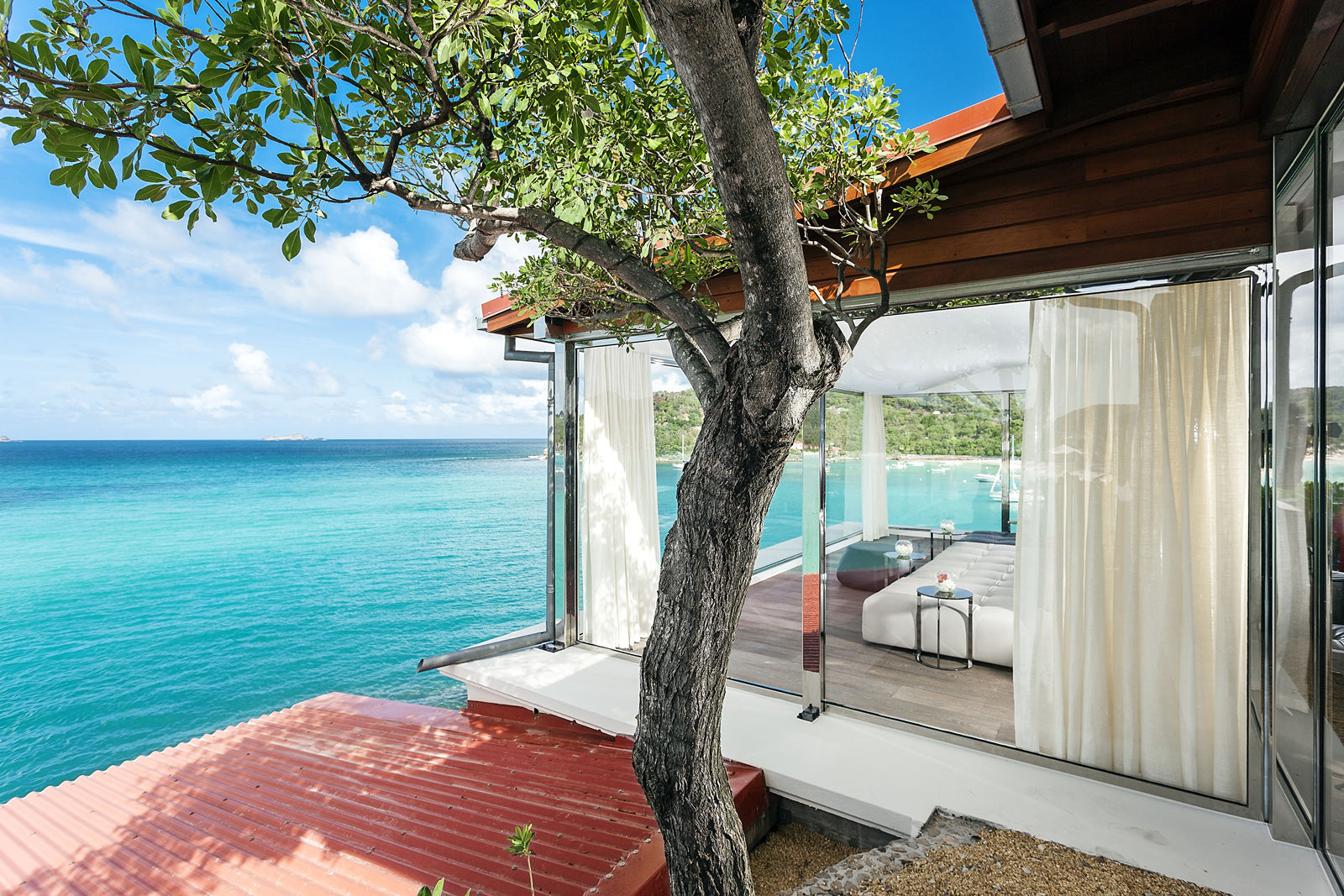 There's more to do at Eden Rock St. Barth's than sunbathe. Adventurous guests can take part in a wide variety of water sports just steps away from the hotel. Stand-up paddle boarding is just one great way to bond with your partner and get your hearts racing (as if you need more of that on your honeymoon!).
Once you've spent enough time in the sun, you can retire to the Eden Spa where you can enjoy facials and massages using artisanal Ligne St. Barth products. The natural ingredients mixed with expert touch create a magical, soothing experience—absolutely essential during the chaos and excitement of hosting your wedding. The spa is an ideal experience for your honeymoon as well. It's an oasis where you can relax in private with your forever partner.
After you decompress at the spa, you can head to one of Eden Rock's three restaurants: Sand Bar, Rémy Bar, or Beach Bar, all lead by Michelin-star chef Jean-Georges Vongerichten.
At Sand Bar, enjoy signature classics like truffle pizza and crispy salmon surrounded by a new colonial style atmosphere, live DJ, and a view of the Caribbean. If you want to treat your senses to divine elixirs and luscious gastronomic bites, head over to Rémy Bar—named after Eden Rock's first owner. The young French team behind the bar are friendly and fluent in both English and French. If you don't want to leave the beach, check out the Beach Bar, which sits on a gorgeous wooden sundeck set directly on the sand. The Beach Bar has everything you need, from full-service Wi-Fi, to comfortable sun loungers, to delicious bites and cocktail creations. It's the perfect place to soak in the island vibes of Eden Rock St. Barth's.
Eden Rock St. Barth's has everything it takes to make a bride's special day even more special. Uphold a luxurious feel for wedding guests while being steps away from the soft white sand and sparkling Caribbean Sea. Guests, and most importantly, the bride, will have everything at their fingertips to enjoy a chic, relaxing celebration.
The Caroline Castigliano 'Love Story' collection was photographed by Chrystele Eescure who works closely with Eden Rock, contact Chrystele on ps.stbarts@gmail.com and follow her IG chrysteleescure.