A Guide to Choosing Your Perfect Wedding Gown
The ceremonial centrepiece – your wedding gown is a true reflection of your personality and style and says so much about you as a woman.
Step forward, Caroline Castigliano. Caroline has been realising bridal dreams for over 30 years and cares about your dress as much, if not more, than you do.
Let the occasion lead
For most brides, the type of wedding you're hosting will play a large part in deciding your dress. Seasons, locations, themes, and the overall ambiance you're looking to achieve will inevitably exclude some styles while bringing others to the fore.
For example, a spring or summer English country garden wedding may call for romantic lace or the frothiest tulle, a sun-drenched destination with the most delicate silks. In contrast, winter weddings can command heavy embellishments.
But you may also decide to tear up the rule book altogether. The wonderful thing about your wedding is that anything goes.
The initial edit
We recommend that every bride do some homework before your appointment. Raid the glossy pages of bridal magazines and Tatler, subscribe to Vogue Weddings, or create virtual mood boards on Pinterest and Instagram. After a while, you'll start to notice themes and patterns emerging from what you're saving – styles, silhouettes, and shades. This edit can help to focus your mind, revealing what's important to you. You don't need to devote hours in one sitting, do a little each week, and by your first appointment, you'll be armed and ready with a lookbook.
Remember, though, that while your lookbook will help your stylist understand your vision, the stylist will also have many ideas of different gowns she would like you to try on to achieve your final look.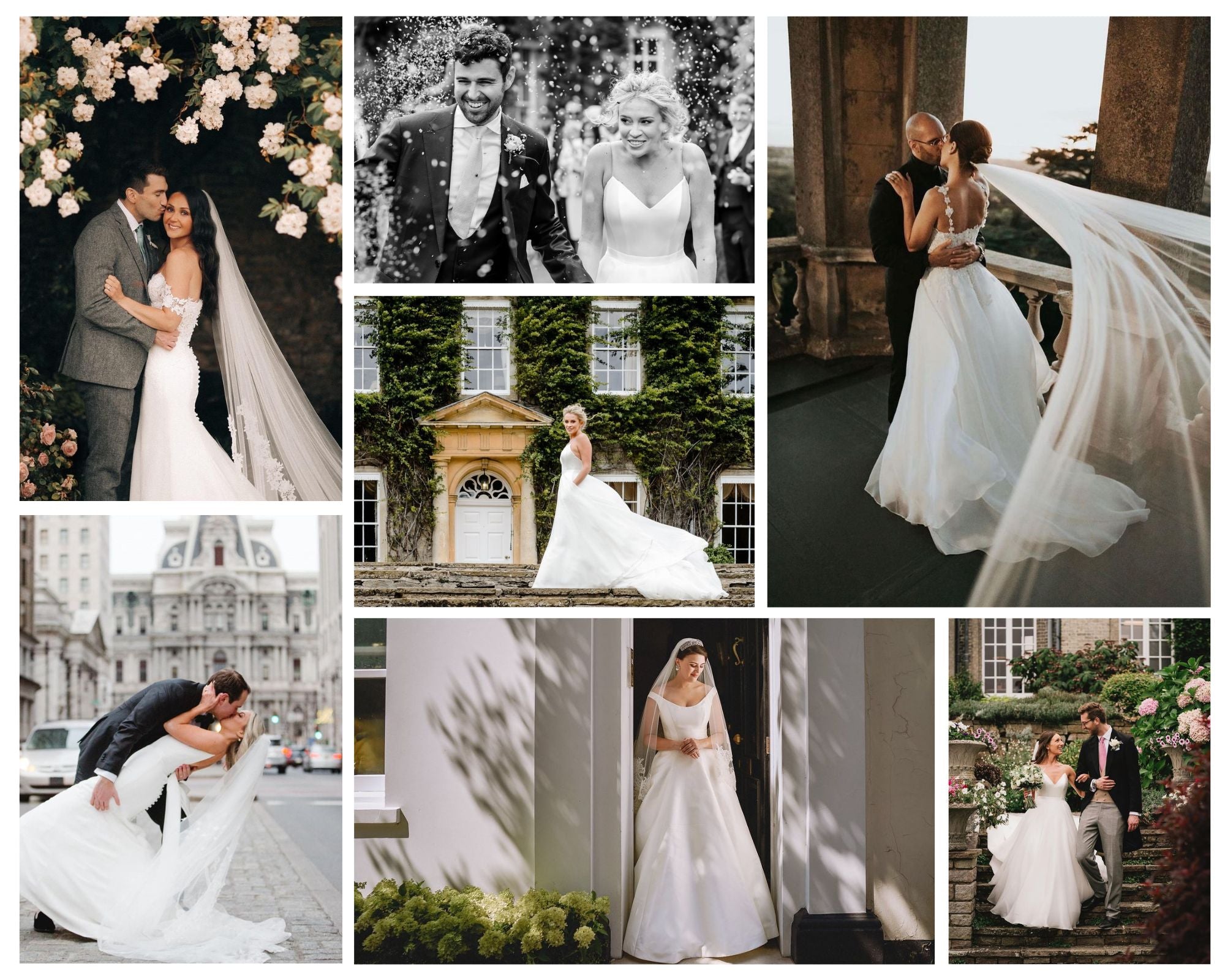 Trend or foe?
While trends undoubtedly have their place, be warned about being drawn to fashions that could date. After all, it's thought a bride is photographed over 3,000 times on her wedding day, photographs that will adorn family mantelpieces for generations to come.
To capture a timeless but contemporary quality, we recommend you consider micro-trends, adding just-stepped-off-the-runway polish with touches that won't overwhelm the ensemble.
This year, our brides have been choosing dashes of effortless, understated glamour in the form of stunning silhouettes and exquisite laces.
Details matter
Watchful wedding day guests aside, it's important to remember that after the day itself, your dress becomes an heirloom piece, unwrapped for anniversaries and pored over by children in years to come.
Adding a dusting of personal touches, for example, bespoke detailing in the lace can make these treasured moments even more special. Consider nods to the overall wedding theme, your family heritage, or motifs that tell the story of who you are as a couple.
Recently our brides and their families have been requesting hidden embroidery in their gowns – dates, initials, and loving messages sewn into linings and layers.
The one (or two, or three)
Increasingly brides are choosing more than one dress to commemorate their special day.
You might have a wedding of two halves, scattering celebrations across countries and continents. Or you might choose something formal for the ceremony, followed by something with more movement for dancing the night away at your reception.
The Castigliano cardinal rules
Three key components define our tradition-defying silhouettes: cut, fabric, and movement.
The architecture of a gown is critical; get the foundations right, and the rest will follow. We've created bespoke corsetry and couture undergarment techniques to sculpt and enhance every figure, every piece hand cut and sewn for absolute precision.
Luxurious European fabrics bring our designs to life. During your appointment, we'll explain the beauty of the materials we work with, from the world's leading lace houses to show-stopping silks with weights, characteristics, and iridescences that play a large part in the overall look of your gown.
Then it's about creating movement, and our skilled artisans are experts at shaping gowns that exude effervescent femininity. Nothing is more striking than a gown that moves and dances with its wearer.
Ready to request your appointment?
Make an appointment knightsbridge
find a boutique
Email: knightsbridge@carolinecastigliano.com
Call: + 44 (0) 207 590 9120