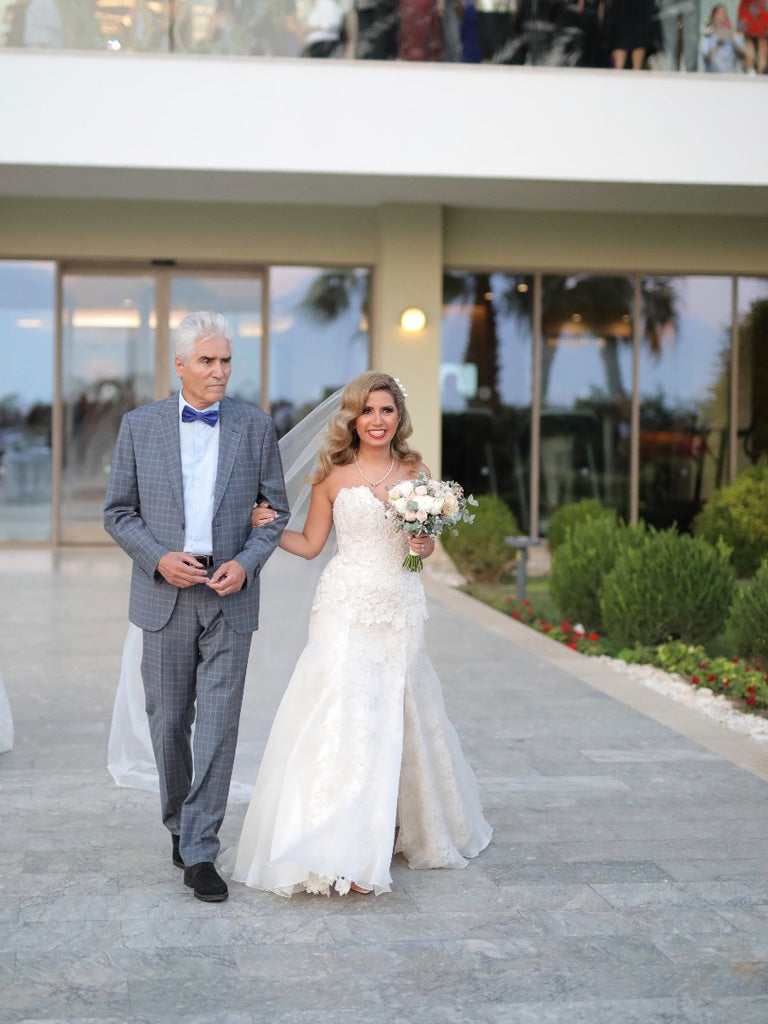 Haleh & James' 3-day UK and Turkish Wedding
After a romantic proposal at The Shard, Haleh and James planned a triple, week-long wedding event in the late Summer of 2019.
Where and when did you get engaged? Tell us what happened? James proposed in a hotel room at Shangri-La at The Shard. It was my 30th birthday and I actually worked in the offices located in the Shard and had always dreamt of staying  at the hotel years back when it was being built.
On the day of my 30th I went to work as normal with an overnight bag and received some drinks at work along with a lovely cake by our favourite from Konditor & Cook! After work I meet James by the escalators and was taken to Shangri La! He had upgraded the room to a suite and had arranged everything a girl could want; flowers, a gorgeous cake, a big box of present and card on top of it which is always my favourite part of any occasion and the first to open. We were sat on the sofa and I was excited sipping on my glass of champagne with the gorgeous views and I started reading the card which had the most emotional message on it, by the end I was in tears of happiness. Then James said, "and there is one more thing". He went onto his knees and presented a beautiful ring.
Where did you get married and why did you choose your venue(s)?
We had three events! The ceremony was at Guildford registry, followed by afternoon tea with the immediate family and bridesmaids at the Harbour Hotel in Guildford. The big celebration was 4 days later at Akra Hotel in Antalya, Turkey. And the third one was a smaller affair in our back garden with a marquee and beautiful flower arrangements by mother in law and her tea girls.
Did you have a theme or any specific décor?
No particular theme. The bridesmaids, groomsmen and James wore Navy. We then accessorised with white, gold or soft pink.
How did you feel in your Castigliano gown?
I loved it and I want to wear it again! I'm thinking maybe a 5th year anniversary may give me the occasion to wear it again? Or a scene out of friends, where I will be sitting with my best friends eating popcorn and watching a movie! Of course when we're allowed!
What did you enjoy the most about your Caroline Castigliano experience?
I loved the designs, quality and the expertise. I also loved the head seamstress' attention to detail. She was so incredible throughout. I actually felt safe in the hands of Juliet, and she was so wonderful throughout the whole experience. And It was a bonus brownie meeting Caroline herself in the shop.
We felt welcomed, and the glass of champagne really made the whole experience an event in its own right!
Best moment of the day?
Walking down the aisle, the emotions, the view, the confidence in my dress. All priceless
Any tips for brides-to-be?
Buy your shoes first as you need it for the dress fittings!
Don't skip the wedding planner, especially not for the day. It will take a lot of pressure off you and your wedding party specifically
Get a photographer that you get along with, and get to know their style of photography
You know you've found your wedding dress when you get the butterflies
Cake: Jelena's Cakes
Brides Shoes: Public Desire
Bridesmaids: Chi Chi London
Grooms outfit: Mrs Bow Tie
Hair:  Mari Ajakainen