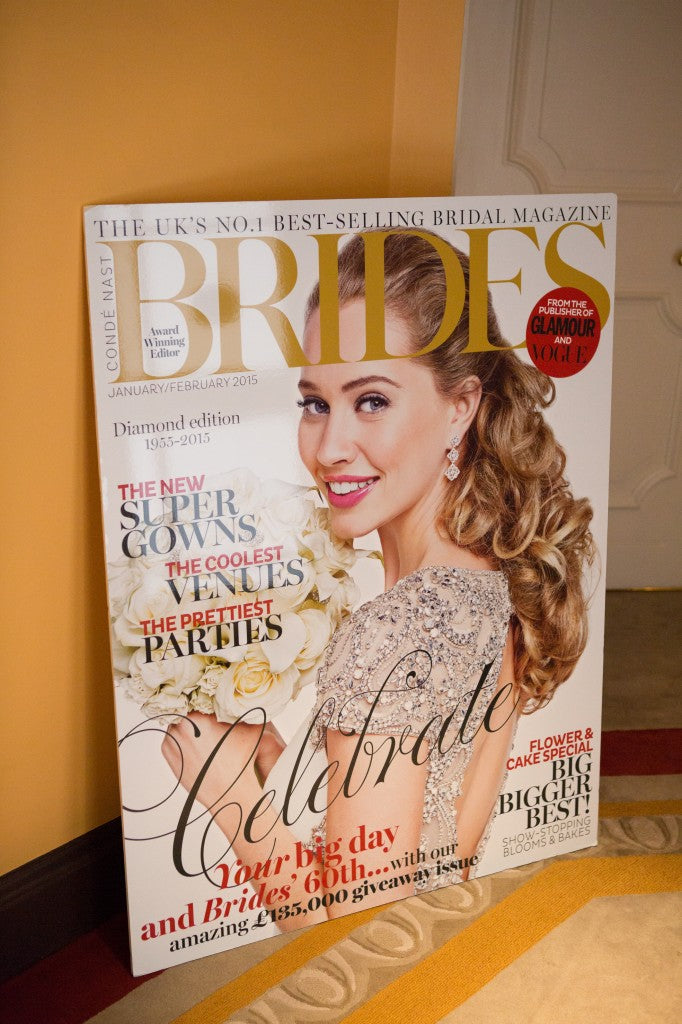 Caroline Castigliano and Brides Magazine Introduce- Afternoon Tea at The Dorchester
Here it is, the article you've all been waiting for! Were you there? Did you miss it? Well not to worry either way because we've captured all of the beautiful details below just for you (and there are even more to come over the next few days)…on the 22nd February Caroline Castigliano and her fantastic couture team of experts ventured to the Dorchester, where they were joined by a selection of truly amazing team of experts: Daniel Morris-Gibbons from Bespoke Events, Bruce Russell, Louise Ortelli from Michael Van Clarke, Saskia Braacx from Bobbi Brown, Niki Rein owner of Barrecore, Nikki Tibbles owner of Wild At Heart, Freya Rose, Andrew Prince and Richard Smith Burnell…
This fantastic group of expert's spent the afternoon helping more than 100 women with ideas on how to create a truly spectacular wedding. Brides Magazine captured this stunning event, along with Lucy Davenport- our photographer for the day!
With well over 200 amazing photographs captured, we've shared a selection of our absolute favorite's with you, just read below to see how this spectacular Afternoon Tea event at the Dorchester was staged:
Caroline Castigliano's models are being transformed in to the beautiful brides to exhibit Caroline Castigliano's 2015 Bridal range as well as her exciting Little Black Dress range- her highly anticipated Evening Wear line wowed the audience at The Dorchester. Stay tuned to read an exclusive article telling you more about this range.
At the Caroline Castigliano Knightsbridge store you'll find an amazing selection of wedding dresses, evening dresses for your special day, event or occasion.Our models really brought these gowns to life for our audience, along with some stunning accessories and footwear from the fantastic Freya Rose and Andrew Prince.
The audience were spellbound as our models swept through the room, radiant in Caroline Castigliano's designer wedding dresses.
Of course this event (like any other event or wedding day) isn't complete without the 'room dressing' and who better to dress the room than the talented, fabulous and amazing Nikki Tibbles- owner of Wild At Heart.
With advice, guidance, hints and tips on hand from the amazing Daniel Morris-Gibbons from Bespoke Events London, one of the world's leading event design and production companies. Plus Bruce Russell, wedding planner extraordinaire! Our wedding Guests had the opportunity to sit and discuss their weddings, ideas and thoughts with these 2 talented and incredibly knowledgeable men.
With hair, makeup and fitness experts on hand also with Louise Ortelli from Michael Van Clarke, Saskia Braacx from Bobbi Brown, Niki Rein owner of Barrecore – Brides to Be and their guests were able to get the best advice, knowledge and help to make sure they look their absolute best at any event they attend!
We were so proud and grateful for every single person involved in our Afternoon Tea Brides Magazine event at the Dorchester, it was certainly an event to be remembered…here are some more photos for you to enjoy from this fantastic event!
All of our Wedding dresses and Evening dresses are available to view and try at our Knightsbridge store in London, simply call us and make your appointment at the Caroline Castigliano Flagship store.