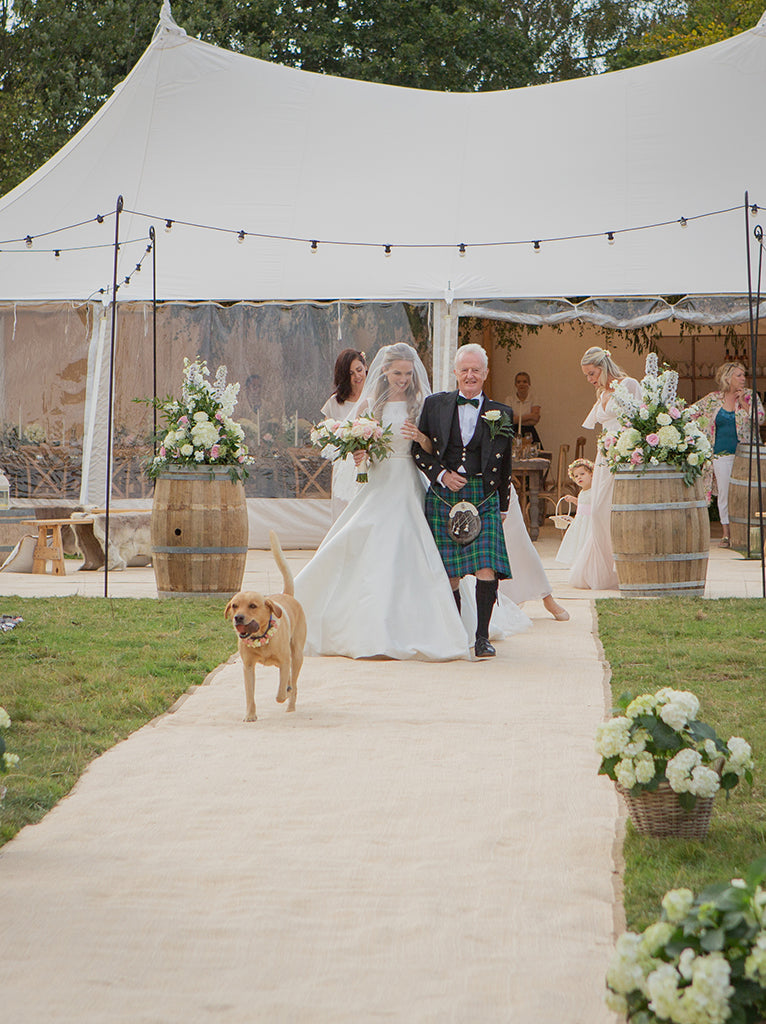 Alex and Will's Socially-Distanced English Country Home Wedding
Alex and Will had planned a classic country wedding at her family's home in Rotherfield, surrounded by the rolling Sussex countryside, but then life (or rather Covid-19) intervened to force a change of plan. With new rules and social distancing in place, their wedding day became something different, but the location and the overall vision remained true.
The English country wedding is a time honoured format – celebrated in film and life – and this was just what they had always planned. "I wanted the wedding to have a relaxed feeling with the dogs running around – a country at home feeling," says Alex. She and Will had set the date and started to put everything in place. It would be at her parents' house in East Sussex. "It's where we spend a lot of time at weekends, Christmas, Easter – basically whenever I can be there as I love being in the country, seeing my family and the dogs."
They had planned for a traditional format, with ceremony at her local church and party in the back garden at home. Originally, the guest list was going to run to around 150 people. Once the plans started to shift there was, says Alex, a lot of back and forth to decide how to proceed. But in the end they decided to stick to the original plan, albeit with a new and much smaller guest list, and make some clever adjustments.
And so, on a beautiful summer's day, guests and family gathered in Rotherfield. The couple started their wedding day at the village's lovely church. "We had a very small ceremony in the church, with my parents, brother and maid of honour and Will's parents and his brother, who was best man," says Alex. She and Will had decided to keep numbers small for a very good reason. "I didn't want all my guest in masks." The ceremony was beautiful and her father was still able to walk her up the aisle, with Will and Alex coming down the church path to the traditional cloud of confetti petals.
With ceremony over, family and guests returned home. The setting, in a field behind their garden, was something special, offering beautiful views over the rolling Downs. It needed very little dressing but had delightfully rustic hay bales for guests to sit and enjoy the pastoral view. There followed a lovely alfresco ceremony under a glorious floral arch so that everyone who couldn't be with them in the church could be with them here.
This meant that the bride was walked up the aisle twice – a personal and very elegant solution that meant everyone could feel part of Will and Alex's special day. The original colour themes had remained unchanged, with glorious pale pinks and creams and lots of green foliage. Alex says she went big on flowers – a decision that definitely paid off as they added amazing colour to this glorious country scene. "They were amazing!" she says.
Alex's bridesmaids wore lovely soft pink Maids to Measure gowns, while her flowergirls were in pretty white gowns with floral headbands and big pink sashes. Alex wore a beautiful sleeveless silk dress by Caroline Castigliano, paired to Jimmy Choos and a glorious custom-made veil by Unveiled by Sophie. "She creates bespoke veils that are amazing – she sources the silk and the lace," says Alex.
After this special ceremony and lots of photographs, everyone moved into the marquee for the wedding feast. Canvas had been dressed for the occasion with lavish garlands of flowers, elegant candles and neutral linens, with sides left open to make the most of the High Weald views and the summer weather. Alex and Will were incredibly grateful to the team from Papakata, who did everything possible to help make their marquee a wonderful centrepiece of the celebration. "Honestly, amazing in the planning and all the changes due to Covid. The guys who came to set up and take down were just so great! We would highly recommend them."
While this wasn't on the scale of the country wedding Alex and Will had originally planned, it was a perfect day, fulfilling all the originals of their vision. Alex says: "The best thing about our celebration was being with friends and family and dogs at home, and the lovely weather."
Her advice to other couples is to stress less – wise words indeed from a bride and groom who really did have to rethink plans from the ground up. "Everyone says this but the day goes so quickly after so much planning, you really need to try and take it all in. I stressed so much over so many things, but actually none of it matters in the end," says Alex. "Obviously, it was going to be much bigger, but in hindsight I wouldn't change things – the size was perfect."
Venue: Canvas garden marquee by Papakata
Photography: Bill Sykes
Bride's dress: Caroline Castigliano
Bride's custom veil: Unveiled by Sophie
Bride's shoes: Jimmy Choo
Bridesmaid dresses: Maids to Measure
Flowers: Highgate Florist & Growers, Rotherfield
Catering: Bonnie Taylor For Friends