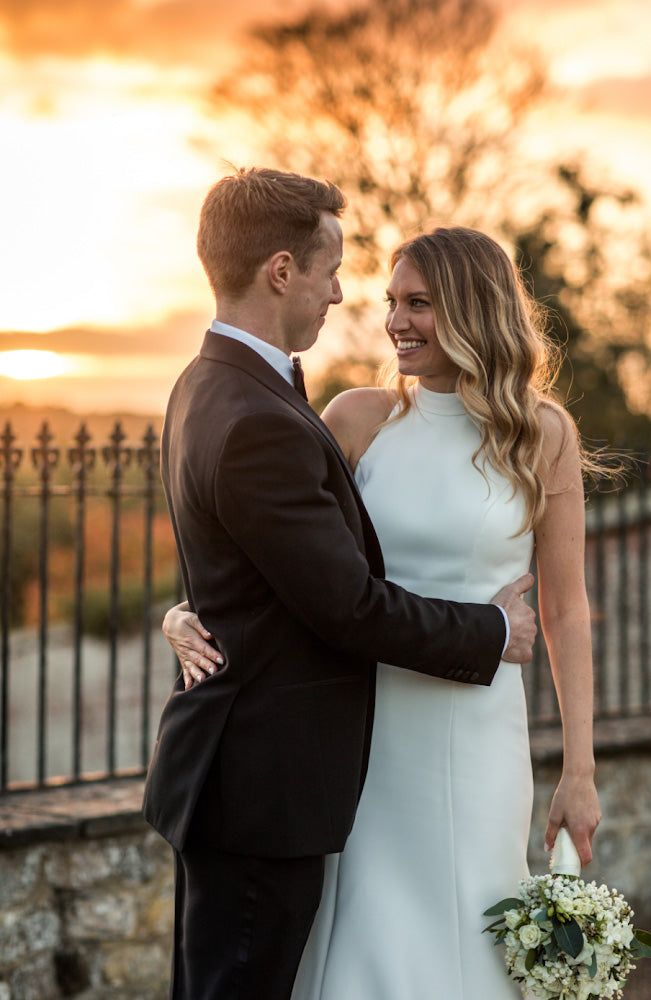 Katie & Ross' Micro Wedding at Cowdray House, West Sussex
After being forced to postpone their wedding due to Covid Restrictions Katie and Ross decided to change their original plans of hosting a party for 150 so they could tie the knot in Autumn 2020. Their day was held with fifteen nearest and dearest with a very special and intimate reception at Cowdray House in West Sussex.
Where and when did you get engaged? Tell us what happened?
We got engaged on St Patrick's Day 2019 (17.03.19), 3 years to the day we met.  We went over to the west coast of Ireland for a long weekend (my husband is Irish) and he proposed on top of the cliffs of Moher.
Where did you get married and why did you choose your venues?
We got married at Midhurst Parish Church in West Sussex and our reception was down the road at Cowdray House.  We chose this venue because I grew up in the area and originally our wedding was meant to be for 150 people so this provided the perfect venue that allowed lots of our friends and family to be able to stay on site.  The original wedding was in April 2020 and we rearranged for October 2020.  There was so much uncertainty with the pandemic leading up to the day but we had set our hearts on a reception at Cowdray, so with the help of our amazing suppliers we created a very special and intimate reception for 15 people.
Did you have a theme or any specific décor?
No, just a simple, classic feel, with a black tie dress code.  This worked particularly well for such a grand venue.
How did you feel in your Castigliano gown?
I felt amazing, very elegant and confident which is not how I'd usually describe myself (!) but exactly how I wanted to feel on my wedding day.
What did you enjoy the most about your Caroline Castigliano experience?
The time and effort put into to each appointment by the staff that made me feel they were genuinely wanting me to find the perfect dress, no rushing, no pressure and listening to what I wanted.
What was the best moment of the day?
When we walked out of the Church as husband and wife, we were met by some of our closest friends who had turned up as a surprise and we were able to have a (socially distant!) glass of champagne with them out in the courtyard.  As we could only have our immediate family to the wedding itself, it was really special to be able to share that moment with our friends as well.
Any tips for brides-to-be?
In these uncertain times, think about what is important to you, and if you can visualise a small wedding and it makes you happy then do it!  You can make it incredibly romantic and special.  We also had a magician and some actors for a murder mystery event in the evening to provide additional entertainment as dancing wasn't allowed!
Photography: Stephanie & Nicole
Florist: Loseley Flowers
Caterer: Archie's Food
Cake: Cutter & Squidge
Wedding stationery:  Gee Brothers
Brides Shoes: Jimmy Choo
Grooms outfit: Gieves & Hawkes
Hair: Spence & Oliver
Make Up: Spence & Oliver
Magician: Dee Riley
Murder Mystery: Blackwatch Entertainment