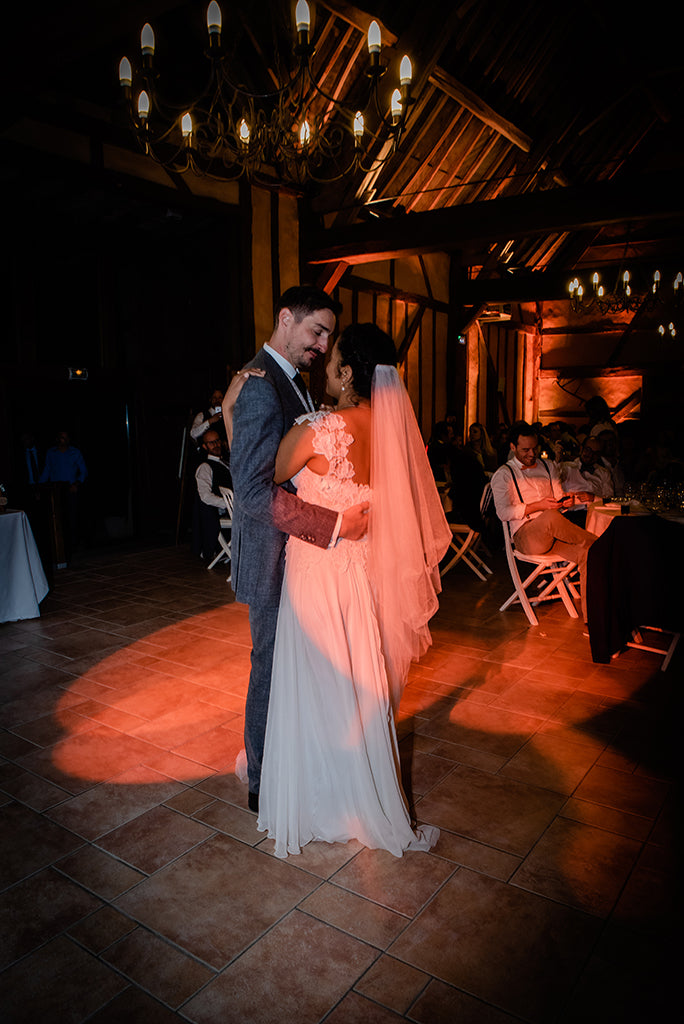 Glynnis & Greg's French Farmhouse Wedding
We caught up with our bride Glynnis Mapp Jacquard and she told us about the excitement of planning her wedding. She shares every detail; from the proposal, to the décor theme, to her bespoke Caroline Castigliano gown.
Greg proposed at breakfast in our London apartment on the 25th of February 2018. He usually gets up painfully early most Saturdays and Sundays, leaving little room for a lie-in (which I try to indulge in from time to time). This time, I don't know why, I woke up a lot earlier than he thought. I didn't realize at the time, but he was using this to prepare a proposal breakfast. He had to quickly improvise. Breakfasts on the weekend are special for us because we rarely get to eat breakfast together during the work week, as mornings are hectic. Everything had been prepared: he had the napkins positioned on both of our plates in a triangle, like at a restaurant, and he was acting quite strange. A bit more hyper than usual. He had made crêpes—which, as a Frenchman, he genuinely made often. There was fresh orange juice and smoked salmon, all the stuff we love to have (except for the Pierre-Laurent champagne for some lovely mimosas, which I love!). I didn't think anything of it at first when I sat down to eat with him. But when I lifted my napkin, there was my engagement ring inside of a pink-purple rose. Purple is my favorite color. He kneeled and asked me to marry him in English, and I said yes in French! The whole moment was really personal, special, and very much us—relaxed yet thought through, emotional but not too much, romantic, but not over-the-top fancy.
Greg and I got married on September 7th, 2019 at La Grange des Merciers, an old French farmhouse in Sologne, a large forest region just two hours south of Paris. This region is special to us because we have a family country house there. We wanted to get married on the Jacquard family property but unfortunately, because of the dry summer we had across Europe, an accidental fire nearly destroyed it. The entire roof burned. We were devastated because it couldn't be repaired in time for the wedding, but we were lucky enough to move our ceremony to La Grange des Merciers, just 15 minutes away.
We wanted a rustic, "champêtre chic" theme that was quintessentially Sologne, with simple touches, white candles, wooden centerpieces, and in-season flowers. We used dry lavender as our natural confetti for our guests to throw. Everything was local—from the wine and cheese, to our cake which was lovingly made by Patisserie Roy, about an hour away. I wanted my dress to fit with the simplistic theme. I didn't want my dress to make me look like I belonged on top of a wedding cake—not too modern, glamorous, or poufy. I also wanted to make sure I wasn't changing myself to fit into a dress. I'm naturally curvy and I wanted a dress style that accentuated those natural features. Designer Caroline Castigliano and her team helped me find the style I was looking for and when I put my Morning gown on, it stood out. It felt bespoke—cap sleeves, A-line floaty skirt, asymmetrical floral lace details, with a gorgeous cathedral-style train. The built-in bustle and princess-style hand loop were handy and made it easier to walk in my dress while we greeted our guests, who couldn't stop gushing about my Caroline Castigliano gown.
The Caroline Castigliano team made me feel special and looked after, despite them managing a packed schedule and helping hundreds of other brides. Throughout my three separate fittings, which felt really personal and lovely, the team welcomed my friends in the London fitting studio each time and they even allowed me to video call my family in Toronto, Canada so they could virtually join me for fittings, the Head of Fittings, was a dream, so knowledgeable, gentle, and discreet. She, along with the rest of the Caroline Castigliano team, helped ease my nerves during measurements and I trusted them completely with the alteration process. On my wedding day I felt beautiful, floaty, and romantic.
Our wedding was special in a lot of ways. We had friends coming from all over the world: across France, Canada, Sweden, Singapore, Spain, Germany, and the United States. Combine that with the countryside setting in France and all of the good local wine and good—it was such a lovely day for us. If I could choose a highlight, it would definitely be when my sisters, Gillian and Giselle, surprised us with their acapella rendition of Corinne Bailey Rae's "Just Like a Star." Our family friend Peter joined them on acoustic guitar. It was really emotional and romantic—there wasn't a dry eye in the house.
A message to brides-to-be: be prepared and organized but try not to take the day (and yourself) too seriously. As for help, delegate to take the pressure off you both. People want to help and can really step up when they need to. Take notice of all the special moments and take time to de-stress together and separately. Communicate, communicate, communicate. There will always be mishaps and wonderful surprises. For example, our cake was nearly ruined in transport and my rings lost by our little ring-bearer only five minutes before the ceremony. Both of these things ended up being just fine: the cake was beautifully reassembled on-site, and my rings found just in time for me to walk down the aisle. Much of our wedding was DIY and in rural France, so organizing was no small feat; however, our family and friends were amazing and stepped up massively during the big day and after-celebrations. We can't thank them enough for their help and support.