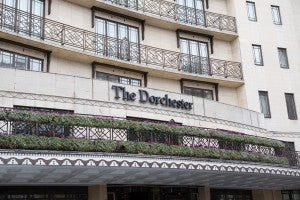 Your Wedding Day- Have you considered these crucial points from Bruce Russell?
We had a whole host of wedding and bridal experts at our Dorchester event in February. Bruce Russell was one of those experts, Bruce Russell is at the pinnacle of the Bridal industry as London's leading wedding planner. His specialist services cater for weddings and civil partnerships, private parties and special occasions – delivered with passion, style and grace.
Planning your perfect wedding day:
Any event – a dream wedding, an elaborate birthday or a treasured anniversary – has to be perfect.
The planning process for such an important occasion can be quite an overwhelming and time consuming endeavor. Bruce Russell and his team look after every detail, delivering memorable moments from start to finish. From sourcing the perfect venue, creating a stylish design, to being there on the day to ensure it all goes perfectly to plan.
A consultation with Bruce will include a detailed overview of the services offered. This is the perfect opportunity to share your ideas, your vision and expectations for your special event. Together, you will be able to determine which services you want Bruce to be involved in – this is your event so you decide.
For our beautiful brides-to-be, they got to spend the afternoon discussing every aspect of their perfect wedding with the expert himself. Bruce Russell has over 18-years experience in the events industry, including dedicated tenures with world-famous locations The Plaza, New York and The Savoy, London.
Having coordinated weddings and events all over the world, he has perfected his talent for delivering exceptional events, inspiring clients with his genuine "joie de vivre" – the heart beat to his professionalism.
"Every wedding is tailored to reflect the individual personality of the client. I believe my role is simple, to realise their dreams and create memories that last forever. My approach is very hands-on, I work with my clients through the whole journey, from offering creative and stylish concepts to ensuring everything runs smoothly on the day".
Offering genuine artistry to each event or wedding, he insists on only working with the most reputable vendors in the industry – "I am privileged to work alongside the most respected suppliers who share passion and high standards of service".
In 2011, Bruce was appointed The Savoy's resident wedding expert. Today, the By Bruce Russell team manages and operates an in-house highly personalised service at The Savoy in addition to working with private clients.