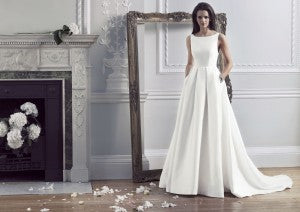 Exclusive VIP Event Invitation with Caroline Castigliano
We are passionate about creating unique experiences for our brides, whether that's in our Knightsbridge Flagship Store whilst they try on their future wedding gown, with one of our stockists, who help guide them through their wedding dress choices or something entirely different…
This time it IS entirely different and we are offering you a unique opportunity to join Caroline Castigliano and the Bridal Couture team at our Knightsbridge Store for a champagne filled VIP evening of wedding advice, guidance and insight from the designer herself! In this exclusive VIP event, Caroline is giving some brides-to-be the opportunity to be part of a private audience with the celebrated British designer, and to ask for her guidance and expertise on their wedding day style.
Lucky attendees will get an exclusive sneak preview of our 2015 'Opera' Collection plus the chance to spend an evening with like minded brides to be, the designer and our bridal couture team.
The agenda for the evening is as follows: 
6:30pm Arrive and enjoy a chilled glass of Champagne
6:45pm Caroline Castigliano's 2015 'Opera' Collection Preview
7:15pm A live Q and A with the British Designer
8:30pm Event comes to a close
Don't miss out on your exclusive chance to spend the evening with the designer and register for your ticket today. (You'll also receive a wedding inspired goody bag worth £75) Join us at this glamorous event and get tips from the experts on how to make your wedding day as unique as it should be.
But HURRY because tickets are limited.
If you can't join us at our Knightsbridge store event then don't worry, because we're also hosting this event LIVE online for you to tune into no matter where you are in the world! You can tune in and ask Caroline Castigliano all of your questions from the comfort of your own home. Save your front row seat by registering for your Live Stream ticket here– once booked you'll receive an email from Caroline Castigliano with a link to the live stream event 24 hours before the event starts.
N.B You must bring your ticket to the event at our Knightsbridge store to gain access. Admittance will not be given without your ticket.