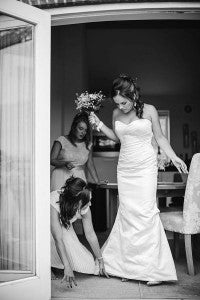 #CCBrideoftheWeek: Caroline Foster!
We just love it when our Caroline Castigliano brides send us pictures of their wedding day, they all look so beautiful in their dresses, with the flowers, their bridesmaids and of course their handsome husbands!
So we've decided to launch a #CCBrideoftheWeek blog post, every Monday we'll be sharing with you one of our beautiful brides and all her images, plus a little bit about her wedding!
If you're a CC bride and have bought your wedding dress from us then feel free to share images of your big day with us, either private message us on our Facebook Page or e-mail us at: press@carolinecastigliano.com and we'll share your big day with our network!
So our #CCbrideoftheweek is….(drum roll please)….Caroline Foster!
The Beautiful Caroline has been married for less than a month, she tied the knot with her beloved on the 31st July at Priory Barn, Syningthwaite  near Wetherby, Yorkshire: http://www.priorycottages.co.uk/weddings/
Caroline chose the beautiful Margaux dress designed by Caroline Castigliano, see her gorgeous photos below: