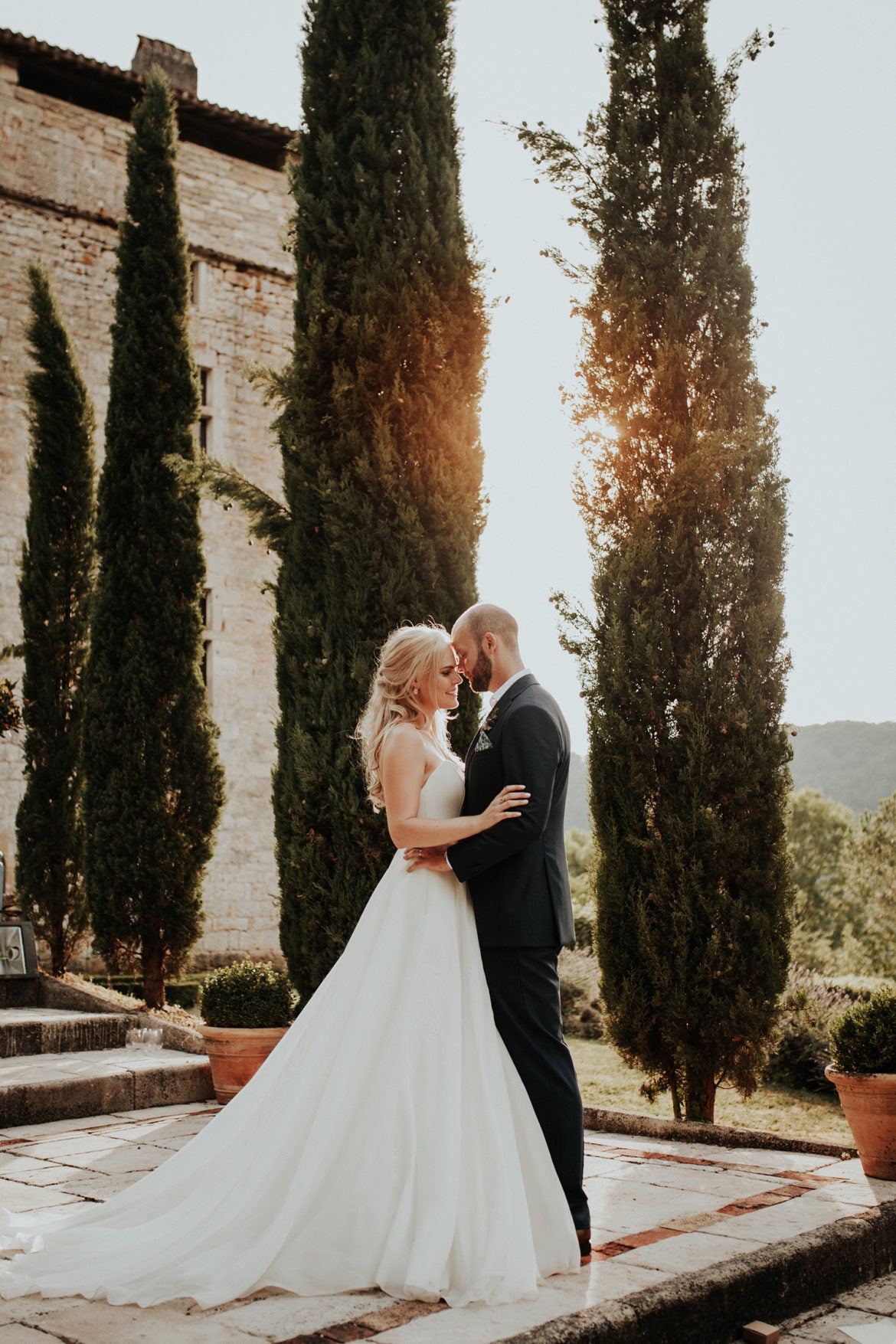 Stephanie & Nicks chateau wedding with a rustic elegance
Castigliano bride Stephanie married husband Nick on the 28th of July at Chateau de Cas in the south of France.
The bride looked effortless glamorous in her crepe and silk organza gown.
By the time I visited the Knightsbridge store I'd already tried so many dresses, having narrowed down the shape and style I was after but not having found anything that quite matched. I said to Lucy, who was helping me "I'm looking for a sweet-heart neck-line, low-back, A-line, no lace and clean lines" She just said "Great. We have that dress!" and went to fetch it. Voila! On the day I felt elegant, relaxed and classic – like a dream.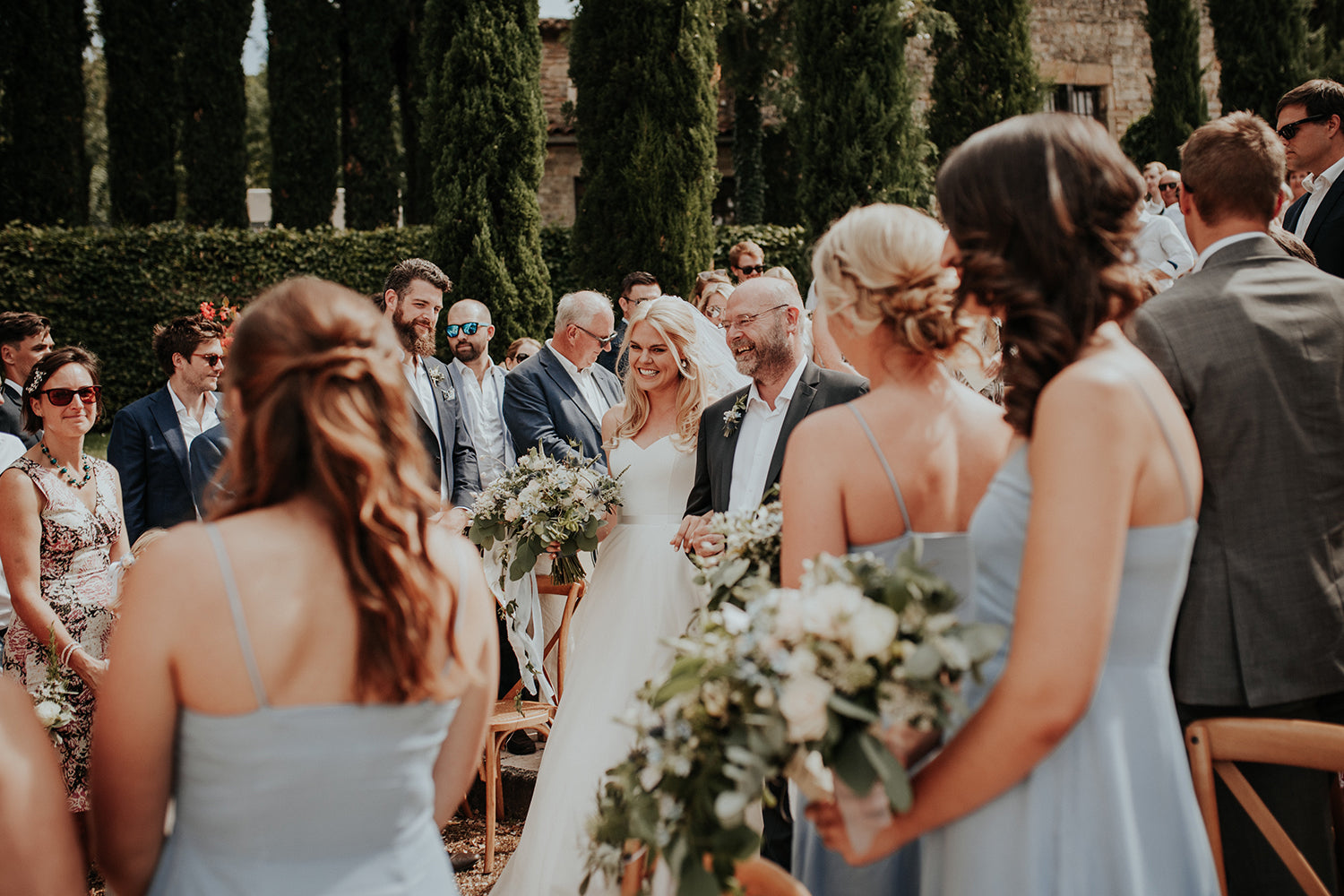 Nick proposed during a weekend away to Bath to celebrate their five year anniversary.
We went out for dinner the evening before the anniversary day to celebrate. We were the last in the restaurant before he ordered a taxi. Once we set-off I knew something was going on when the driver took the wrong road – instead of heading towards our hotel he turned right driving us uphill above the city. I exclaimed to Nick that we were going the wrong way but he silenced me with a look! We arrived at Alexandra Park – known for having one of the best views of the city, especially at night.  It was pitch-black and freezing, but once we arrived at a clearing with the most amazing view, he asked me if I wanted my anniversary present, got down on one knee and asked me to marry him with his great grandmothers engagement ring.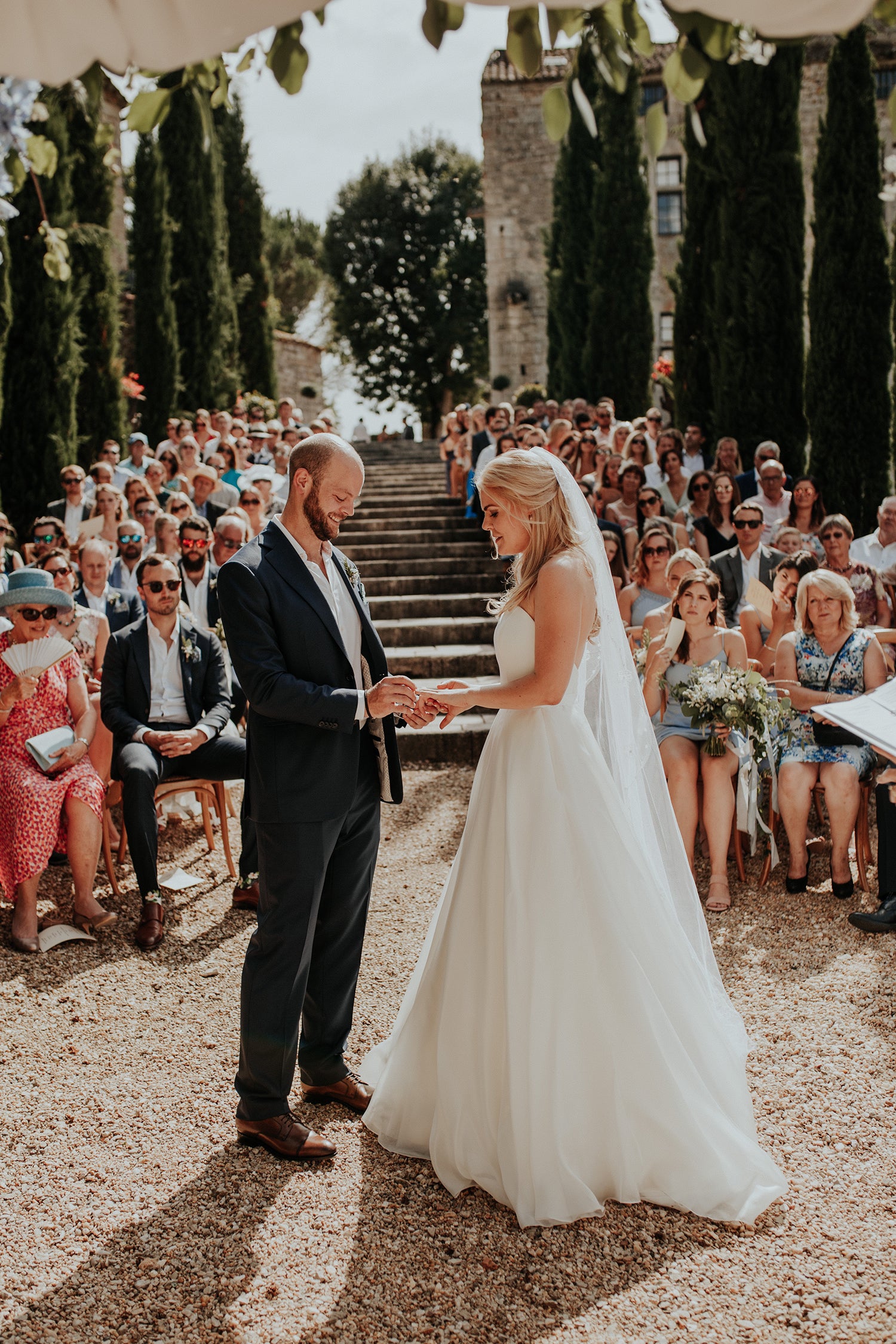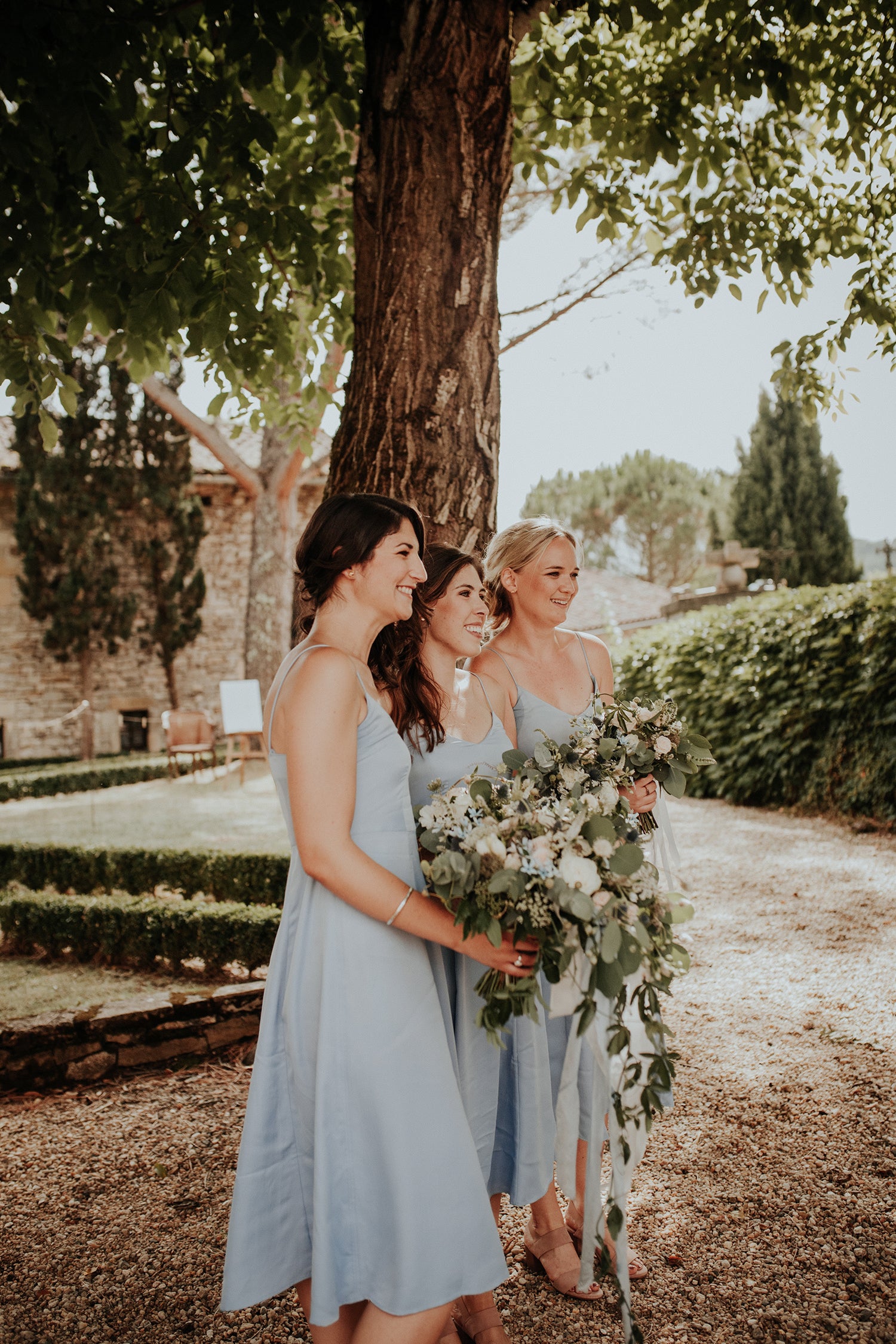 The couple picked Chateau de Cas, Espinas, Mid-Pyrenees, south of France as it was close to the bride's parents home.
I loved the ambiance and tranquillity – when we walked through the gates, classical music was playing and the sun was dappled in the court-yard. I was hooked! All the history of the castle was also amazing which Nick was fascinated by. The same family who have owned it for 800 years still live there!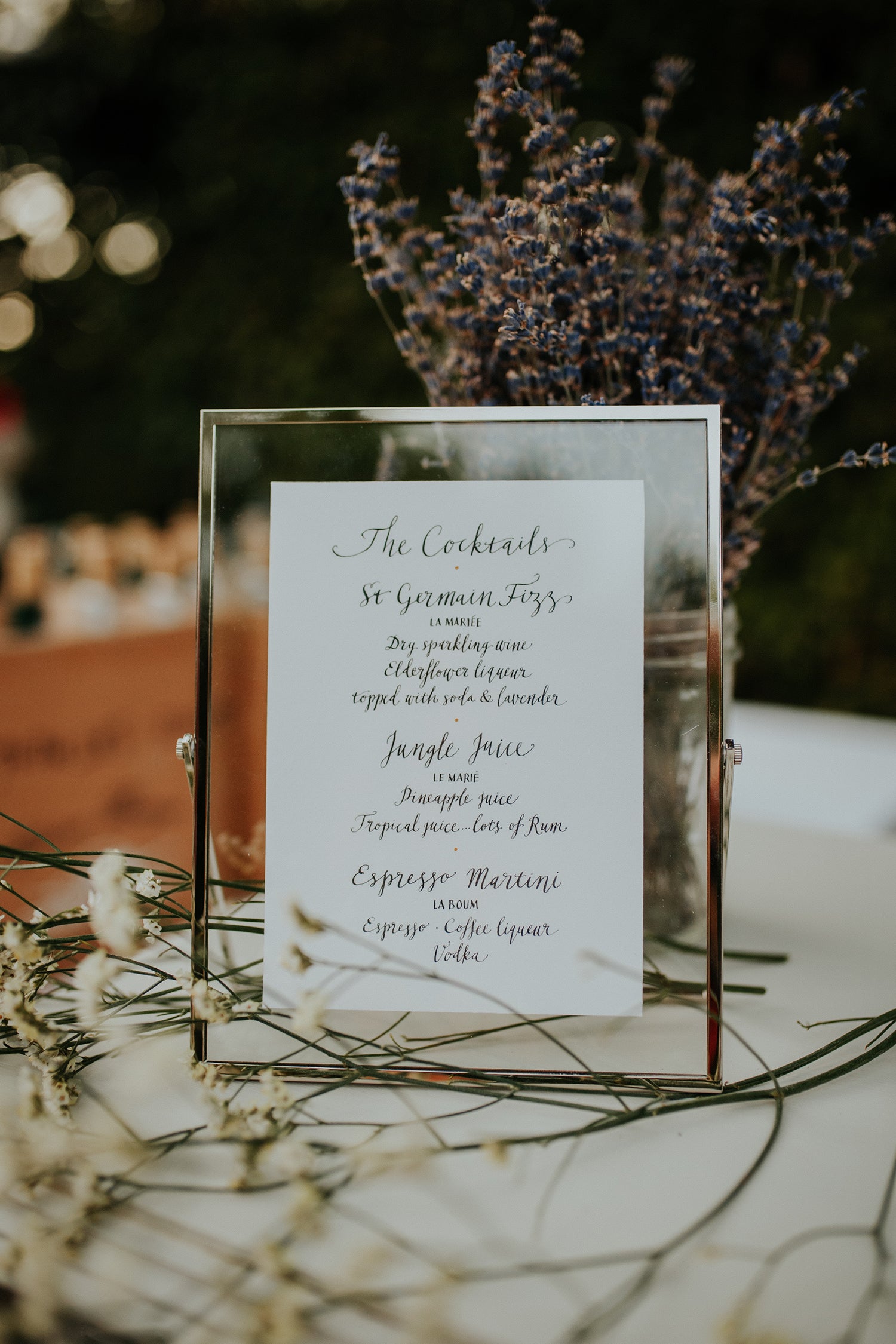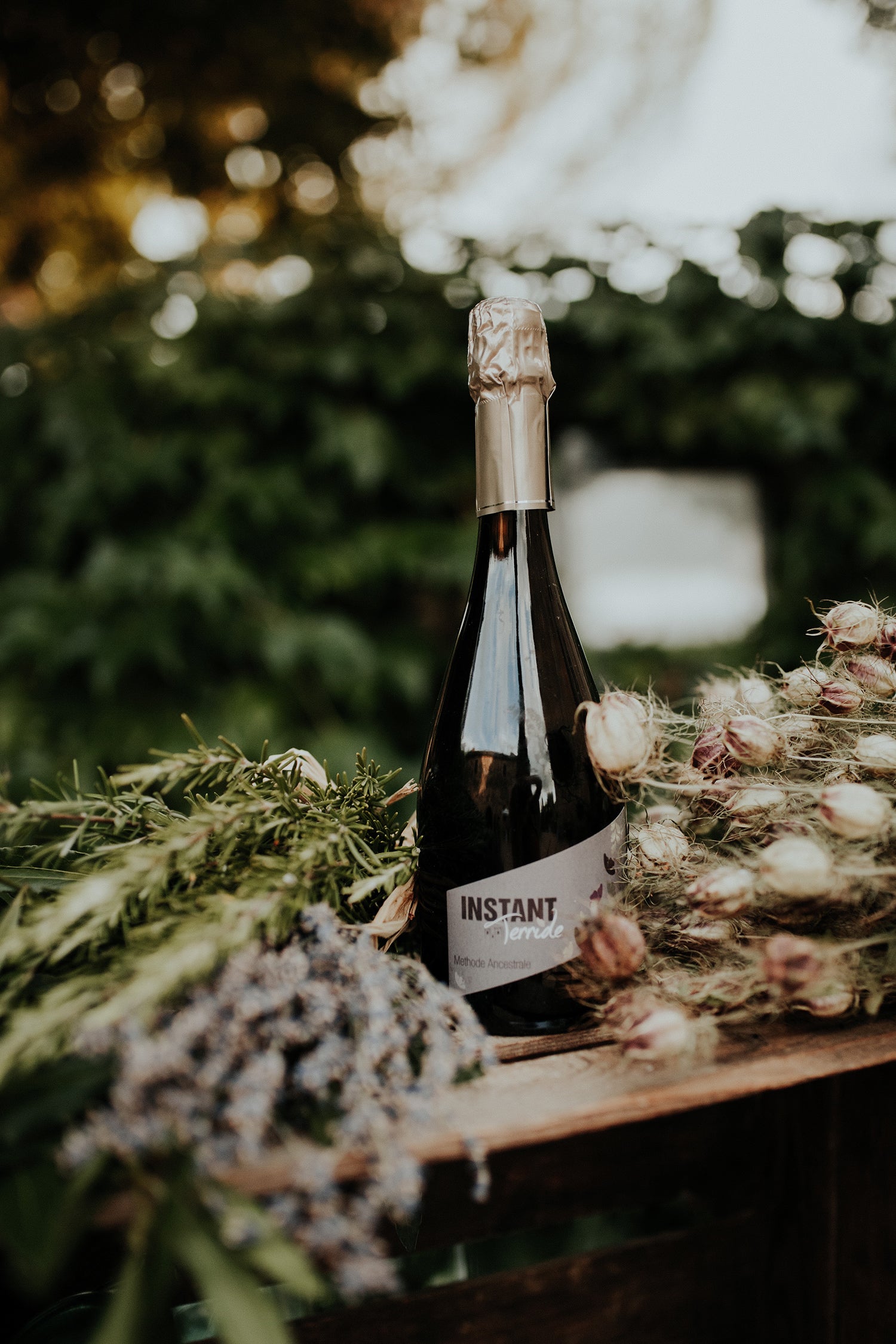 To turn it into what they had in mind the whole family got involved and used their imagination and creativity to create a relaxed and classic theme with a rustic elegance.
Where we were celebrating outside, I wanted as much of the decor as possible to be natural, greens, browns, plenty of foliage, herbs & wild flowers but with some impact. Our florist did an incredible job with our table decorations in particular, high eucalyptus & oak branches which provided an atmosphere and tied the tables into the garden. Our dance-floor was also under the stars, strung about with fairy lights. 
A few details I loved were having classic Orangina bottles as a soft drinks option – reminiscent of family holidays as a child. Stacks of bread and cheese for the canapés and boules around the fountain  We also set up an easel and posing-chair where guests drew each other. The results are hilarious.  
The bar was actually an old buffet-sideboard we bought at a second hand furniture shop and painted. All the benches were pallets my dad managed to source and my mum made all the soft seating and Liberty-print cushions. 
I made scented soy candles as wedding favours, poured in our kitchen and the labels printed after hours at work!
We asked for copies of everyone's favourite book as a wedding gift, (the notes in the covers are wonderful) or a family recipe, which have been great to add to our repertoire!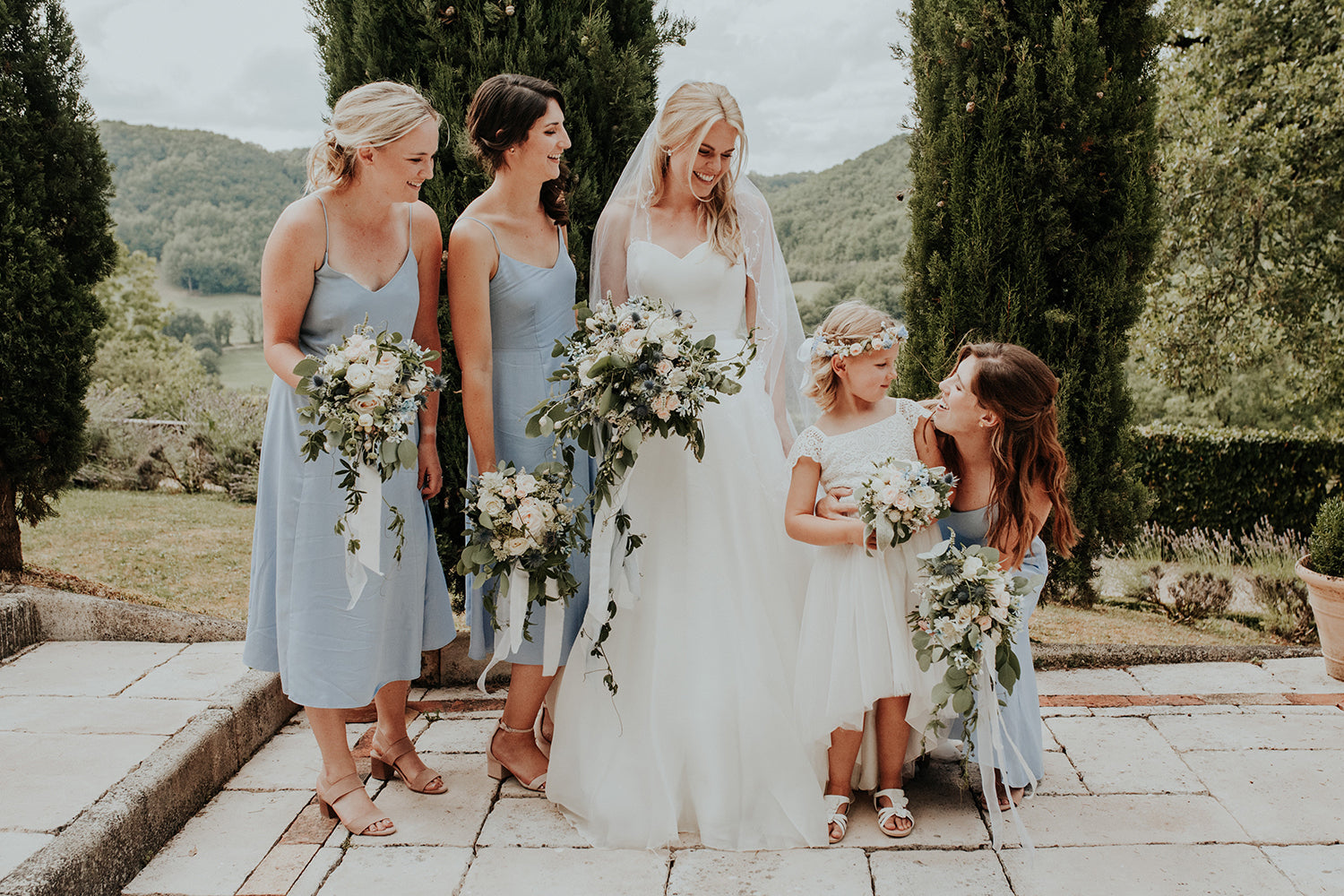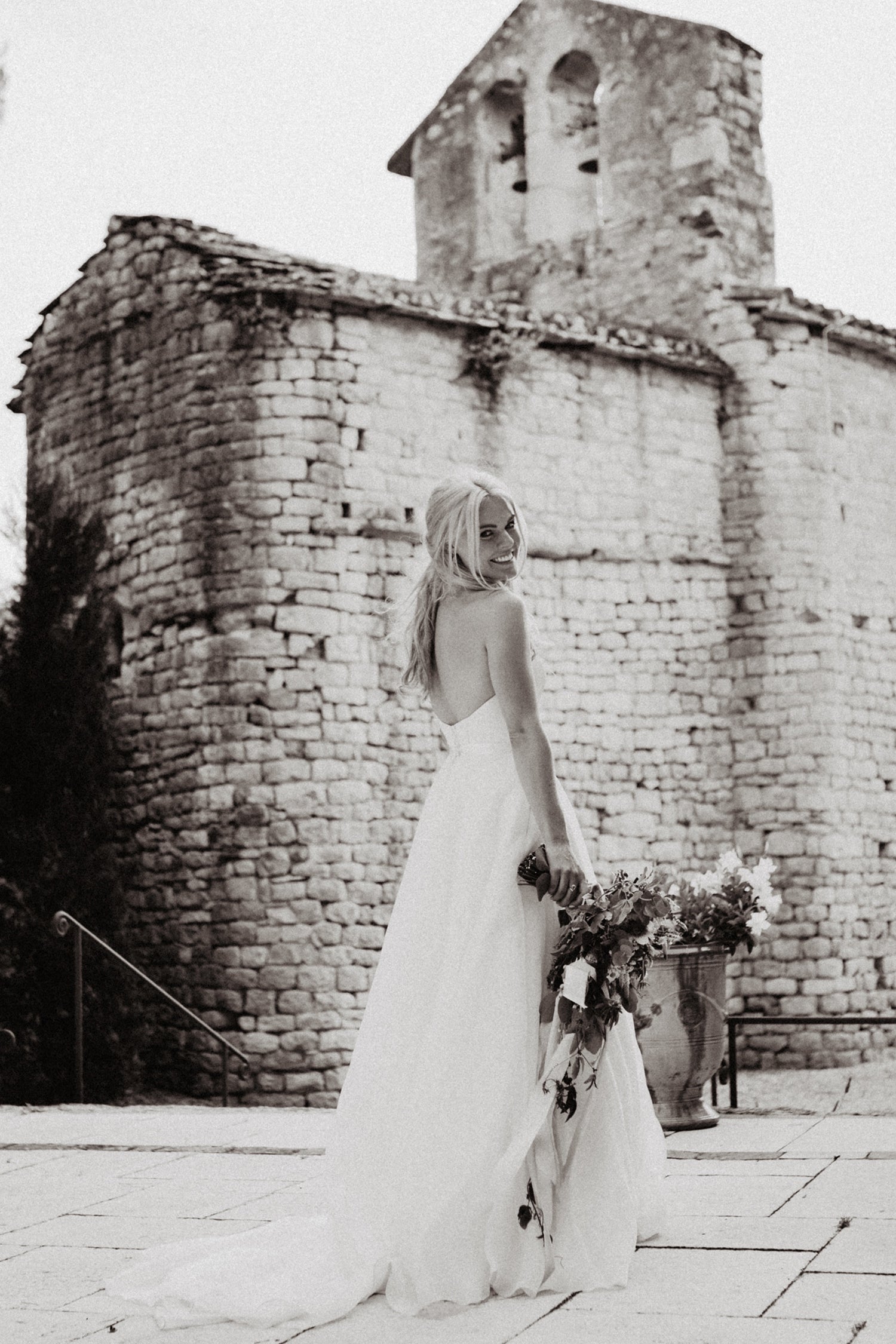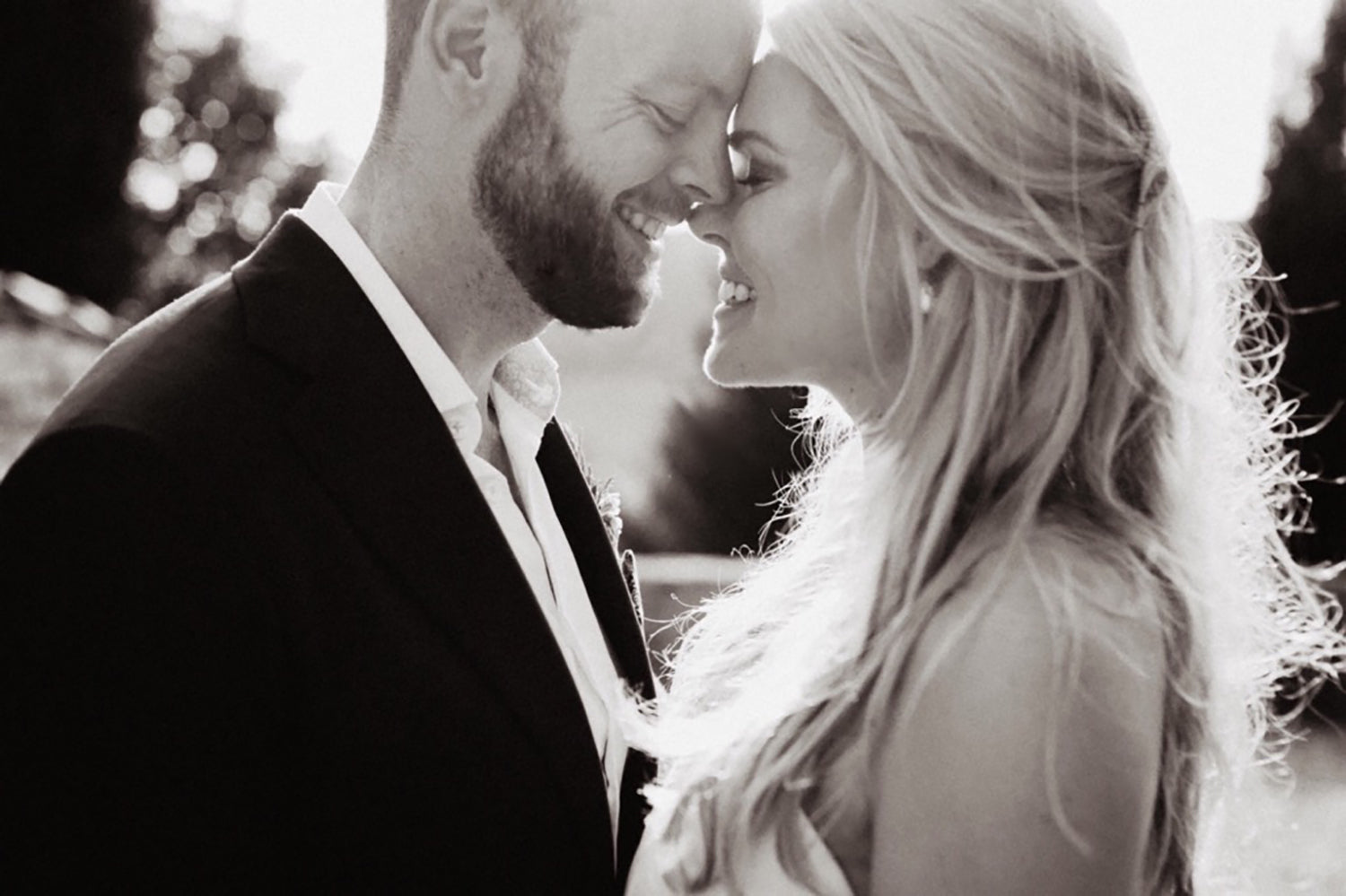 The wedding cake was made by the bride's mother.
She is very proficient at sugar-craft! Nick and I had always noted that the fan-fare of the cake-cutting sometimes gets lost over dinner, and we were adamant that wasn't going to happen after all Mum's hard work. To surprise her, we arranged for It to be carried out after dinner with entrance music – the theme to A Space Odyssey 2001 (a favourite track of my Dad's) and fireworks. My mum cried with laughter.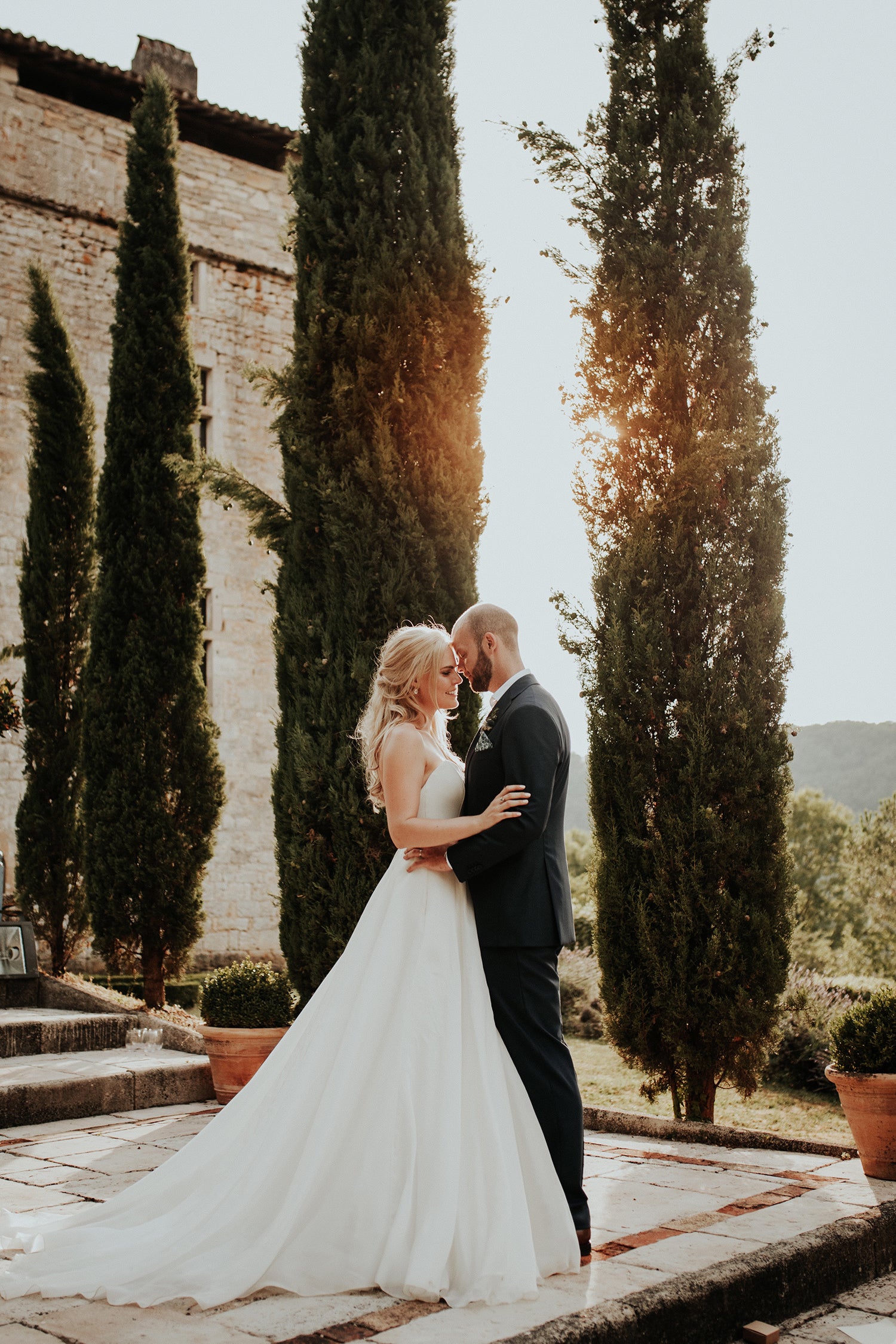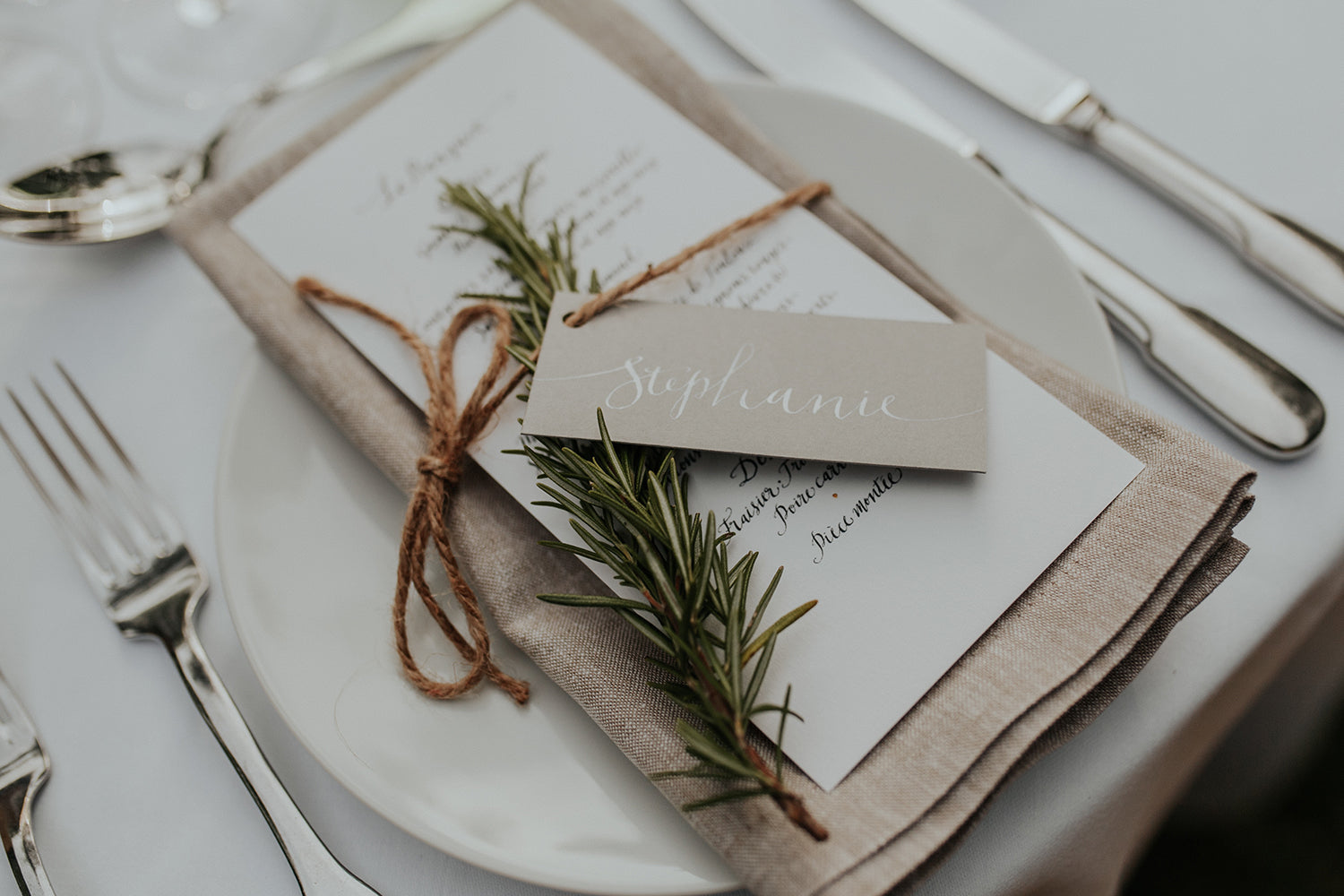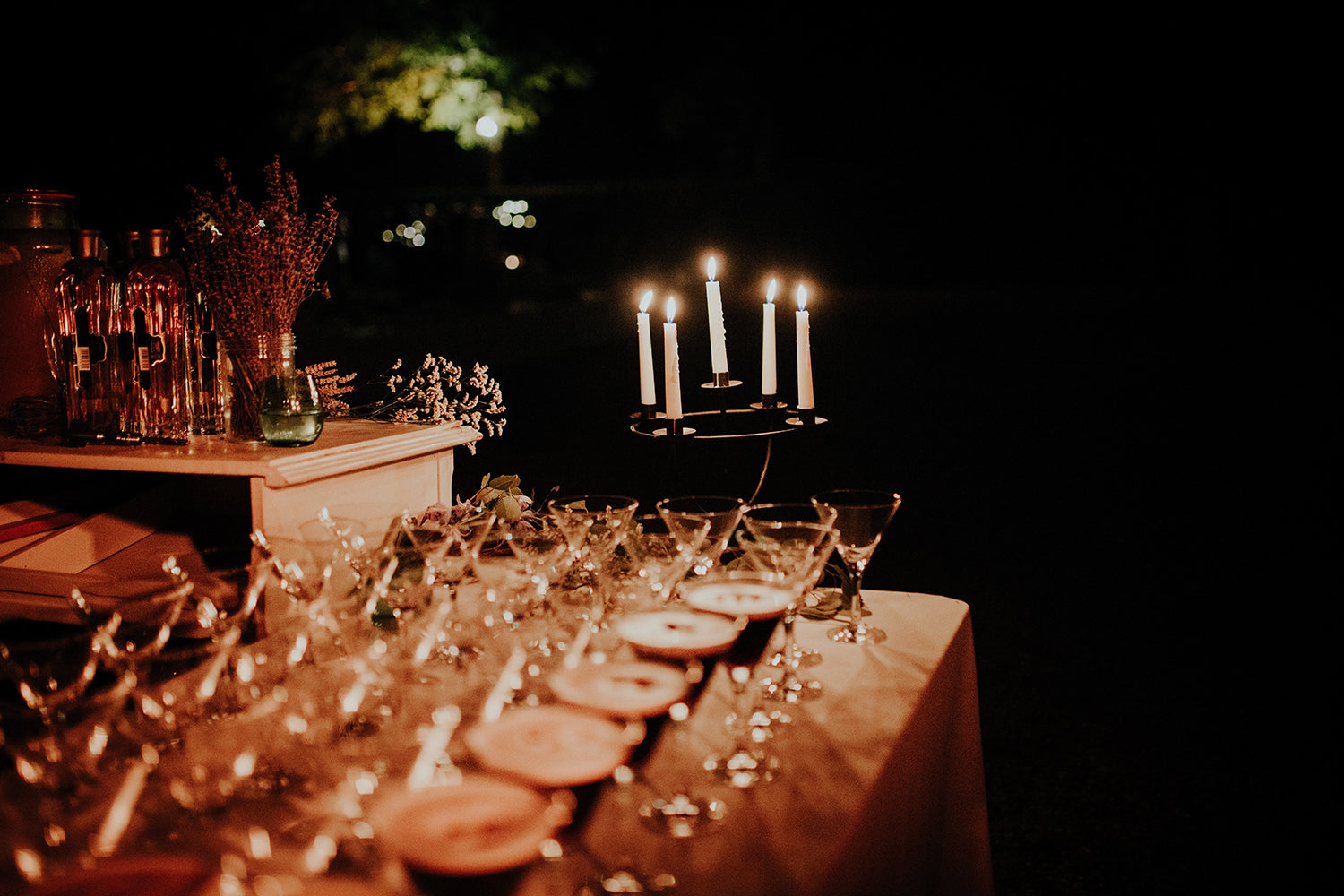 Suppliers
Photography: Karolina b. Photography 
Videographer: Andrew Kelly
Florist: Atmosfleur Creations
Caterer: Gamelle Gourmande
Invitations: Print for Love
Reception Stationery: Jane John
Wedding Co-ordinator: Hannah Nicolet of Noble Nuptials
Designer wedding gown: Caroline Castigliano Knightsbridge
Brides Shoes: Manolo Blahnik 
Bridesmaids: Arket, shoes by & Other Stories
Grooms outfit: Bespoke by Suit Supply
Band/DJ:  La Lanterne Sourde – Orchestre de Chambre Jazz 
Hair: Be-You-Tiful by Charlotte Garvey
Make Up: Flo s Maquillage 
The bride would like to thank:
Both my family & Nick's, our wedding party & so many of our close friends who put in huge amounts of work to help in the set-up. All our wonderful guests who filled the dance floor until 4am.