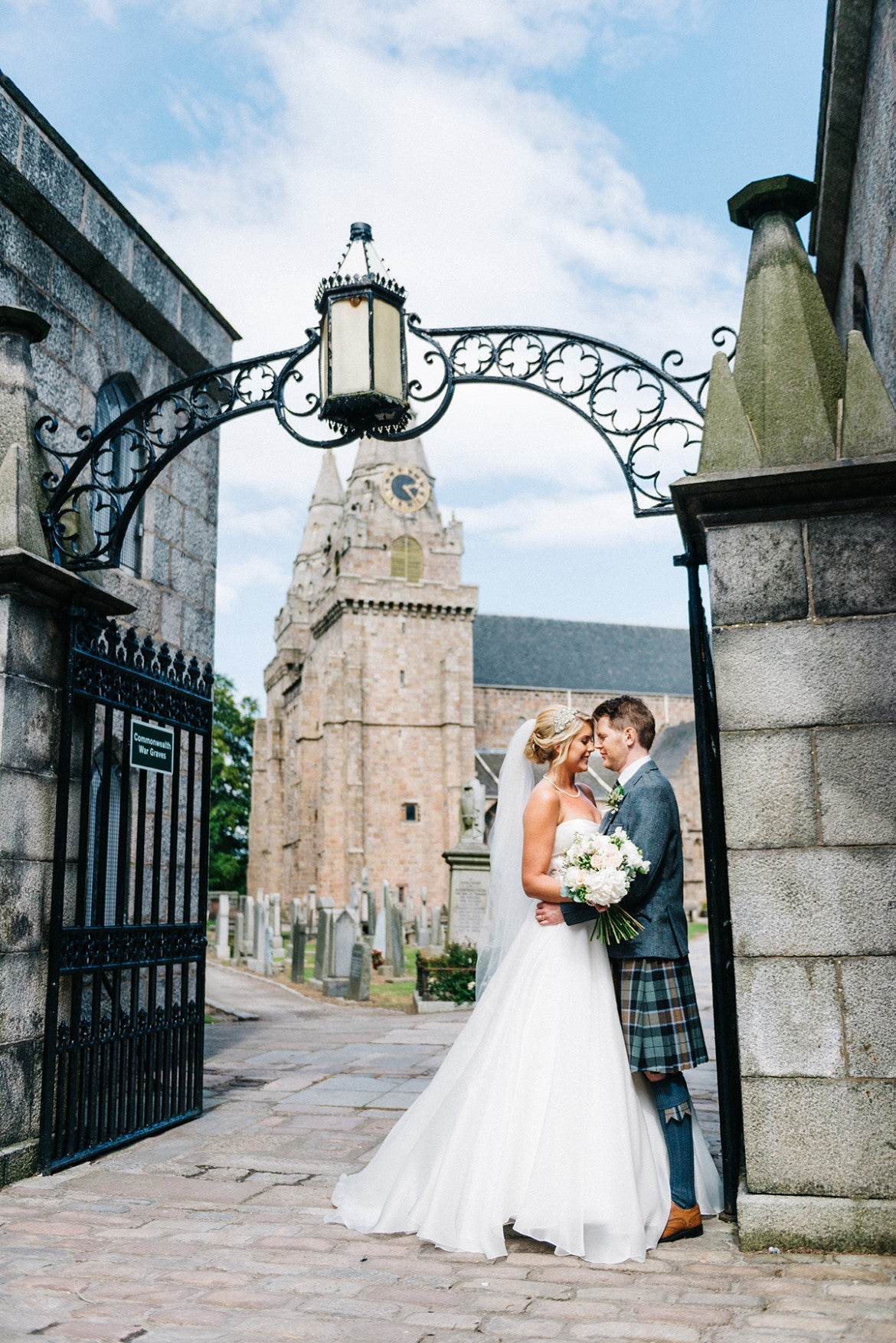 Sarah & Stephen's Scottish Garden Wedding
Castigliano bride Sarah and her husband Stephen married on the 8th of August, 2015 at St Machar's Cathedral, Aberdeen followed by a reception at Sarah's family home – a 350 year old Mill House and Gardens along the River Don which proved to be the perfect venue for this fairytale garden wedding.
Sarah and Stephen picked St Machar's Cathedral as it held a lot of lovely memories for Sarah and her family as Sarah sang in the chamber choir there during her school years. It is also in Old Aberdeen which is a stunning area of the city where the bride used to go for walks with her parents prior to studying at the University there, where she later met her husband.
Sarah says of her wedding day "A big part of what makes a wedding memorable is the experience! We wanted to surprise our guests so we had Secret Opera Singers perform after our main course. As it was a Scottish wedding we felt it was apt to have a whisky cask with lots of special whiskies for everyone to take a nip".
Sarah looked stunning in her Caroline Castigliano Belle wedding gown."I adored the way the organza floated in the wind. It made for great photos and it was such a comfortable material to dance in. I wanted a romantic, ethereal feel to the wedding and my dress fitted in with that theme perfectly. I wanted to ensure I accentuated my best features and an embellished belt cinched my waist in which made me feel incredible on the day. My dress was one of my most favourite things throughout the whole day and I still look at photos and think how happy I was when I stepped in to it!"
The wedding bouquet was put together by Sue at Lilyloft who spent some time getting to know the Sarah and Stephen as a couple, their interest all their likes and dislikes which meant she could match the flowers perfectly. As the wedding was set in the countryside Sarah wanted to include peach and green into the bouquet to give it a garden feel.
She settled on a hand tied bouquet of fresh flowers with a non compact style to offer a relaxed look. The flowers were, Sweet Avalanche Rose, White Akito Roses, White Stock, Freesias, Taleo Peach Roses , White Hydrangea, White Bourvaria, Sweet Peas, Peonies and a small amount of eucalyptus foliage at the base of the bouquet to soften the look. Sarah deliberately picked white Sweet Peas as she loved the soft nature of the petal as it matched the hemline of her wedding dress.
Sarah's tips for brides to be would be;
"Firstly, prioritise what is most important to you and what you just couldn't do without on your big day. Then, try and get as much booked up as soon as you can. I got the big ticket items booked up in the first few weeks of our engagement as this meant I could relax and really enjoy the smaller, more personal details.
As many other brides and grooms, we had been to so many weddings; all of which have their own personal style and it is quite difficult to make your wedding stand out from the rest. Personal touches don't have to be expensive but are noticed and welcomed by your guests so if you have the time once the large items are booked then get cracking on your personal touches as early as possible as the month or so before the wedding will be a right off for these things.
Another tip is to ensure someone is watching the clock in the morning!! We were having such a great time with my hair and makeup artists we lost track of time and ended up being 45 minutes late!! To save your poor groom from heart failure, designate someone to clock watching duty! "
The beauty of having a home wedding is that you can hand select all of the best suppliers to suit your theme, location and budget and you can amend things as you wish to suit you and your groom!
A special mention would have to go to the following who went over and above their call of duty:
Wedding Photographer: our beautiful photos were captured effortlessly by Donna Murray
Florals : I adored Sue at Lilyloft  – She was so easy to get on with and her style was impeccable. Without her flowers we wouldn't have captured the romantic, country, vintage theme we were after.
Make-Up: Francine Ray who did an outstanding job with the bridal parties makeup. It was completely stunning and I felt flawless all day and night. It is so worthwhile getting your makeup done for your big day as it is one less thing to stress about and allows you to have confidence in your look right up to the last dance of the night!
Hair: Sarah West  captured my hair style to a T. I wanted a relaxed, boho chic type of look and she nailed that. I LOVED my hair and she added gypsophila to the back of my bridesmaids hair which tied the romantic, country vintage theme entirely.
Catering: Thistle Catering – Lorraine and her team were so thoughtful and went over and above their responsibility to look after our guests, it truly was fabulous.
Designer wedding dress: Belle by Caroline Castigliano