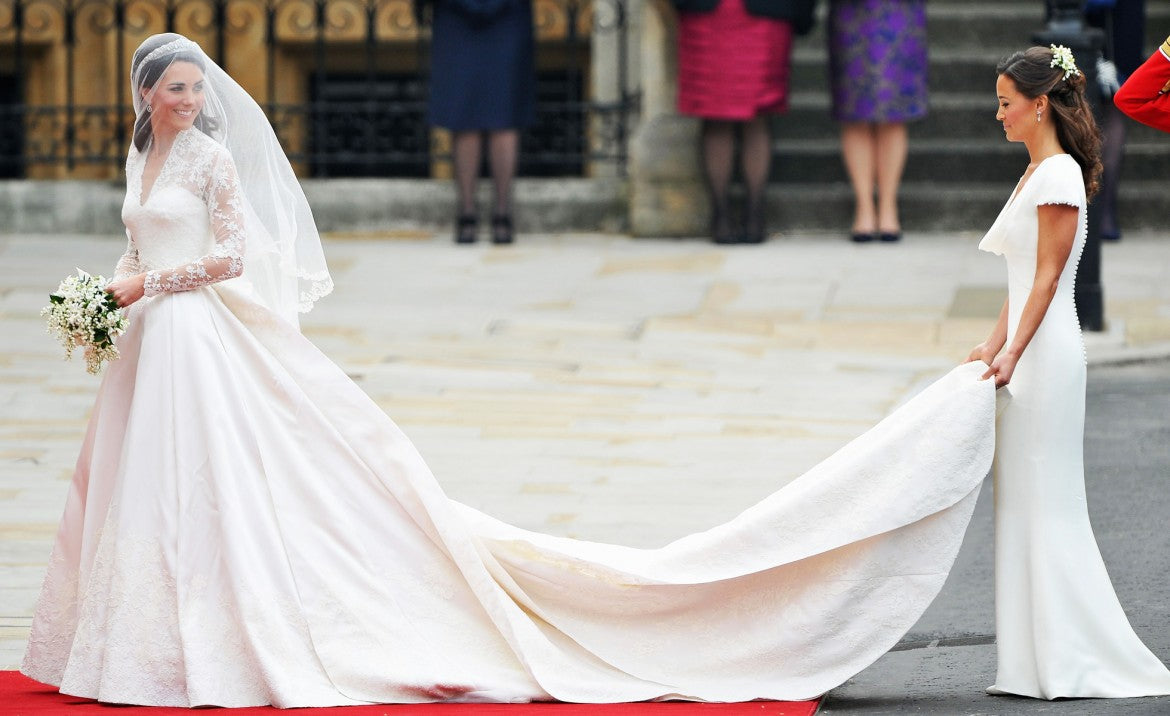 Royal Wedding Dresses and How They Influence Us
Why are we, as a country, so obsessed with the Royal family and their weddings? What draws us in? Yes, the hope and renewal that the marriages bring causes quite the uproar. But to be honest, half the excitement lies in the dress. Just the idea of seeing a real life princess (like the ones we've read about in children's books) fascinates people of all ages from all around the world. So, we've taken advantage of this undying infatuation with Royal wedding gowns and infused our classic designs with timeless royalty that is clearly adored by all.
Wedding Styling of the times
The evolution of royal wedding dresses over the decades is truly remarkable. Also, the level of inspiration one can achieve from gazing at these dresses is extraordinary. Here's a quick recap of just some of the memorable bridal dresses from previous royal weddings.
Beginning with George VI's wedding in April of 1923, his wife Elizabeth's dress was the starting point of all royal wedding gown inspiration. Her dress was a dropped waist, flapper-style bodice and skirt, embellished with thousands of pearls with silver embroidery. The cap sleeves were fairly revealing for the time, and some critics actually found it to be very unflattering. It sure does go to show how times have significantly changed.
Next came the wedding of Elizabeth II and the Duke of Edinburgh in 1947. Although during a time of global struggle, over 200 million people tuned into their radio to follow the wedding. In contrast to the capped sleeves of Elizabeth Bowes-Lyon's dress, Elizabeth II sported luxurious long sleeves on a dress made of pure duchess satin. Her veil trailed several feet behind her, making for jaw-dropping pictures. What more could there be? Oh yes, only about 10,000 pearls were sewn on the dress by hand.
In 1960, Princess Margaret married Antony Armstrong-Jones wearing a long sleeved gown with a fuller skirt than the previous princesses. Her veil had loads of volume and was beautifully lined with satin. Though remarkably plain for a royal wedding gown, Princess Margaret's dress spoke volumes and is still classy and elegant to this day.
Following Princess Margaret came Princess Anne's wedding in November of 1973. Her bold stand-up neckline and huge bell sleeves showcased her unique personality exquisitely. Such an unusual design really got people talking.
Princess Diana rocked large puffy sleeves and a 25 foot train at her wedding in 1981. Her iconic dress looked nothing short of stunning, with approximately 10,000 pearls sewn on. Her train– which was the longest train in royal history– was made of pure British silk, along with the rest of the dress. . . Imagine how heavy that must have been for Princess Diana to carry behind her all the way down the aisle!
Let's flash forward all the way to the most recent royal wedding gown, Kate Middleton's. The flawless unity of tradition and modernity made her dress one of extraordinary grace and beauty. It encompassed timelessness in its purest form and has inspired thousands of bridal gown designers across the globe.
From classy and traditional to bold and modern, royal wedding dresses have always had a major impact on all areas of the fashion industry. Their popularity and uniqueness will forever draw designers in, helping them to formulate their next big idea. We have the royal weddings to thank, as they have greatly influenced the bridal gown industry and will continue to do so for the coming decades.