Looking Beautiful on Your Wedding Day
Take good care of your skin
Whether you are showing your whole back or just your wrists, taking care of your skin will ensure that you're glowing throughout your entire ceremony and reception. Has your skin ever looked ashy and dull? Get rid of it by exfoliating. That ashy appearance is caused by dead skin cells that hide any natural radiance that healthy skin should normally have. Next, invest in a good moisturizer. Exfoliating uncovers a new layer of skin so it's critical that you keep it moisturized. Not only will it make your skin feel soft, but will give it you that fresh, rejuvenated look that all brides are dying to have. Finally, drink up! Applying lotion only does half the job. Having at least 8 glasses of water a day is a vital step in achieving flawless skin, as it leaves your complexion looking plump and lively. Drinking plenty of water will also significantly decrease any under-eye darkness you may have.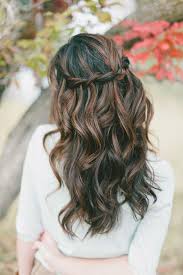 Foods for healthy hair 
Luscious, shining locks don't come easy. It's important to care for every strand to make sure they look flawless on your big day.  Here are some foods that will bring out the best in your hair, whether it's short, long, thick, or thin.
Let's start at the roots. Salmon contains loads of omega-3 fatty acids, which nurture the scalp and supply it with the proteins it needs to grow strong strands. Without a healthy base to grow from, your hair will never reach its full potential.
Vegetarian? Try out lentils instead of salmon. They're also a great source of protein and important vitamins such as zinc, biotin, and iron that will give your hair the strength it needs to hold up throughout all the heat styling. Lentils are also a great option if you want to cut on calories, but need the serious protein.
A big reason for hair loss is a lack of iron. Prevent this by eating eggs, which are protein-packed and rich with iron. . . and tasty! Eating them is one option, but making a hair mask out of them is another!
How to make:
Combine one egg
one cup of milk
½ a lemon
2 tablespoons of olive oil
Mix in a bowl and work through the ends of your hair. The mixture will bring out the natural softness and shine of your hair, leaving it looking like you just shot a shampoo commercial!
Blueberries small, yummy, and easy to take with you anywhere! However, this little berry does a huge job. They're a brilliant source of vitamin C, which directly supplies hair follicles with the nutrients they need to grow long and strong. Not to mention blueberries are a super food with tons of other health benefits, so you'll be killing two birds with one stone!
Achieving the perfect makeup look
Some were blessed with the ability to transform their face with makeup, others. . . were not. If makeup is not your thing, seriously consider splurging on a makeup artist. Hiring a makeup artist for your wedding day is important for completing the perfect look you've been dreaming of. People will be dying to take pictures with you all day, so you're going to want to look at gorgeous as possible! Spend some time a couple months before your wedding experimenting with different makeup artists. You never know what you'll like or don't like until you try it for yourself. Bobbi Brown and MAC are just a couple places you can look into for makeup artist options.
Chill Out!
It's so easy to get caught up in the rush and panic of planning a wedding. It's a big job to take on! But the moment you start to feel anxious and stressed, it sucks the fun right out of something that should be the most exciting task you may ever complete. Take a deep breath, and remind yourself that everything will work out, because it will! Have a night out with your girls and have a drink. . . or two. It's important to remember that planning your wedding is half the fun of actually having it and you'll want to look back on the whole experience positively. Moral of the story, chill out!