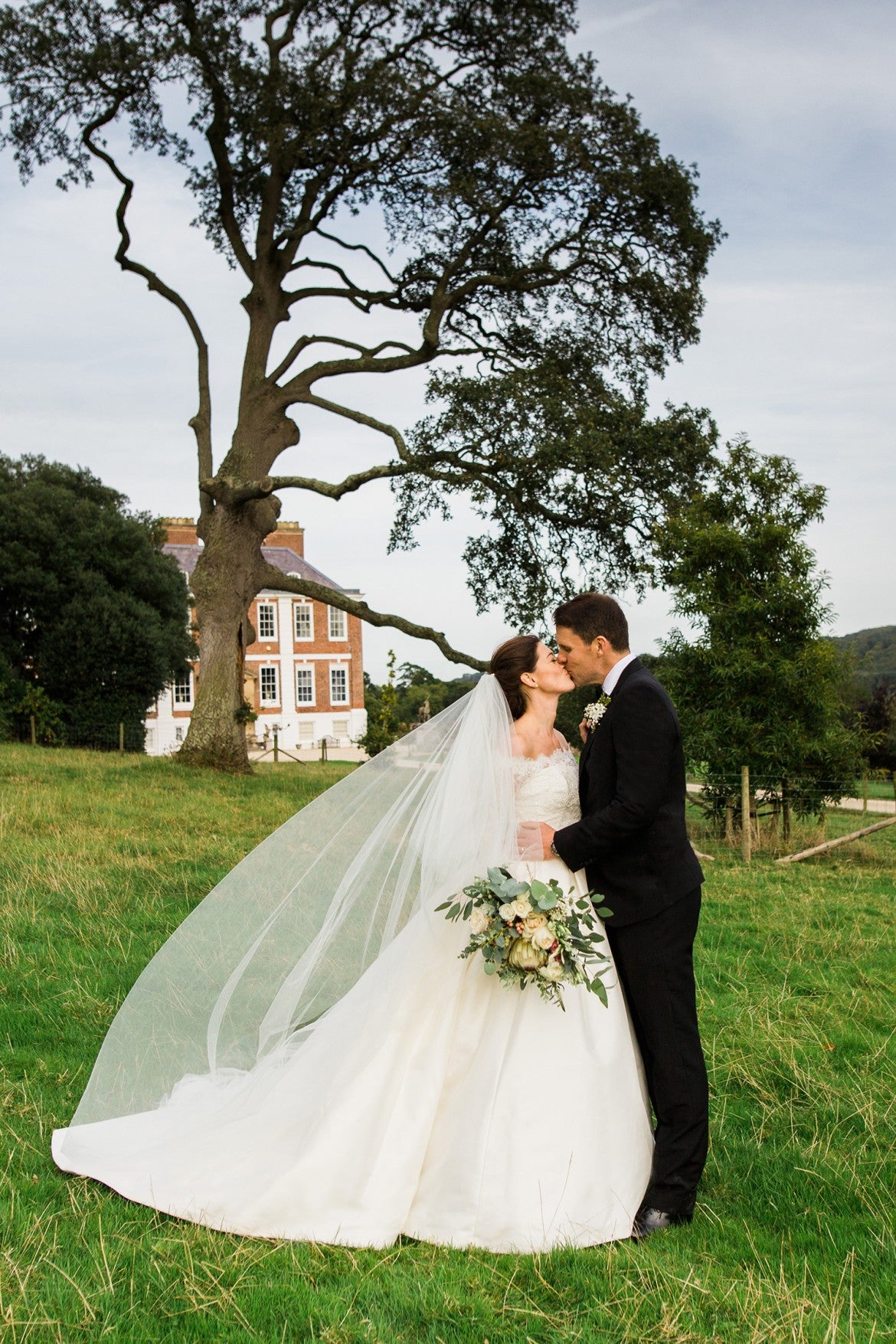 Pynes House Wedding: Jemma & Ross
Jemma of Stilettos to Strollers married Ross at the very picturesque Pynes House, just outside Exeter on the 23rd of September. Set amongst the lush green Devon countryside this hidden gem provided the perfect backdrop for their Italian inspired wedding.
Photography by Sarah Lauren Photography
"We had always wanted to get married in Italy, but due to circumstances this wasn't going to be possible for us at the time we wanted to tie the knot.
My family are all from Devon and we spend a lot of time down there at my parents cottage, so it made sense to look in that area. We knew we wanted a manor house that we could call home for the whole weekend and have the option to pop our daughter upstairs to bed on the wedding day.
Pynes House, is stunning and as we drove up the long driveway we knew it was right for us. The historical house has a European villa feel to it and it enabled us to almost recreate the Italian wedding we'd dreamt of". 
"It took Ross a LONG time to pop the question, he actually had the ring for over a year before asking but as he says things just kept working against him.
On the weekend he finally got down on one knee he had taken the whole family (including our dog) away for a weekend in the Cotswolds. We stayed at a beautiful manor house hotel, but the night was riddled with yet more things going wrong… from the baby listener not working so us ending up eating burgers in bed, rather than downstairs at the Michelin star restaurant. To the fact it was the weekend of Bonfire Night, so fireworks were happening all evening and waking the baby up.
 The next morning we decided to go for a walk at the Westonbirt Arboretum and after a while he lead us off the main path and into a beautiful area of golden red trees. He then proposed by saying "the dog mucked my plan up, but I'm hoping you won't and you'll agree to spend the rest of your life with me". He had wanted our dog to have the ring around her neck, but five seconds earlier she'd rolled in the biggest mud puddle imaginable. I replied with, "about bloody time" and of course we were both floating on air". 
"People always laugh at me when I tell them that the dress I walked down the aisle in was the first one on my Pinterest board.  I had always been told that you choose something completely different than what you expected, but this wasn't the case for me.
I had purposely booked my appointment with Caroline Castigliano as one of the last ones, so that I could enjoy shopping for the dress and not have this experience over with after one shop. The stylist that looked after us was amazing and talked me through every step of the way. Which cuts worked, how the materials were different, the shades of colours for my skin. We tried on all the different styles with her also leaving 'the dress' until last. The moment I put it on with a veil everyone started crying and it really was a magical experience. It's true what they say, you just know when it's the dress!"
How did you feel in your Caroline Castigliano designer bridal gown?
"Only word to describe is was WOW!  My biggest regret from my wedding day was waiting until the last minute to put my dress on, I wish I had worn it longer. I honestly felt like the most beautiful girl the world. I always wanted my dress to have that wow factor and it really did". 
Suppliers
Designer Wedding Dress: Caroline Castigliano Knighstbridge
Photography: Sarah Lauren Photography
Florist: Emma Hewlett
Caterer: Pickle Shack
Cake: Edible Essence 
Wedding stationery: Quints of Jersey
Bridesmaids: Maids to Measure
Grooms outfit: Hackett London
If you'd like to find out more about Jemma, take a look at her website Stilettos to Strollers.
See more Castigliano Brides here>