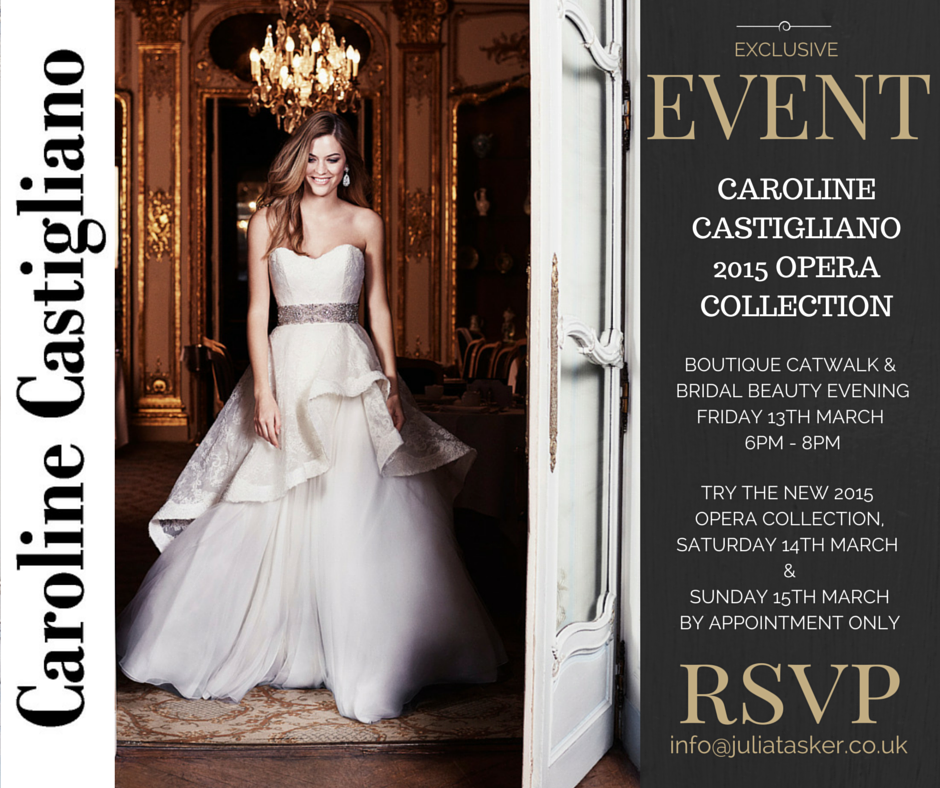 Julia Tasker Designer Wedding Dress Event – Cumbria - 13th-15 March 2015
Caroline Castigliano are pleased to announce that Julia Tasker Bridal, luxury wedding dress boutique in South Cumbria will be holding an exciting event showcasing the 2015 Caroline Castigliano Wedding Dress Range on 13th -15th March 2015. This is a wonderful opportunity for brides-to-be to find their perfect wedding dress by the luxury bridal designer. This will be your opportunity to view Caroline Castigliano's range of 2015 Wedding Dresses, these won't be available to view at any other time, so don't miss out on your insider opportunity.
The event starts at the Boutique in South Cumbria on: Friday 13th March, 6pm – 8pm.
Join Julia Tasker and her team in the boutique for an exclusive preview of the Caroline Castigliano Wedding Dress Collection & Enjoy an evening of bridal hair and beauty too.
See the new Caroline Castigliano 2015 Opera Wedding Dress Collection, receive complimentary bridal hair and makeup trials courtesy of Aqua the Salon and Definitions Beauty in South Cumbria. There will be 'bubbly' and cupcakes on arrival. No appointment necessary. All welcome. Bring your mum, bridesmaids and friends and view this stunning wedding dress collection.
Make sure you RSVP if you wish to attend the evening event and receive a complimentary bridal hair and/or makeup trial, limited ticket availability. Book first to avoid disappointment by emailing – info@juliatasker.co.uk
Following the evening catwalk, brides will have the opportunity to try the new Caroline Castigliano 2015 Opera Wedding Dress Collection on – Saturday 14th & Sunday 15h March.
Join Julia Tasker and her dedicated team at the boutique and try the new Wedding Dress Collection. You will receive one-to-one styling, 10% off a full priced dress order and a 'bridal pamper' goodie bag.
Appointment only on both days.
To make an appointment call: 015394 46900 or e-mail: info@juliatasker.co.uk