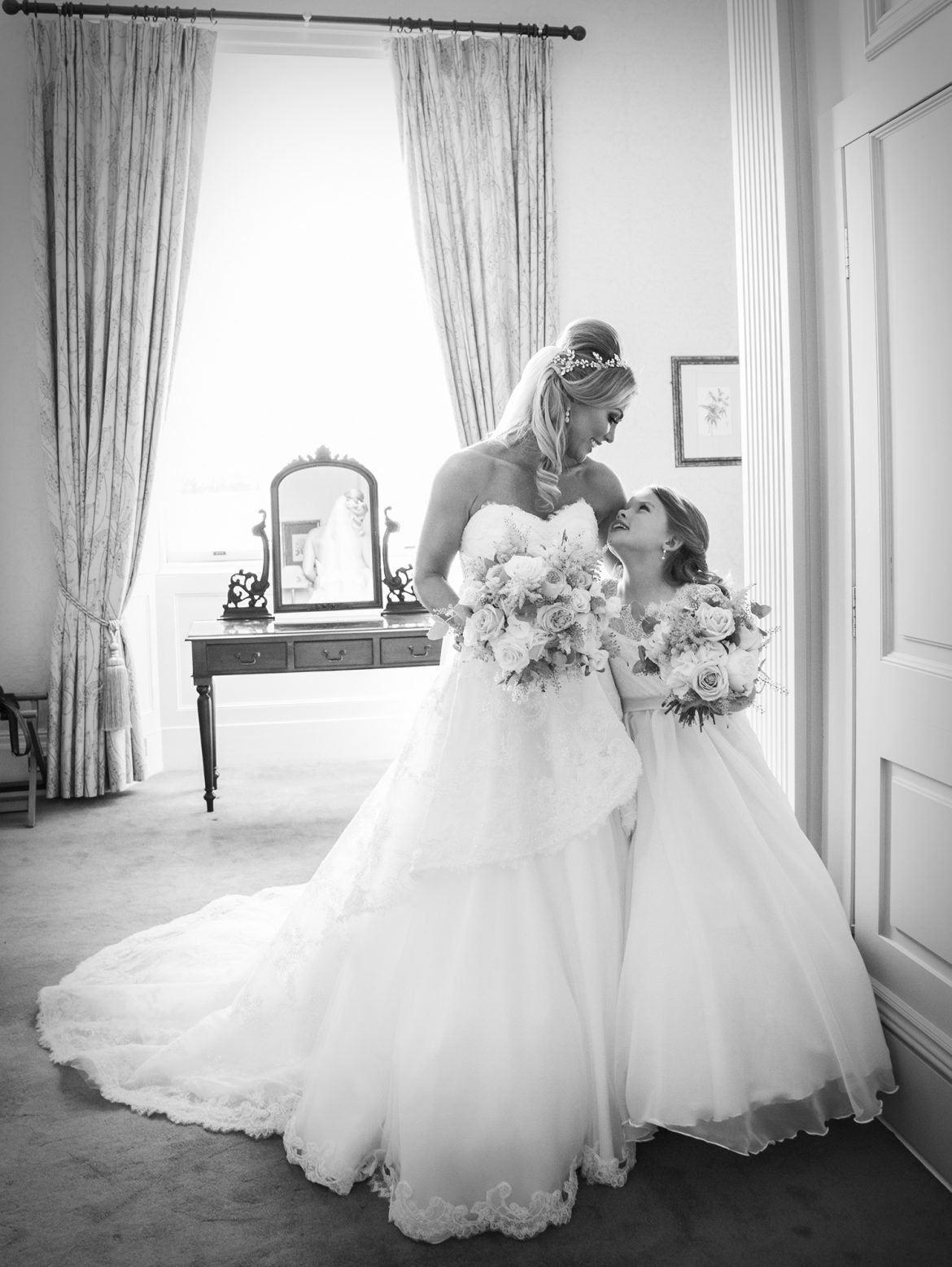 Jane and Marks glamorous and grand Wynyard Hall wedding
Jane Jones, 40 married Mark Anderson 40, at Wynyard Hall in North East England. The venue boasts a beautiful 12th century Chapel, magnificent State Rooms and is surrounded by breath-taking views of private parkland.
All images by David Lawson Photography
The bride looked stunning in her La Traviata luxury wedding gown in beaded corded lace paired with a matching veil to complete the look from the Knightsbridge flagship store. She says:
"After many visits to many bridal designers, the Caroline Castigliano Knightsbridge store was warm, and welcoming. Bal was my first point of contact, asking me personal questions relating to how I met my husband to be, the venue, and most importantly how I wanted to feel on the day. None of the other bridal stores had asked me that question.
Caroline's designs were the type of styles I was attracted to, time and time again. Classic, timeless and cut from amazing fabrics and the best quality.  I'm an older bride, so some of the more modern styles were not for me. I decided on strapless, lace and silk dress, with a big skirt. The whole experience was amazing, and the memories of doing this with my daughter Brooke will stay with me forever!" 
After being together for 13 years with 3 children, Mark proposed during a Christmas break at one of their favourite hotels in Scotland. Taking almost a year to plan his proposal to Jane, from sourcing the stone and designing the ring to planning the venue and getting the hotel staff involved.
"We both love a hotel in Scotland called The Prestonfield. As part of my Christmas present, Mark had arranged for us to visit the hotel for a few nights from boxing day. We did some shopping in Edinburgh during the day, and arranged to eat at the hotel's restaurant 'The Rhubarb' in the evening. After a lovely day and a beautiful meal, we went back to our suite. On the way into the suite I noticed vases of white lilies, and roses in the foyer area, then once we arrived in the suite there were hundreds of flowers. I still didn't realise what was happening, my head was thinking "wow this hotel really goes that extra mile". When we went into the bedroom, Mark turned me around got down on his knee, and proposed!  It was unbelievable, I couldn't believe it".
The location of the wedding was very important to the bride and groom who decided on Wynyard Hall. They wanted the day to be very intimate and to be surrounded by the people who had made a difference in their lives.
"Wynyard Hall was the only place we viewed that gave us that welcoming, homely yet grand feeling. Visually Wynyard Hall is beautiful; everything within the hall is exceptional. We wanted to be married in a church, so having the chapel attached to the hall was just the icing on the cake for us. Although we did have to attend many church services within the area, leading up to the wedding, I do have to say it was more than worth it. Every time we both walked into the chapel, we filled up, it's just so beautiful".
Best moment of the day?
I personally feel that our wedding was special to Mark and I, because we have spent so many years together already. People get married for many different reasons, for us it was to celebrate our relationship, with all the people who have made a difference in our lives.
Our eldest son Jaimes, walked me down the aisle. I will never forget this moment, I had asked Jaimes to be relaxed and just try and enjoy the moment before hand. When we got to the chapel doors, I was so nervous, and Jaimes turned and said mum just relax and enjoy it, come on! If it wasn't for him I would have been worse.  
Having our other son Isaac and daughter Brooke walk down the aisle with me will be something that stays with me forever. I believe that our children will remember their parents wedding forever and that's is a pretty special thing".
Any planning tips for brides to be?
"Make a list of priorities, things you both really want to be included. Stay on track, and have a realistic budget. Work out your budget, then add 10%. Make sure you both get involved. Mark came with me to do everything, apart from my dress. He wanted to, and that showed, because the feeling on the day of knowing all the choices were made by both of us." 
Wedding Suppliers
Photography: David Lawson Photography
Wedding Venue: Wynyard Hall
Bride's Dress Caroline Castigliano
Bridesmaids' Dresses Anita Massarella
Groom's Suit/Groomsmens' Suits: Geives and Hawkes
Flowers: Katherine's Florists
Stationery: Noble Fine Art
Venue Styling: Wedding Day Hire
Table Cloths: Over the Top
Chairs & Cutlery: Duchess and Butler
Magician: Paul Lytton
Casino Table: Premier Racing
Photo Booth: Crazy Pix
Wedding Band: Mad Hen