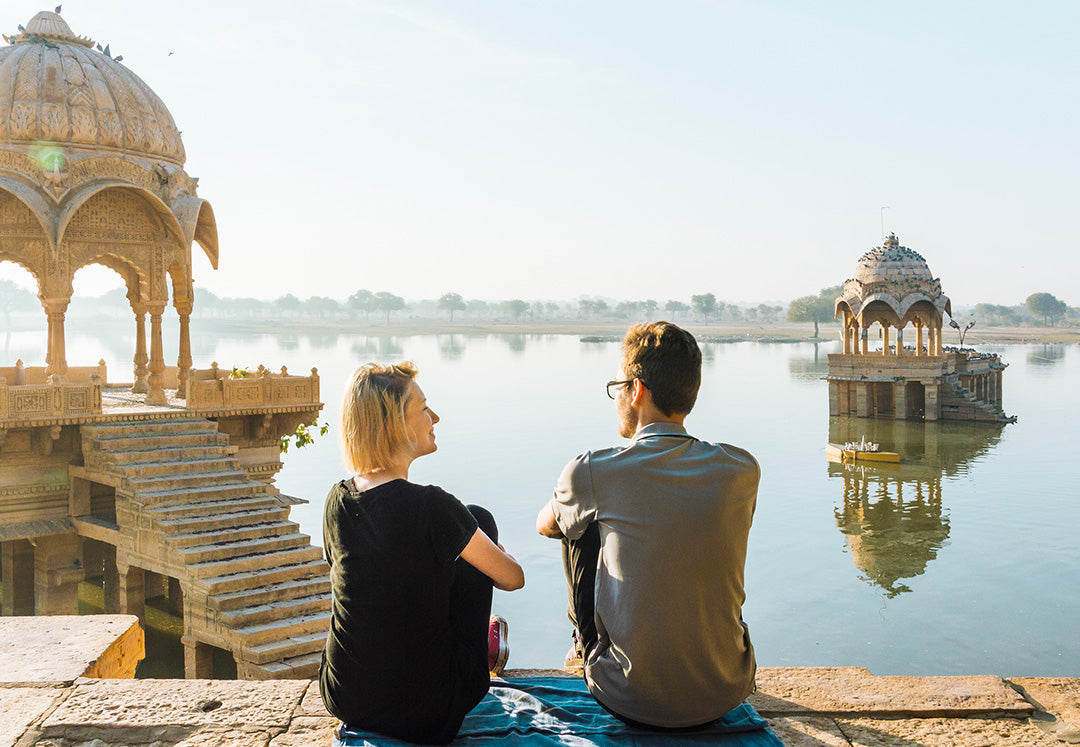 Honeymoon Q&A
We recently connected with the luxury travel specialists at Scott Dunn to discover their top travel recommendations and tips for making your honeymoon unforgettable.
What

are the current trending destinations for luxury honeymoons?
Our honeymooner guests are moving away from the traditional 'fly and flop' beach holiday and are increasingly booking more bucket-list style trips that combine active adventures, cultural experiences, incredible food and an element of relaxation. Africa and Asia are leading the way as the most popular regions for honeymooners. The top three countries booked by honeymoon couples in 2023 so far are:
South Africa
Indonesia
Costa Rica
A trend that has emerged post-pandemic is couples booking multiple honeymoons, often starting with a quick European break post-wedding to the likes of Sicily and Malta, followed by a longer honeymoon later on to once-in-a-lifetime destinations such as South Africa and Mauritius, Peru and the Galapagos, Japan, or a Californian road trip.

How can you help couples personalise their honeymoon experience to make it truly unique?
Local knowledge is really what sets us apart when personalizing our guests' honeymoon experience. Our team of Travel Specialists regularly visit destinations on educational trips to experience our portfolio first-hand, as well as on their own holidays. Whether it's a private helicopter flight over the remote fiordlands of New Zealand or an after-hours tour of the Vatican Museums to marvel at the Sistine Chapel in total solitude, we carefully curate unforgettable experiences that are tailored to each couple's interests.

Can you provide examples of exclusive experiences or activities that you have arranged for previous honeymoon clients?
"South Africa is the top choice for honeymoons for good reason – it's bursting with unique experiences that tick every type of interest. We've arranged a sunrise hike overlooking Cape Town from Lions Head, a scenic helicopter flight with a private wine-pairing lunch in the winelands, and a night under the stars in a luxury sleepout deck surrounded by the sounds of the African bush."

Matt Gammon

"After a morning exploring Arenal's hanging bridges, I surprised a honeymoon couple with a secluded gourmet picnic on the banks of the Burro River in Costa Rica. Set in a private ranch, they enjoyed local produce including homemade chocolates made from cacao grown on the property."

Scarlett Bell

"Peru is now well-known for its forward-thinking gastronomic scene, with Lima's restaurant Central taking the top spot at this year's World's 50 Best Restaurants. In fact, Peru's buzzing capital has four entries on this year's list, and I have used our local connections to reserve the best tables at some of the most sought-after spots to enjoy tasting menus and wine pairings for foodie couples".

Konrad Mludzinski

Japan is a fantastic honeymoon destination, offering something for every couple no matter how varied their interests are. I've planned some epic trips that start in the big city buzz of Tokyo with its idiosyncratic cultures and fashions, cutting-edge technology and Michelin-star restaurant scene. A highlight experience that I planned for an architect couple was a walking tour to discover the design principles behind Tokyo's most iconic buildings with a leading Japanese architect, from the wooden Meiji Jingu Shrine to Tadao Ando's Omotesando Hills complex. Then it was on to Kyoto, where ancient traditions, historical architecture and myriad temples offer a much slower pace. Scratch beneath the surface and you'll find amazing record shops, exceptional cocktail bars and the ultimate yakitori restaurant, Torito. Outside of the big cities, couples can reconnect with themselves and nature with a few nights in Ryokan – traditional wellness retreats located in rural areas around thermal springs. A stay usually involves a full programme of relaxing baths and steam rooms followed by a private multi-course Kaiseki tasting menu dinner.

 

Dominic Atterton

How do you ensure privacy and seclusion for honeymooning couples at the selected destinations?
At Scott Dunn, we work with a carefully curated collection of hotels that we have personally seen and experienced. We know the best honeymoon hideouts, the rooms that offer the most privacy and the perfect experiences to escape the crowds. The relationships we have harnessed over the years ensure that all our guests receive VIP treatment while on honeymoon, with lots of little extras throughout. From upgrades on arrival to onsite special experiences or special dinner arrangements, a honeymoon with Scott Dunn is nothing short of spectacular. Scarlett Bell

What are some luxurious accommodation options that you recommend for honeymooners?
"It doesn't get much more remote or intrepid than Pacuare Lodge, a luxury eco-lodge hidden in the Costa Rican rainforest. Located on the banks of the Rio Pacuare, arrival and departure is by white-water raft and time is spent exploring the pristine rainforest. Experiences are all included and offer a variety of adventure, relaxation, and immersion in nature. The Canopy Suite is my favourite choice for honeymooners. Nestled in the treetops, it boasts panoramic views of the jungle and the Pacuare River. It's the most private, the most secluded, and the most immersed in nature.
For those wanting a Robin Crusoe escape, Playa Cativo in the Osa Peninsula would be the place to experience. Home to 2.5% of the world's biodiversity, it's brimming full of wildlife encounters and untouched primary forest. Mornings at the eco-lodge make it worth the visit alone. Wake to the sound of monkeys, see Scarlett Macaws glide past and watch dolphins play in the Cativo Bay."

Scarlett Bell
"Sol y Luna in Peru's Sacred Valley is a real favourite amongst staff and guests alike. This beautiful Relais & Chateaux property is set amongst lush, manicured gardens, with excellent dining options, a large spa, outdoor swimming pool (unusual in the area) and its own stables with shows of Peruvian Paso horses each afternoon. The spacious premium casitas offer plenty of seclusion for honeymooners with a private terrace where couples can enjoy views out over the peaceful surroundings. It is ideally located to explore various Inca villages with traditional colourful markets, and archaeological sites such as Ollantaytambo. Other more active excursions include a plethora of hikes, biking, horse-riding, and white-water rafting to name a few!"

Konrad Mludzinski

"Hotel Das Cataratas is located within the Brazilian National Park at the Iguaçu Falls. Aside from offering the luxury you would expect of a Belmond Hotel, the special thing about the location is it gives guests access to the trails and viewpoints outside of park opening hours. Getting one of the world's natural wonders all to yourselves for a couple of hours at the beginning and end of the day is truly magical.
Uxua Casa Hotel in Trancoso, one of Brazil's best and trendiest beach areas, offers honeymooners the chance to stay at one of Brazil's most exclusive hotels on the famed Quadrado. Individually designed casas, some of which are restored former fisherman's cottages, offer honeymooners a luxurious hidden paradise and a real wow factor."

Grant Greenham

"In South Africa, Marataba Mountain Lodge paired with a night in Thabametsi Treehouse makes for an incredible honeymoon experience. The lodge is set within the dramatic landscapes of Marakele National Park, in the day dominated by expansive savannah and mountain vistas, while the night sky transitions to a blanket full of stars. When it comes to activities Marataba offer more than just game drives, you can head out onto the river for a sunset water safari or take a guided walk into the reserve led by a professional guide.
Another favourite is Grootbos Garden Lodge, a luxury eco-reserve nestled within mountains, indigenous forest and pristine coastline embracing the surrounding landscapes. Those drawn in by food and wine can enjoy fine dining with ingredients sourced from the local area, as well as wine cellar tastings and sunset beach picnics. For a dose of adventure, head out horse-riding, whale-watching, or fat-biking, before slowing down for a relaxing treatment in the spa."

Matt Gammon

How do you handle travel logistics and transportation arrangements for honeymooners?
Planning a honeymoon can be a lot to take on for couples, especially after the stress of planning a wedding. We take all the hassle off our guests' plates and ensure all the finer details of their trip are taken care of, from the moment they reach the airport with a VIP meet and greet on arrival, to detailed documentation available on our easy-to-use mobile application. Our expert partners on the ground use premium vehicles and the best local guides to ensure an exclusive feel and seamless service throughout.

How do you handle unexpected situations or emergencies during the honeymoon?
Our global offices in London, Singapore and San Diego mean guests can speak directly to a member of our team 24/7, no matter where they are in the world. With over 35 years of experience planning luxury holidays, we're pros at handling unexpected situations, last-minute changes and emergencies that sometimes arise while our guests are travelling.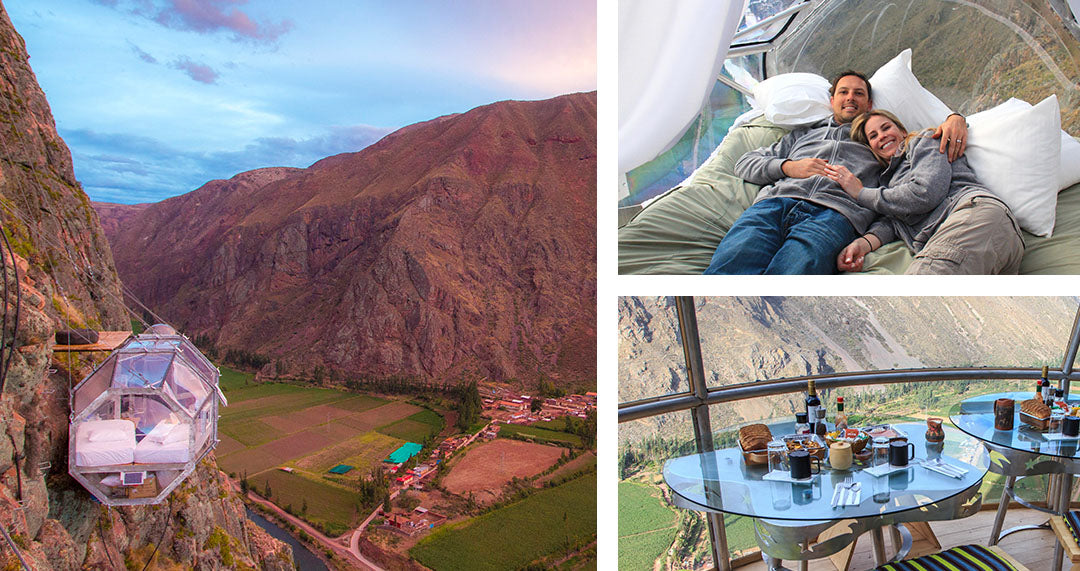 Can you recommend any unique honeymoon activities or experiences that we may not have considered?
"Set off on a private boat trip along the Nicoya Peninsula coast and experience bioluminescence, where the ocean waves glow neon blue. It's possible to see this incredible natural phenomenon year-round, but the best time to see it is right after a full moon."

Scarlett Bell

"In Iguaçu, I highly recommend visiting the spectacular waterfalls at night on the Full Moon. Stroll under the moonlight through the park to the Devil's Throat and gaze into the depths under the silvery light. If you're lucky, you may even see a lunar rainbow!"

Grant Greenham

"One of the most unusual and unique ways to spend a night together as newlyweds, is under the starry sky in a transparent luxury dome hanging from the top of a mountain in the Sacred Valley. To sleep at the Skylodge, couples will need to climb 400 metres of Via Ferrata or hike an intrepid trail through ziplines. Once at the top, guests are rewarded with 360-degree views and whilst they settle in for the evening, a gourmet dinner accompanied by wine is served. Each dome is kitted out with all the essentials to guarantee a quality night's sleep, including a comfortable mattress, a private bathroom and curtains for privacy. Whilst not for the faint-hearted, a night here is bound to be a talking point for years to come."

Konrad Mludzinski

What is your process for working with honeymooners to create a customised itinerary?
As with all our guests, we take the time to get to know them on a personal level through a series of phone calls, finding out what they're specifically looking for from their honeymoon. We then use this information to craft an itinerary that is completely bespoke and unique to them, packed full of authentic local experiences, incredible hotels with upgrades where possible, and a few surprises along the way.
How far in advance should we book our honeymoon to secure the best options and availability?
We've been known to pull off an epic honeymoon in record time, but to ensure our honeymoon guests get to stay in the best room at their preferred hotel, secure that coveted table in a trendy restaurant and secure the best available flight fares, we recommend booking 8-12 months in advance, especially if you're planning to travel during the destination's peak season.

Insights from Scott Dunn's Travel Specialists – Matt Gammon, Scarlett Bell, Konrad Mludzinski, Dominic Atterton, Grant Greenham,