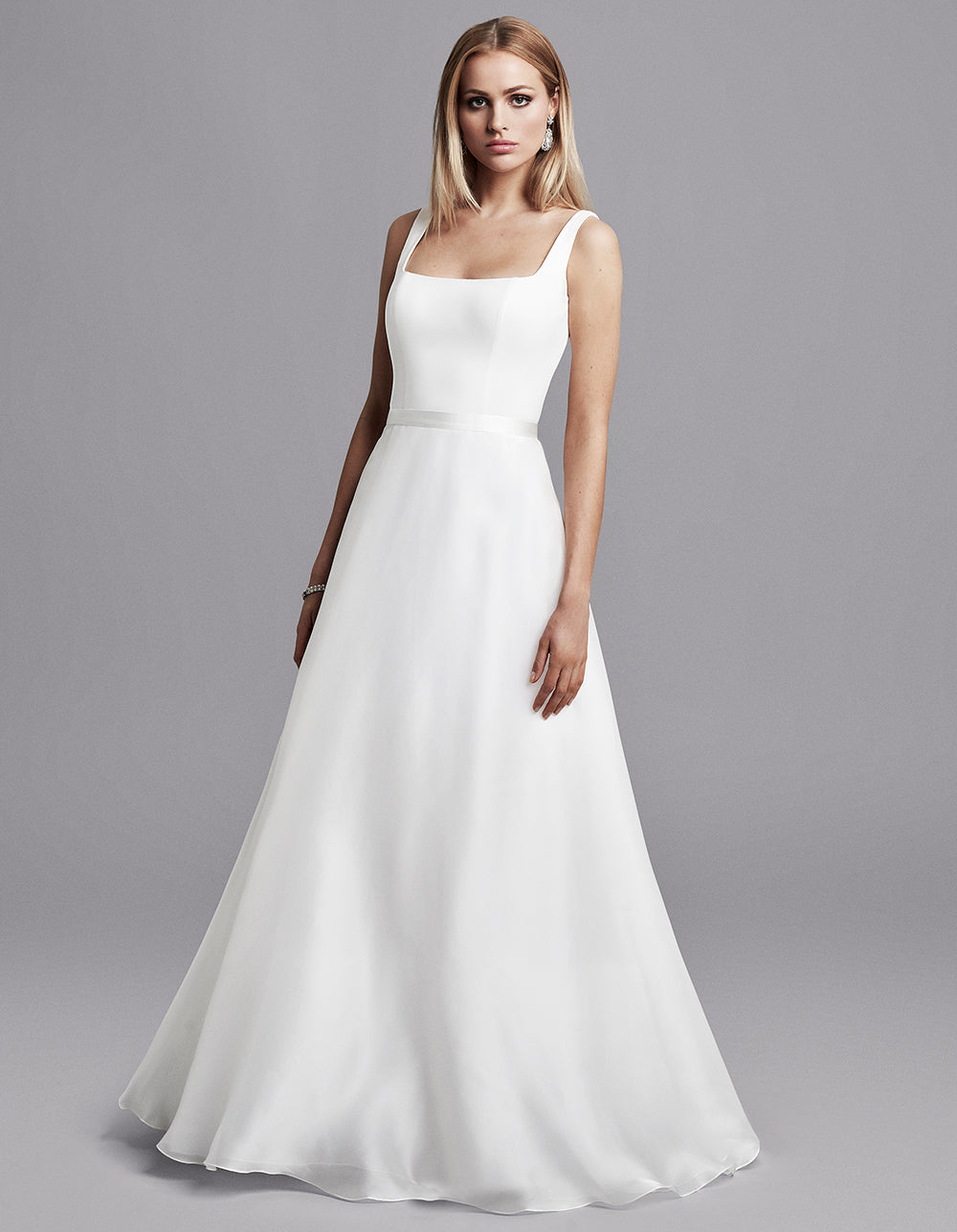 Finding the right wedding dress shape for your body
The best Silhouettes to compliment your body shape

Welcome to the home of luxury wedding dress designer, Caroline Castigliano. With over 28 years' experience in the world of exclusive and luxury bridal, London-based couture wedding dress designer – Caroline Castigliano – has carefully curated a series of her insider hints and tips, to help you create the perfect wedding. 
As a connoisseur of couture wedding dress design, Caroline Castigliano has mastered the art of creating the perfect silhouette. Each Castigliano bridal gown is meticulously hand-crafted to ensure the perfect fit using expert cutting and corsetry, Caroline has great depth of insight and understanding into designing bridal gowns to truly fit and flatter. This comprehensive guide gives you all you need to know about choosing the perfect silhouette to compliment your body shape.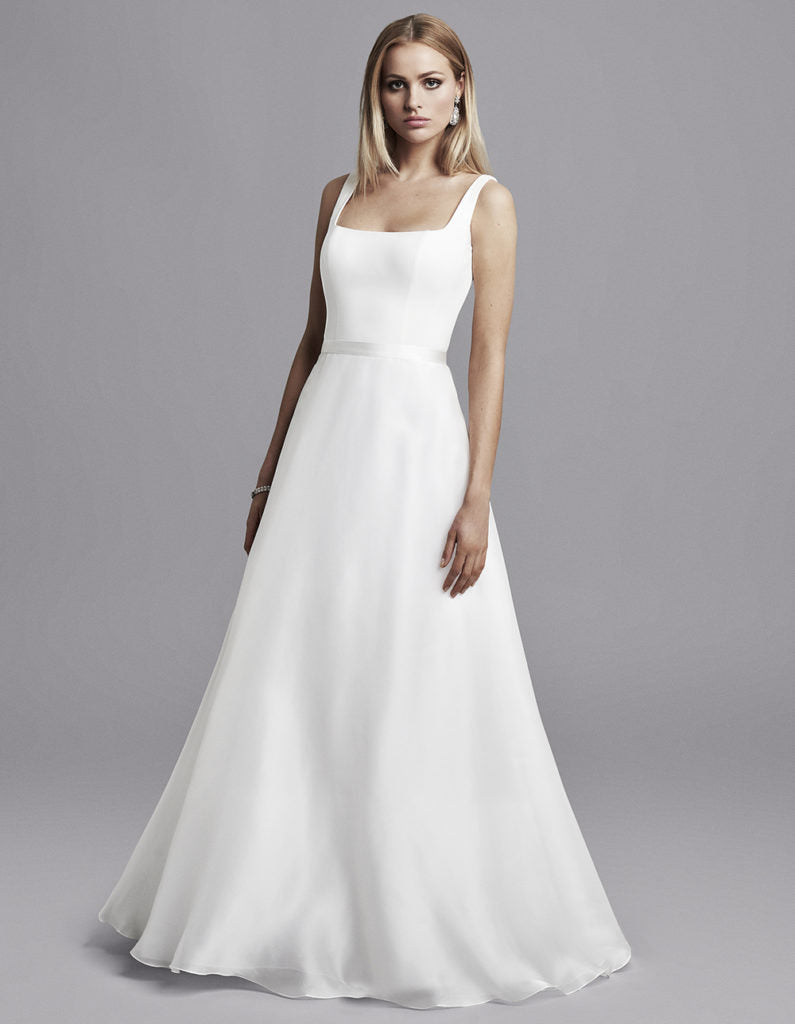 [Skyler]
A-LINE DRESS
Ideal for all brides, especially plus-size and pear shaped brides as it elongates and creates a slimming effect. It also creates the illusion of curves on narrow frames, with a cinched waist. These wedding gowns will keep everyone's eyes on your slim upper body, give your waistline beautiful definition, and hide your thighs and hips. If you have a fuller figure be sure to look for A-line gowns made from sturdier fabrics, such Duchess satin to avoid any unwanted cling.
[Song Saa]
TRUMPET GOWN
Though most flattering for tall, hourglass or slender brides, this wrap-style dress with sweetheart neckline can hide a few problem areas and create curves. For petite brides try a structured trumpet gown with a waistline above your natural waist, to make the lower half of the dress appear longer.
[Jourdan]
MERMAID GOWN
Fitted at the waist and flaring from the knee, this body-hugging design is ideal for tall, slender brides or voluptuous brides wanting to show every curve. This style also works well for brides with wide shoulders. An elongated bodice hugs your body to below the hips.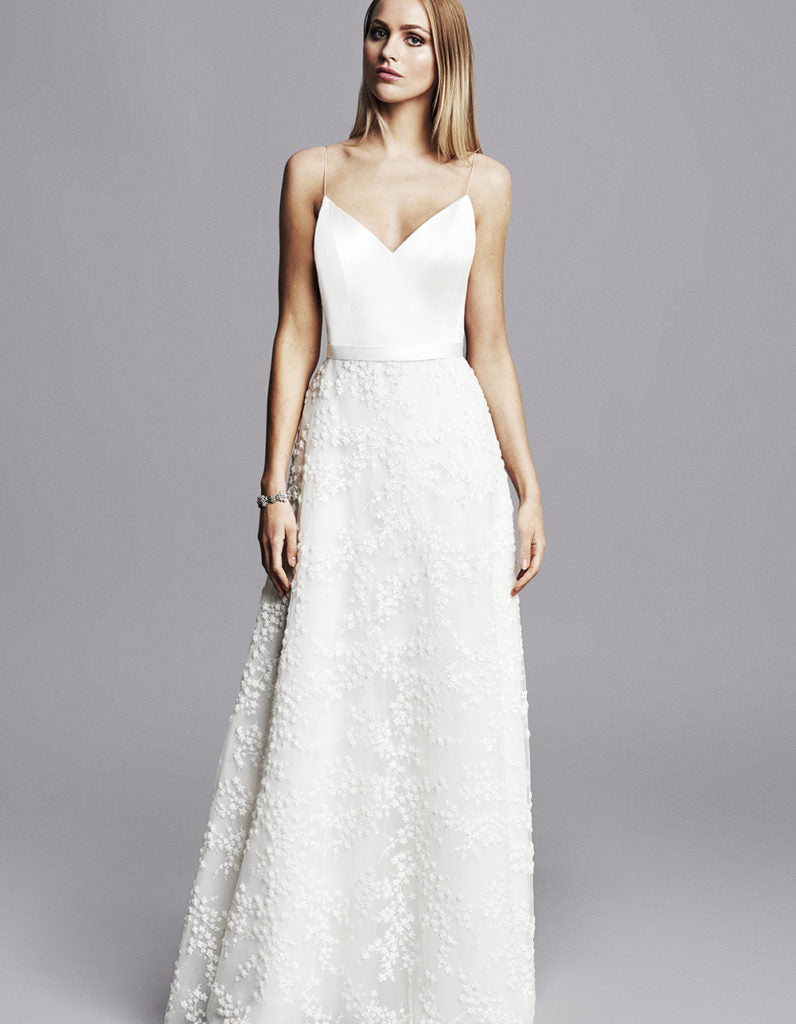 [Adela]
SHEATH DRESS
A timeless classic best suited for elongating petite and small-framed brides who can be overwhelmed by big ball gowns. Slip styles are also unforgiving with problem areas. If you are straight lined, try a sheath dress that's cut on the bias; the curving side seam will give curves even if you don't have them.
[Monika Shrug]
SHRUGS
Choosing a shrug allows you to achieve a completely different look on your wedding day. For more traditional ceremonies, you have the flexibility of covering your shoulders and can remove the shrug later on in the day for the reception. A shrug is also great for brides who may be slightly conscious of their arms, as a layer of organza or lace, lightly flows across these areas.
Now that you have found your perfect silhouette, take a look at more luxury wedding dresses here and request and appointment to meet our expert stylists that will help you find your perfect dress.