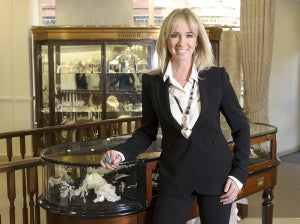 Caroline Castigliano's Bridal Style Advice
Every month we're going to sit down with Caroline Castigliano (the designer herself) and grill her on her style tips, wedding gown advice and key bridal trends for the upcoming year. Here we've got a short interview with the fabulous designer on how you can achieve a look on your big day that is both unique and compliments the other members of your wedding party: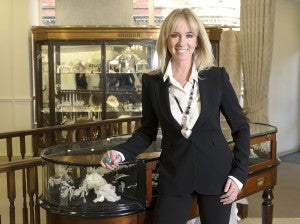 Hi Caroline, thanks for sitting down with us! How can a bride create a wedding day look that is truly unique? 
Caroline: Brides can add specific items that are unique to the her, the reality is that all brides look unique naturally because they all wear their wedding dress so differently.
Everything from accessories, hairstyling, their personality, height, colouring and style means that you could put two brides in the same dress and they would look completely different.
So really, I would say- be true to yourself, and wear things on the day that really mean a lot to you (like a favourite pair of earrings, a statement pair of shoes, a strong colour of lipstick etc you choose!)
Here's one of our beautiful brides Julia Evetts in her Caroline Castigliano gown!
What about the brides that are just starting the search for their dream wedding dress? 
Caroline: It's important to have an idea of the overall look you want to achieve. This will ultimately be driven y the impression you want to give your husband to be and other guests, how are they going to remember you on this special day? Glamorous, Vintage, Rock, Royal? These are just a few suggestions!
Once you've got this vision clear in your mind, I would suggest you take to the internet, and bridal magazines to find a collection of images and settings that are achieving the vision you have planned for yourself. These will become your inspiration, and your go-to source to start your search.
Once you've got this 'collection' together, you can then investigate the designers and boutiques that could help make your wedding day vision a reality. Research these designers and boutiques before popping in, their price range, time it takes to create the gown (if you're having a couture wedding dress made) do they have a fitter on site or is your wedding gown sent away? It's important that the company you choose to create your dream wedding dress is right for you, and that you can trust them with this crucial task.
Another Caroline Castigliano bride from Cyprus- Sara Eojourian with her bridesmaids. 
What about the bridesmaids and groom? How does a bride ensure they compliment her?
Caroline: With the bridesmaids, no matter how much you want them to look special or glamorous, you must remember that they are there to frame and compliment you. So they should be in the same colour, having different silhouettes for different body shapes is fine, but do not have a patterned fabric on their dresses, similarly don't have an overly revealing dress either for them. Think about the style you're going for, if you're in vintage then it would make sense that their gowns were also complimentary vintage. 
The groom is a whole other story altogether because you need to decide whether he's in a morning suit or a normal suit first of all (or maybe even more casual) but similarly, this will be dictated by the style of wedding (and bridal gown) you choose. In photos the groom should always complement the bride, so make sure you've got a good mental picture of your gown when out shopping for his outfit.