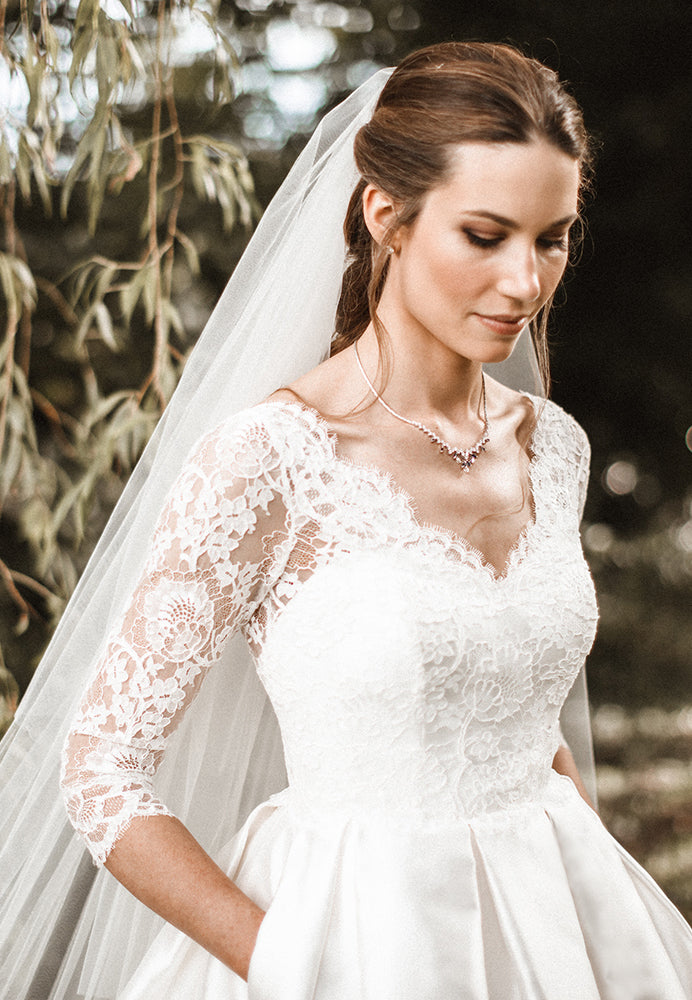 Caroline and Juliáns beautiful British-Colombian Yorkshire wedding
Castigliano bride Caroline and husband Julián became a couple five years ago when he moved from Colombia to London to study for his Masters, but their story started years before when they met at a language school in the French Alps.
They were married in the same church as the bride's parents, a small beautiful Saxon church next to her family home in Yorkshire.
Photography by Benjamin Wheeler
How did your husband propose?
We went to a secluded resort on the Colombian Caribbean coast and stayed in log cabins on the beach.  It turned out we were the only people there and so one day he decided to organise a romantic dinner, except late-afternoon the hugest storm hit and the whole area flooded.  So he kept me inside under the pretence that he was 'scared of thunder' and we drank wine while, unbeknown to me the ladies scurried around outside trying to relocate the dinner to an adjacent cabin.  After the storm we took our bottle on a walk down the beach and because of the weather there was the most incredible sunset I've ever seen.  We sat on tyres on the sand which were breaking the waves, with our feet in the ocean and I joked that 'now would be a good time to propose'….then he did!  We walked back and there was a candle-lit, petal-strewn balcony with an amazing dinner waiting for us.  It was magical and every bit as romantic and cheesy as I could have hoped for!
The bride looked radiant in a handcrafted Silk Zibeline gown with a grown on corded lace shrug and a beautiful veil with scalloped lace edging.
The Caroline Castigliano Knightsbridge store was the first shop I went to and after 20 minutes, I had found my dress.  I put it on and I didn't feel like I was playing dress-up anymore, I saw myself on my wedding day and it was really emotional.   I couldn't wait for Julián to see me for the first time in it. The dress was classic with a twist – a hint of skin, pockets for my makeup (which were a godsend) and a Grace Kelly-like structure to it – so on the day I felt like the embodiment of the women that I wanted to be; timeless and elegant, yet also sexy and powerful. 
What did you enjoy the most about your Caroline Castigliano experience? 
I was made to feel really special every time I went into the store, like I was the only bride in the world!  I felt completely at ease and that everything was under control.  So many brides I know that have had dresses made from scratch suffered anxieties and felt like they really had to push to get the service and quality that they wanted.  I never had that once.  Also, it was great to have Caroline working personally on my dress, I felt very honoured.
Suppliers
Photography: Benjamin Wheeler
Florist: Alison Doxey
Caterer: GFS Catering
Cake: The Classic and Contemporary Cake Company
Wedding stationery: Mount Street Printers
Brides Shoes: Jimmy Choo
Bridesmaids: Needle & Thread
Grooms outfit: Cad & The Dandy
Band/DJ: Kandela Mi Son