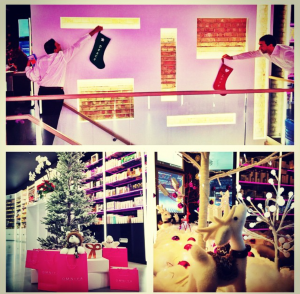 Caroline Castigliano and OMNIYA bring Brides that extra gift for their special day!
London, December 2014 – The Caroline Castigliano team want to ensure their Brides feel exquisite from head to toe not just on their big day, but in the countdown too. Which is why their latest promotional partnership is very exciting indeed. Thinking about your skin care regime and weight loss plan a few months ahead of your big day ensures you'll get the results you want. This is why Caroline Castigliano has partnered with OMNIYA, to ensure that her brides have the best health and beauty care on the countdown to her big day when they purchase their bridal gown from Caroline Castigliano before December 31st.
OMNIYA is the latest and most exciting company to hit the beauty and aesthetics market, offering  innovative treatments to keep your skin and health at its optimum level. Here's a picture of their new Knightsbridge Boutique (getting in the Christmas spirit!)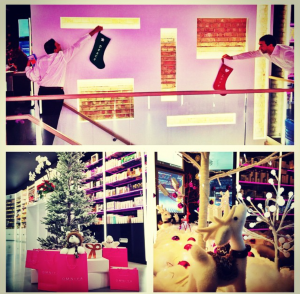 Throughout the month of December, when a Bride purchases their Caroline Castigliano Bridal Gown they will get a selection of special discounts on beauty and weight loss treatments with the unique health and beauty company OMNIYA, who have just opened the doors to their new Knightsbridge Boutique.
Here's what OMNIYA had to say about bridal beauty and care, "Every bride wants to look and feel her very best on her wedding day, so the team at Omniya have created a range of treatment options to help achieve healthy, glowing, radiant skin and optimise weight management.
It's no secret that a bride wants to look beautiful and radiant on her wedding day, so this partnership is giving Brides to be the perfect opportunity to look their best at a special price.
To view the exclusive offers and packages available to all Caroline Castigliano brides click here. 
About Omniya
An innovative concept health and beauty boutique, encompassing a pharmacy with cosmeceutical products; MediSpa and SkinSpa, for rejuvenation, anti-ageing and body contouring treatments; and well-being services including nutrition and functional and nutritional medicine.
This is your life. Live the Life you love.
3A Montpelier Street, Knightsbridge, London, SW7 1EX