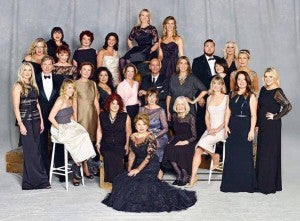 Caroline Castigliano Featured in 60th Anniversary of Brides Magazine!
The head of Caroline Castigliano herself (yes Caroline Castigliano) is featured in the Jan/Feb edition of Brides Magazine in honour of their 60th Anniversary Issue! We're so pleased to be able to bring you the beautiful group shot taken with Caroline and the rest of the 'Best in the Business':
Here's what Brides Magazine had to say about this fantastic shoot and their 60th Anniversary Issue (which is on sale now and you can purchase here.)
What a truly amazing time it is to be a bride-to-be. You have the best choice of designers to create your once-in-a-lifetime gown; the one that's going to make you look more beautiful, and feel more confident and loved, than any you've ever worn before.
And to celebrate that immense bridal design talent and some of our closest contacts here at Brides, we've shot this glorious portrait for our 60th anniversary issue. Now you can see for yourselves the brains behind that dress in a million, and know these designers have more than 760 years' expertise between them!
Here's to another 60 years collaborating with the very best in the business
Back row, from left) Maria Yiannikaris, Mirror Mirror Couture; Terry Fox; Regine Ellis, Ellis Bridals; Caroline Castigliano; Britta Kjerkegaard,The Couture Gallery; Tony Mentel, Justin Alexander Bridal; Chenca Williams, Ritva Westenius; Gill Harvey, Eliza Jane Howell (Second row, from left)Kate Halfpenny, Halfpenny London; Sharon Cunningham (Third row, from left) Amanda Wakeley; Stewart Parvin; Charlie Brear; Louise Selby; Marguerite Hannah, Alan Hannah; Jade Beer,BridesEditor; Ian Stuart; Camilla Newman,BridesPublisher; Naomi Neoh (Front row, from left) Stephanie Allin; Veni Infantino, Ronald Joyce; Sassi Holford; Ritva Westenius; Jane Freshwater, Mirror Mirror Couture; Suzanne Neville; Charlotte Balbier.