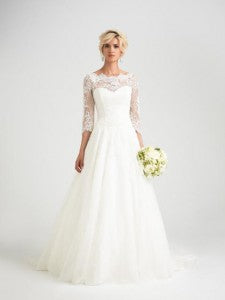 The 'Big look to 2015' collection by the glamorous designer herself - Caroline Castigliano.
So what can we look forward to from this amazing designer in 2015? Caroline Castigliano tells us that the looks are inspired by the softness coming through next season. Glamorous, light, yet casual with pockets at the same time. Softness over the top of corsetry structure is key. Structure gives the shape and makes the bride feel good, then softened over the top to strike a fantastic balance in the gown.
The vintage look is still so popular. Think Audrey Hepburn with honey necks and short sleeves. Vintage laces are a big trend bringing the classic feel and corsetry all together.
Here, Caroline Castigliano describes her decadent 2015 bridal gown collection.
First is the 'Rossini' – Fabulous Chantilly lace, with pale white cording going through and a tiny touch of beading. Exquisite:
The second is the aptly named 'Mesmorizing' – A stunning wedding gown with wonderful box pleats at the waist and pockets, giving an incredible casualness. The high neck and deep back give a classic feel that is so very stylish.
Next we have the 'Rosabella' – A real favourite in the line. Made with 100% double silk duchess. Silk stitches, pockets, a 50's classic feel. Flatness across the front and side pleating. A low back, it's simplicity itself. We have introduced a new corset and we're thrilled with the physical silhouette of the corset, think Grace Kelly, romance!
The fourth in the collection is called 'Charm School'
This comes with a choice of 4 jackets so that you can literally choose the finish you want!
The beautiful cap sleeve with a keyhole back
The integrity shrug – a high neck, sports sleeve with vintage lace
The Svetlana –  with an elegant boat neck, ¾ sleeve, and very low v back
The vintage cotton lace – open front, cap sleeve and keyhole back
The final look is the glamourous 'Fly me to the moon'
A stunning dropped waist with structured corsetry that balances out and shows the curves. A gorgeous cloud skirt that is 100% satin based layered organza.
2015 sees Caroline Castigliano bringing back the scoop neck. It's not been seen for a while in bridal trends but we love that it's back. It's worked a real treat!
All our designs are available in store or across the country via our stockists now.
You can view Caroline's interview with Brides magazine and see the dresses being modelling right here: https://www.youtube.com/watch?v=GAFuUMmTX54