Eternal Love
Love is In The Air (P008)
The Eternal Love designer bridal gown is a modern, sculptural design. The boned bodice features strapless sweetheart neckline, crafted in ivory silk organza and fastened with an eyelet panel to slim the fitted waist. Lace applique flowers in an asymmetric pattern adorns the classic silhouette. The full skirt is crafted from illusion tulle over layers of silk taffeta and frilled net petticoats to give it a full silhouette – a contemporary statement comes via the sweeping silk organza peplum, appliqued in the same delicate floral lace that features on the bodice, the back skirt flows into a train. The modern cut features Caroline Castiglianos signature fastening – silk covered buttons and delicate rouleau loops in an elegant line along the centre back.
Designer wedding dress featuring:
Ivory silk organza with lace applique
Strapless sweetheart neckline
Boned bodice
Modern draped peplum with lace applique
Silk-covered buttons and rouleau loops
Need help?
Frequently Asked Questions
How do I book/change an appointment?

To book an appointment please call our Knightsbridge boutique on (0)207 5909 120. Or alternatively fill in our request form.
How long in advance should I book my first bridal appointment?

We recommend that you book your first appointment one year in advance of your wedding date.
How long will be appointment be?

Each bridal appointment lasts for an hour and a half.
How many guests am I allowed to bring to my appointment?

Due to the exclusivity of our boutique, and the level of service, we can accommodate a bride and up to two guests per appointment.
What do I need to bring to my appointment?

It is best to bring a strapless bra and to wear nude underwear. If possible, bring photos of dress styles you are drawn to; this allows your consultant to recommend similar designs. You can also show your consultant photos of your venue so she can gauge the theme of your wedding and personal style.
What happens during a bridal consultation?

First we invite you to share your vision for both your wedding and your wedding dress with your dedicated consultant. We understand how important it is for your bridal gown to reflect your style and character, as well as fitting impeccably to flatter and enhance your shape. After the initial interview, your consultant will show you the collections you will be able to try on the dresses you love.
What size will I be?

Having selected your designer bridal gown from our Knightsbridge boutique, a trained fitting manager will take detailed measurements. Every Castigliano designer wedding dress is made-to-measure to ensure a flawless fit.
How many fittings appointments will I have to attend?

Three to four follow up appointments will ensure the final fit and finishing is seamless.
Are you able to help me choose accessories to match my gown?

Our team of bridal style experts will help bring every bride's vision to life. When you have selected your designer wedding dress our team of skilled consultants will talk you through our collection of accessories. Every accessory we stock is designed or selected to help complete our clients wedding dream.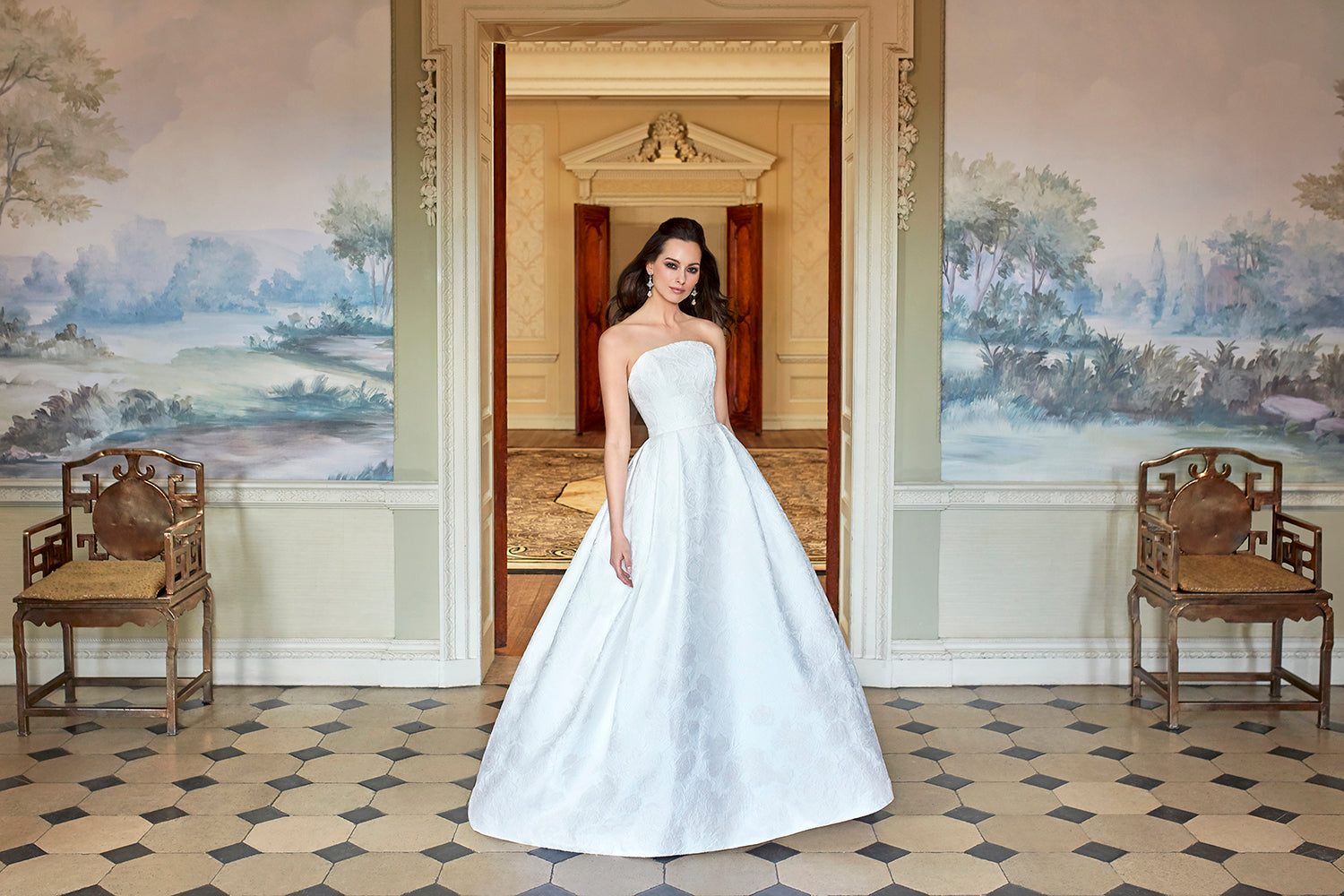 Castigliano Gowns
Dive into the world of Caroline Castigliano, where classic couture meets modern glamour. Envisioned with the passion to harmonize timeless elegance with chic allure, Caroline's collection is a testament to her dedication to redefining luxurious gowns for the contemporary woman. Every piece in this collection tells a story of its own – merging feminine sensuality with contemporary design aesthetics. Indulge in the richness of sumptuous fabrics, the delicate allure of modern laces, and the intricate beauty of the embellishments that adorn each gown. This is more than just fashion; it's a statement of luxury with a touch of modern style. Welcome to Caroline Castigliano's vision.
VIEW GOWNS