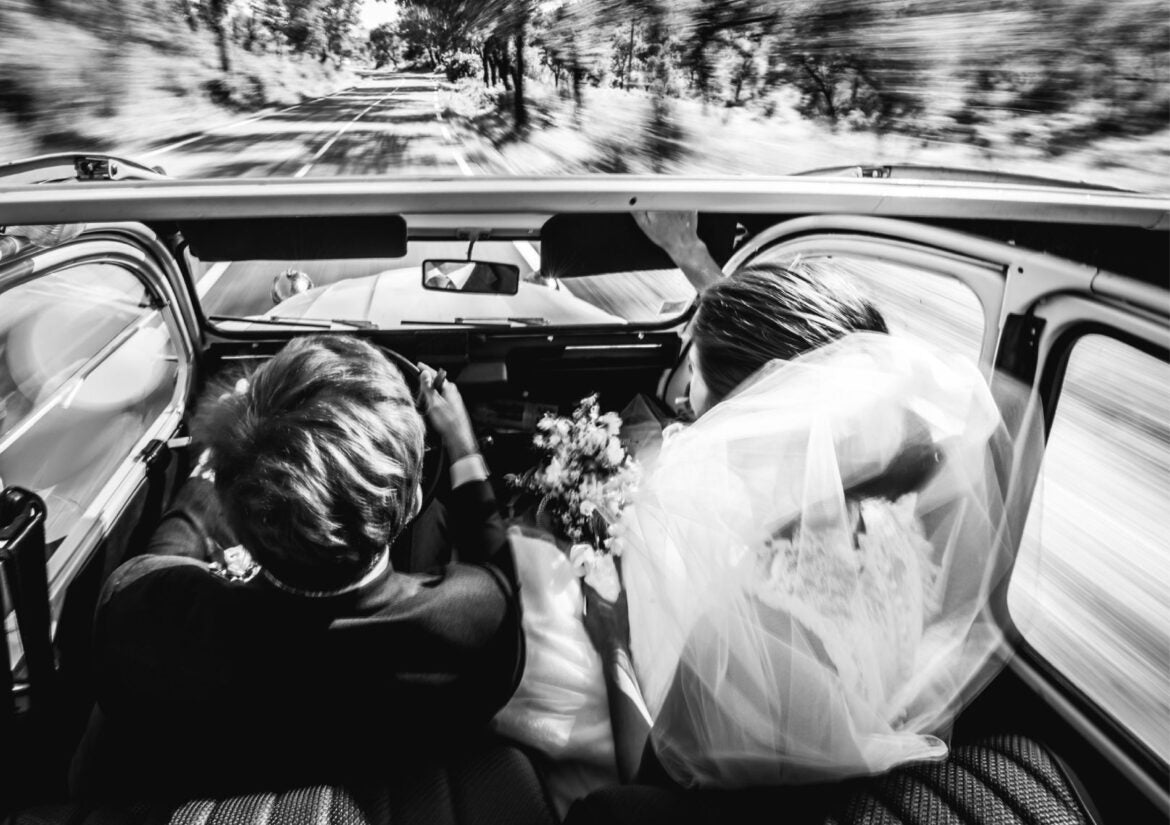 Wedding Planning - A Month-by-Month Breakdown
An exquisite wedding requires excellent planning. Whether you prefer to plan by hand with a paper planner or digitally with the help of calendars, mapping out all the tasks you need to accomplish at least a year in advance will make the planning process a breeze. 
At Caroline Castigliano we've gathered a list of essential tasks and arranged them in a simple, month-by-month format to help you get a head-start on your planning.

Find your inspiration: Scour bridal magazines, set up a Pinterest board, and think back to weddings of friends and relatives you admire. Now is the time to indulge in your dreams and consider your ideal aesthetic, ambiance, structure, and style.
Set your investment: Your bridal gown will be the most important investment you'll make as it will be the ceremonial centrepiece. Choose a gown that tells the story of who you are as a woman.
Engage the services of a wedding planner: Planning can be exciting, but it can also be stressful. Find a wedding planner you trust to keep everything on schedule and to the highest standard. The peace of mind is priceless.
Find the perfect gown: When it comes to finding the perfect gown, we highly recommend booking your first fitting appointment at least a year in advance. This will allow ample time for the creation of an exquisite, handcrafted gown that has been tailored to your unique measurements and personal style.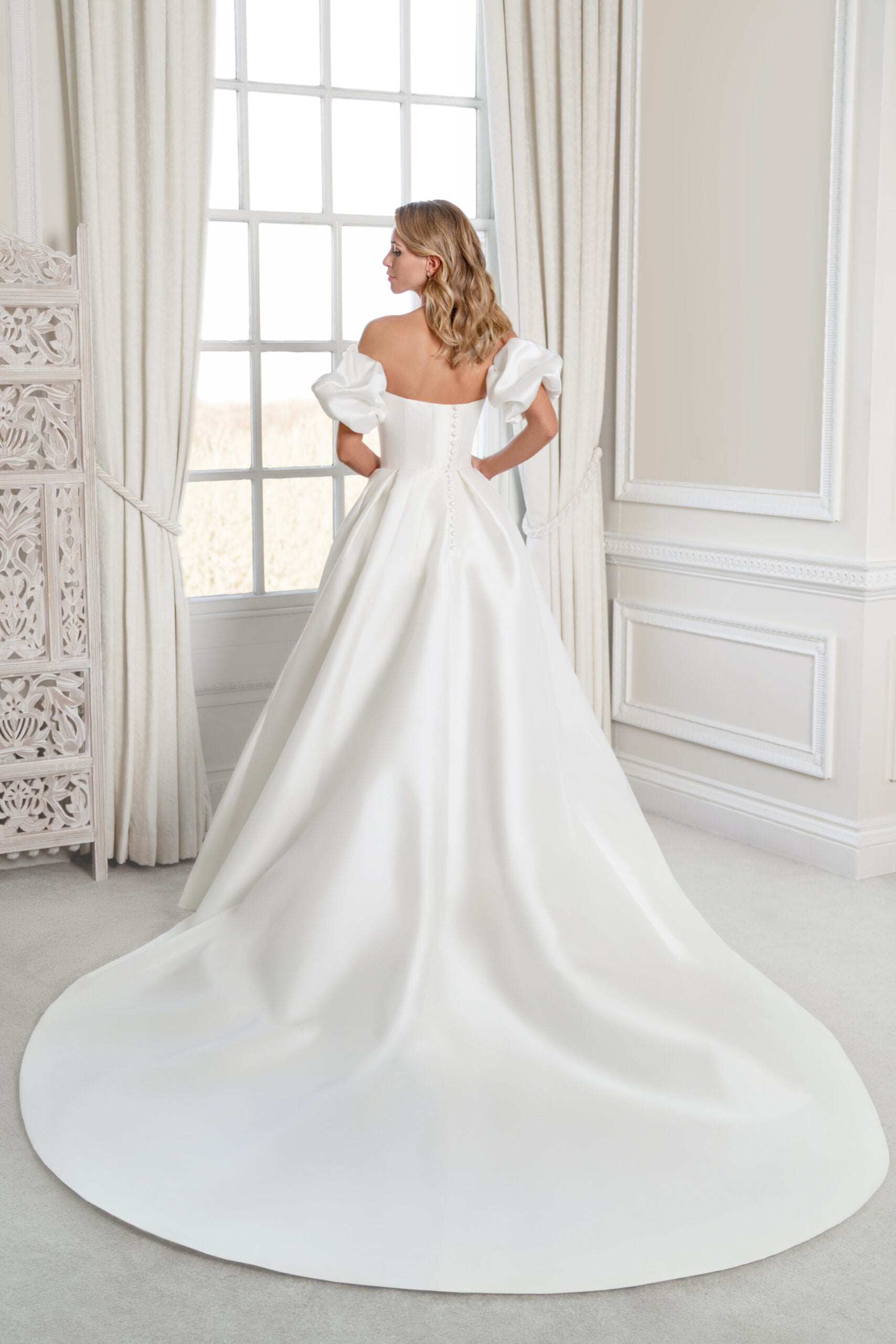 Reserve your venue(s): Will you be holding your ceremony and reception in the same place? Many couples opt for multiple wedding events to make the most of this special occasion. Reserve your date early to secure your preferred location.
Hire a photographer: This is a great time to start looking for a photographer whose style aligns with your vision for your special day.
Draw up your guest list and send out save-the-date cards: The venue choice will determine the size and shape of your guest list. Make sure everyone you want to share your day with can attend by giving them plenty of notice.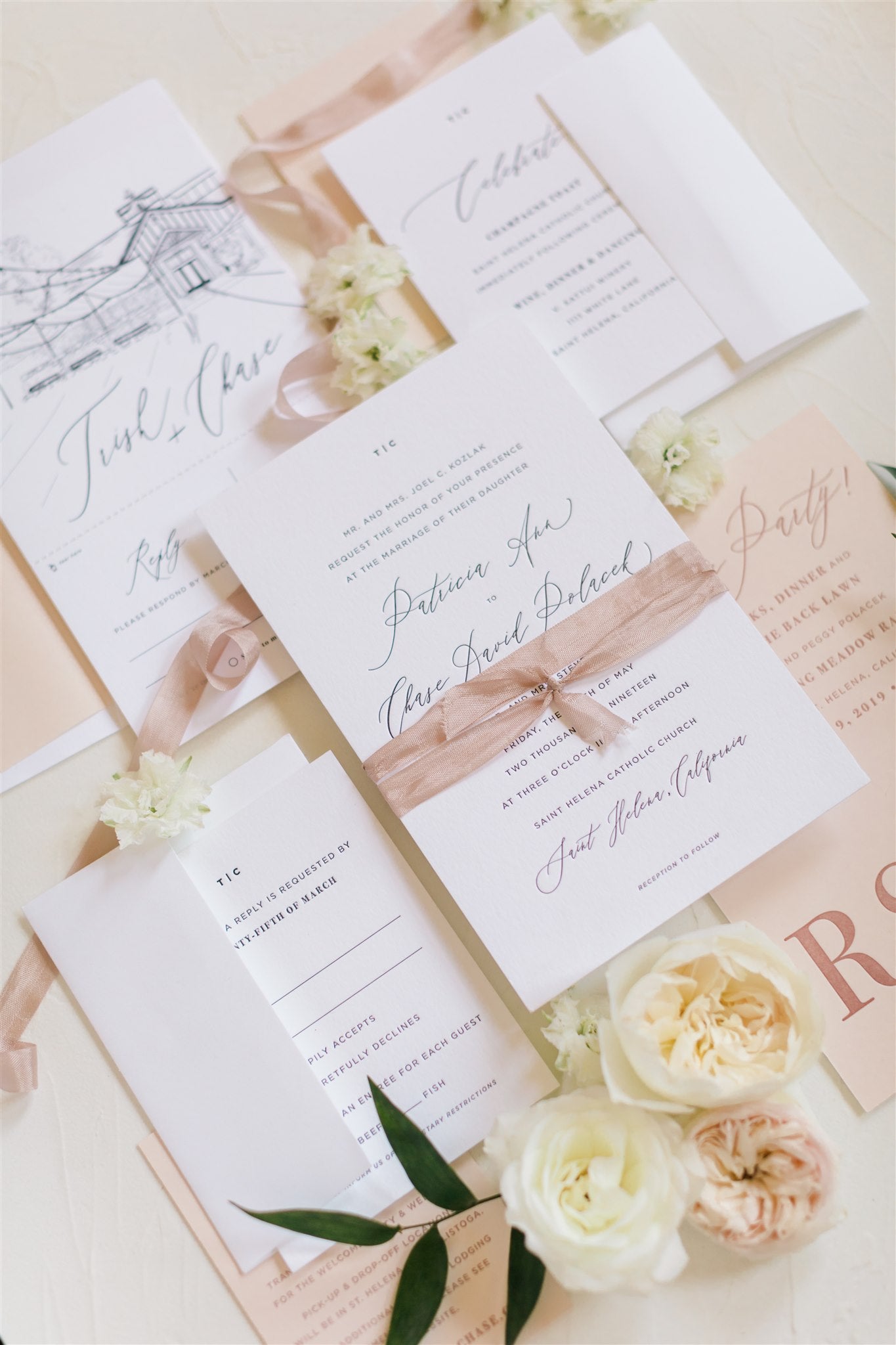 Decide on your wedding party: Assign roles to those you want closest to you on the day. Bridesmaids, ushers, best man, and maid of honour should be decided now to allow them to be involved in the next planning stages.
Pamper yourself: With only six months left until your wedding day, now is the time to start prepping your skin for the ultimate bridal radiance. By starting your treatments now and scheduling a monthly session, you'll be blown away by how radiant and flawless your skin will look on your special day. But don't just trust anyone with your precious skin – visit a skilled dermatologist who can get you glowing!
Set up your gift registry: Ensure that you include a range of gifts, from future heirloom pieces to more modest options for those on a budget. It's time to send out the invitations and set a deadline for guests to respond.
Make your catering decisions: Whether you desire a multi-course banquet, a relaxed buffet, canapes, or a combination of the above, now is the time to identify your ideal caterer, book them for your date and arrange tastings.
Order the wedding cake: While it might seem premature to order your cake so far ahead of time, good bakers will always be in high demand, especially during peak wedding season.
Hire your florist: The flowers you choose for your wedding will set the scene. Make sure to secure your preferred florist to achieve the beautiful blooms you have dreamed of.
Meet with your musicians: Will you be serenaded by a string quartet, played in by a pianist, or dance the night away to a live band? Whatever your musical choices for the day, meet with your musicians now to agree on the soundtrack to your wedding.
Create a wedding website: Perhaps the most stress-free way to keep your guests informed is to set up a website housing all of the vital information for your day. Setting this up now will free you from endless questions and allow you to concentrate on what's important.
Book hotel rooms and transport: Consider how many nights you want your wedding party and other guests to stay and block book hotel rooms in advance. Taxis and your wedding car should also be booked now.
It's the moment you've been waiting for: time to send your wedding invitations! With only four months left until the big day, it's important to get those invites in the mail as soon as possible. Your invitations set the tone for your wedding celebration, so getting them right is essential. Whether you're planning a formal affair or a casual outdoor wedding, your invites should reflect your and your partner's unique personality and style.
It's time to organise your hair and makeup trial: To ensure everything complements your dress and style for your wedding. It's also important to order your wedding rings now, so they arrive in time and can be resized if necessary.
Remember to finalise the details of your menu, decor, and music at this stage.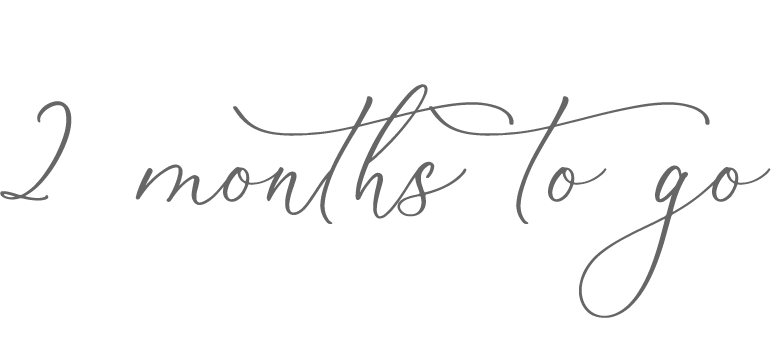 Select your readings and readers: Order favours and gifts for your bridal party, and send your wedding announcements to the newspapers.
The moment you've been eagerly awaiting has arrived! Your final gown fitting is here, an occasion that will leave a lasting impression. Indulge in the luxury of a grand preparation, make a fuss, and let yourself shine. This is your opportunity to be pampered with your wedding makeup routine and to revel in feeling truly extraordinary. This is your special moment, and it's time to make the most of it. Not only will you look breathtaking in your gown, but you will also feel effortlessly elegant and radiant. Make this final fitting a truly unforgettable experience you will treasure for a lifetime.
Choose your fragrance: Another important detail to consider as you plan your once-in-a-lifetime event is the fragrance you choose to wear. The scent you choose will not only enhance your beauty and confidence on your special day, but it will also become a cherished memory that will transport you back to that moment every time you smell it in the future. It's a subtle yet powerful way to add an extra touch of elegance and personalisation to your wedding day. This detail will be remembered for years to come and will become a cherished memory for you and your loved ones.


Seating arrangement: Finally, as you near the end of your wedding planning journey, it's time to focus on the finer details that will make your day truly special and unforgettable. One such detail is assigning seating for your guests. Whether you opt for traditional round tables or more unique seating arrangements, taking the time to carefully plan where each of your loved ones will be seated will create a warm and inviting atmosphere for your celebration.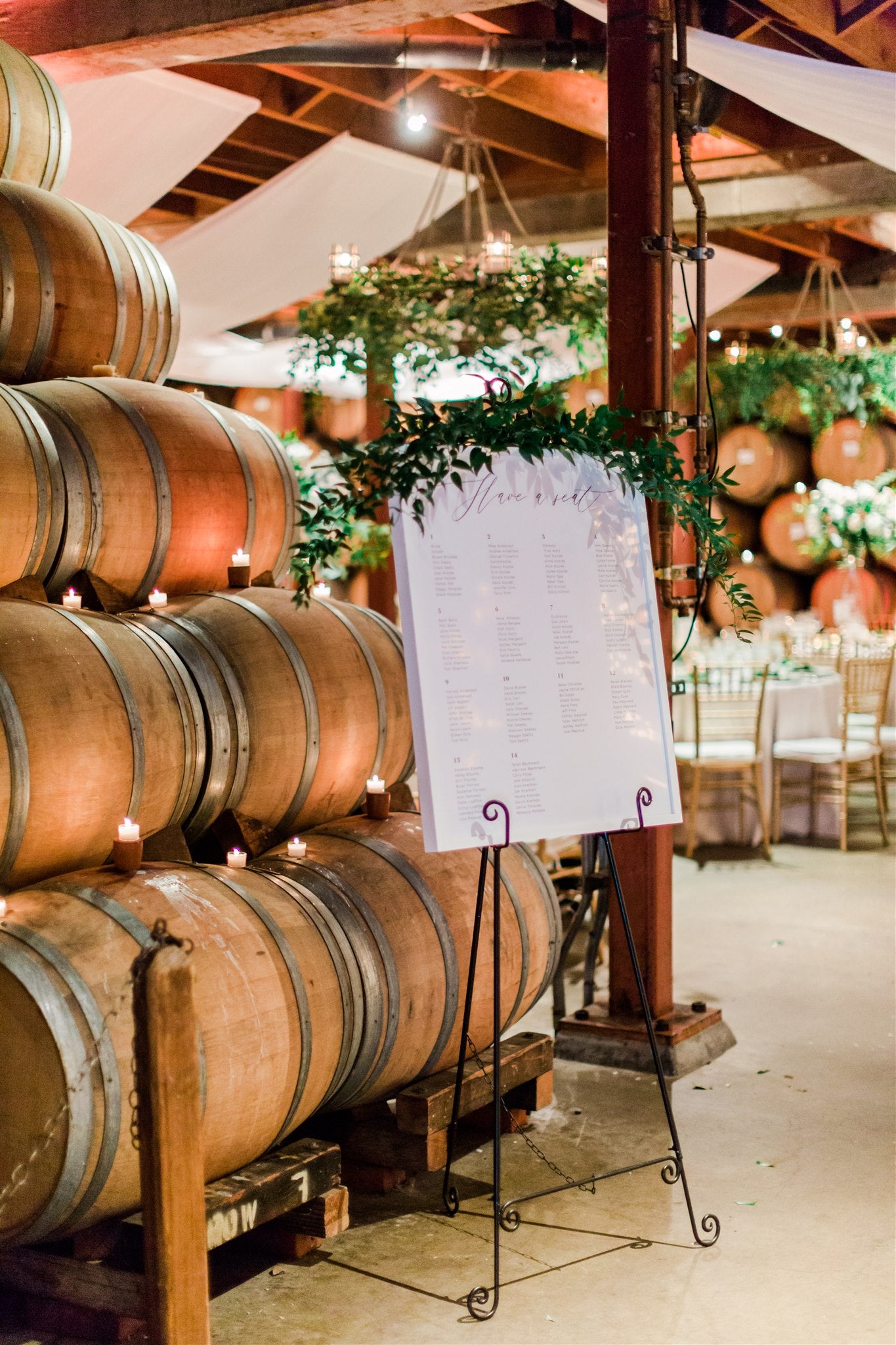 Vows: Another important aspect to consider is your vows. These words are not just any words; they are special and personal promises to the person you love, words that will be remembered for a lifetime. It's crucial to take the time to think about what you want to say and how you want to say it, whether it be traditional, modern, or something that truly represents your relationship. Your vows are the heart of your ceremony and will serve as a lasting reminder of the love and commitment you have for one another.
First and foremost, ensure that everyone is on the same page by printing out a detailed timeline of the day's events and distributing it to the entire bridal party. This small but crucial step will ensure that the day runs like a well-oiled machine, allowing you to bask in the magic of the moment without a care in the world. Check and confirm any last-minute details with your venue and caterers.
Nourish your body with energising foods that will keep you fueled throughout the day. From the slow-releasing energy of avocado and eggs on toast to the fibre-rich goodness of hearty muesli, ensure you're eating foods that will keep your body and mind focused and alert. Pack for your honeymoon and treat yourself to some wellbeing timeout.
Take time to pamper yourself and replenish your body with plenty of water, hydrating will keep you feeling fresh and rejuvenated.
Have a timeline for getting ready. Allocate ample time for hair and makeup, and delegate the task of capturing those precious pre-wedding moments to one of your trusted bridesmaids.
Finally, as you prepare to say "I do," remember to savour every moment of this once-in-a-lifetime experience. Hours will never go as quickly as they do on the big day, so don't stress, take a deep breath, relax, and let the magic of the day wash over you.
Caroline's Little White Book
Planners 
Daniel Morris – Gibbons – Bespoke Events 
Jane Riddell – Planned for Perfection  
Photographers
Venues 
Cliveden House 
Hedsor House 
The Dorchester 
The Savoy 
Claridge's 
Four Seasons Hampshire 
Florist 
Musicians/Singers
Cakes 
Gift Registry
Stationary
Hair & Make Up 
Dermatologist