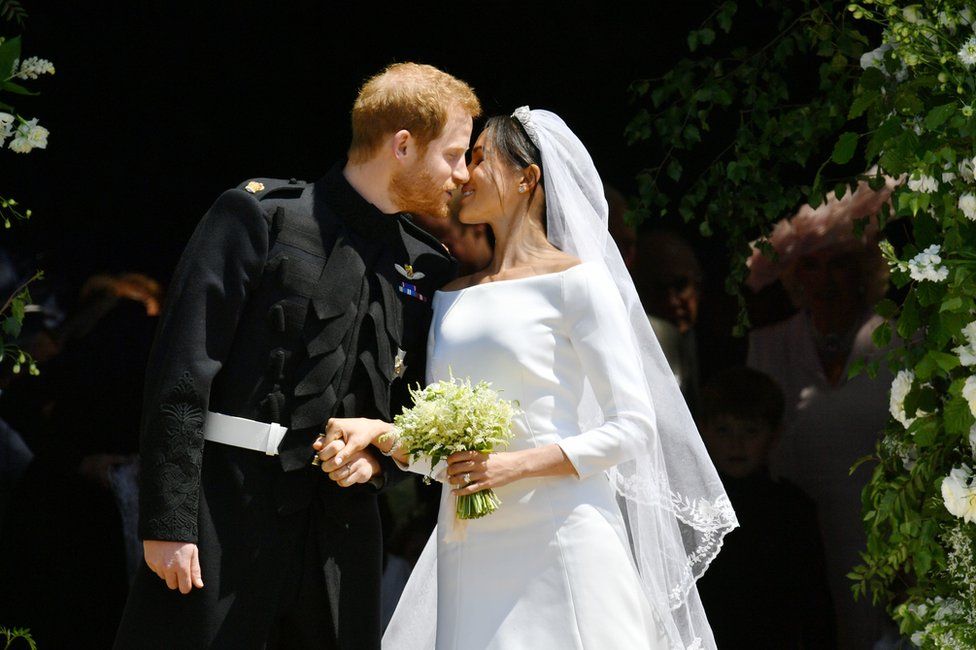 Prince Harry marries Meghan Markle!
Prince Harry and Meghan Markle have been declared husband and wife, following a ceremony at Windsor Castle at St George's Chapel.
Meghan wore a dress by British designer Clare Waight Keller, and was walked down the aisle by Prince Charles.
Following their marriage, Prince Harry and Meghan Markle will be known as the Duke and Duchess of Sussex.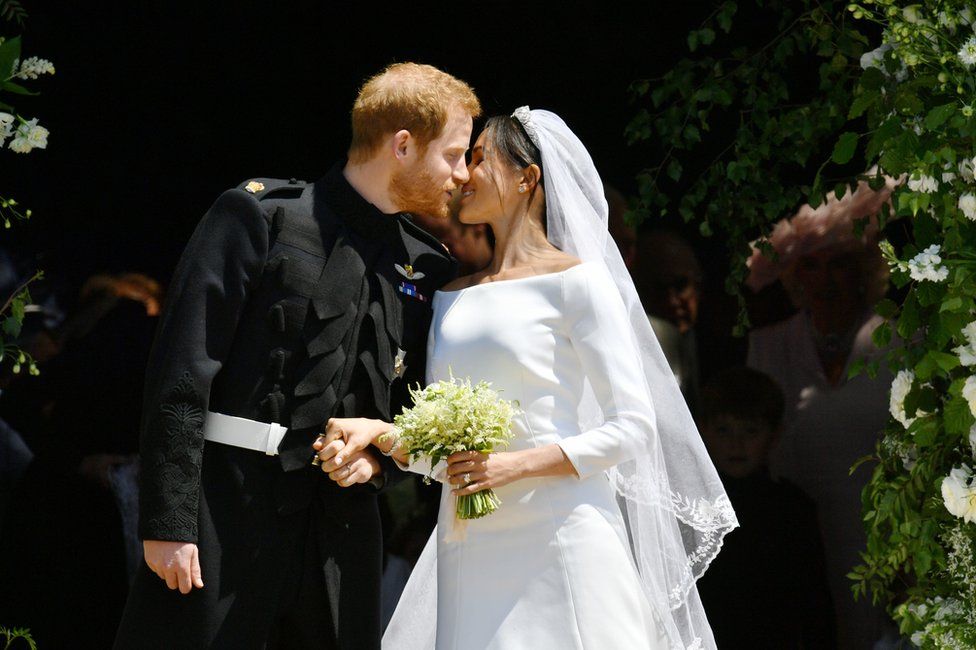 Ms. Meghan Markle's wedding dress has been designed by the acclaimed British designer, Clare Waight Keller. Ms. Waight Keller last year became the first female Artistic Director at the historic French fashion house Givenchy.
True to the heritage of the house, the pure lines of the dress are achieved using six meticulously placed seams. The focus of the dress is the graphic open bateau neckline that gracefully frames the shoulders and emphasises the slender sculpted waist. The lines of the dress extend towards the back where the train flows in soft round folds cushioned by an underskirt in triple silk organza. The slim three-quarter sleeves add a note of refined modernity.
Ms. Markle expressed the wish of having all 53 countries of the Commonwealth with her on her journey through the ceremony. Ms. Waight Keller designed a veil representing the distinctive flora of each Commonwealth country united in one spectacular floral composition.
The veil is five meters long and made from silk tulle with a trim of hand-embroidered flowers in silk threads and organza. Each flower was worked flat, in three dimensions to create a unique and delicate design. The workers spent hundreds of hours meticulously sewing and washing their hands every thirty minutes to keep the tulle and threads pristine.
In addition to the flora of the Commonwealth, Ms. Markle also selected two personal favourites: Wintersweet, which grows in the grounds of Kensington Palace in front of Nottingham Cottage, and the California Poppy the State flower from Ms. Markle's place of birth, California.
Caroline comments:
"Meghan has totally managed to surprise us all, Givenchy and British designer Clare Waight Keller stayed totally out of the press radar.
Meghan's gown is simplistic and certainly fits in with Meghan's way of dressing in a timeless and elegant manner.  The neckline is a lovely bateau that graces her neckline wonderfully. I thought Meghan would wear a more fitted gown than past Royal brides and she certainly has!  The dress in in line with Royal tradition with covered shoulders and back, but Meghan's modernisms shines through with the three-quarter sleeves.
Meghan has done a fantastic job of differentiating herself and making her mark with this gown. It's stunning and totally unique from Diana and Kate's lace look!"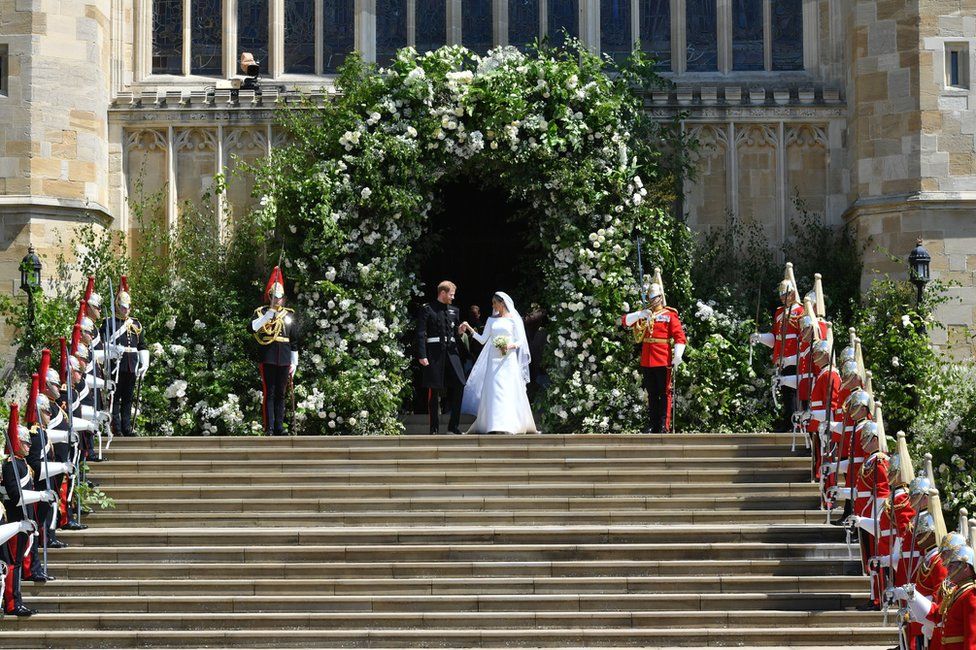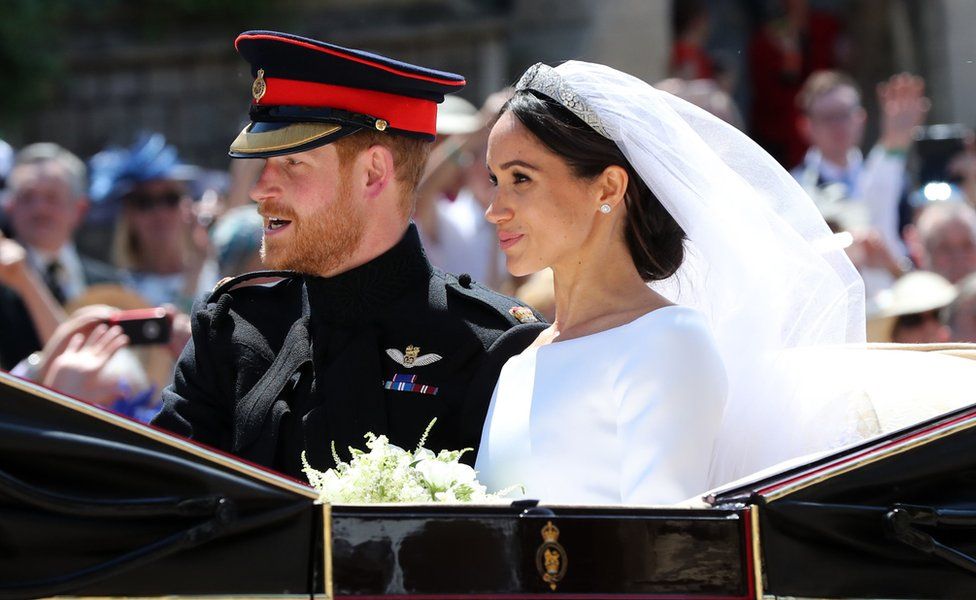 In the evening the new Duchess changed into a halterneck crepe Stella McCartney gown.
Loved Meghan's second look. This halter neck gown in beautiful fluid crepe is available at our Knightsbridge flagship store. To try it on call 0207 590 9120 or request an appointment here>