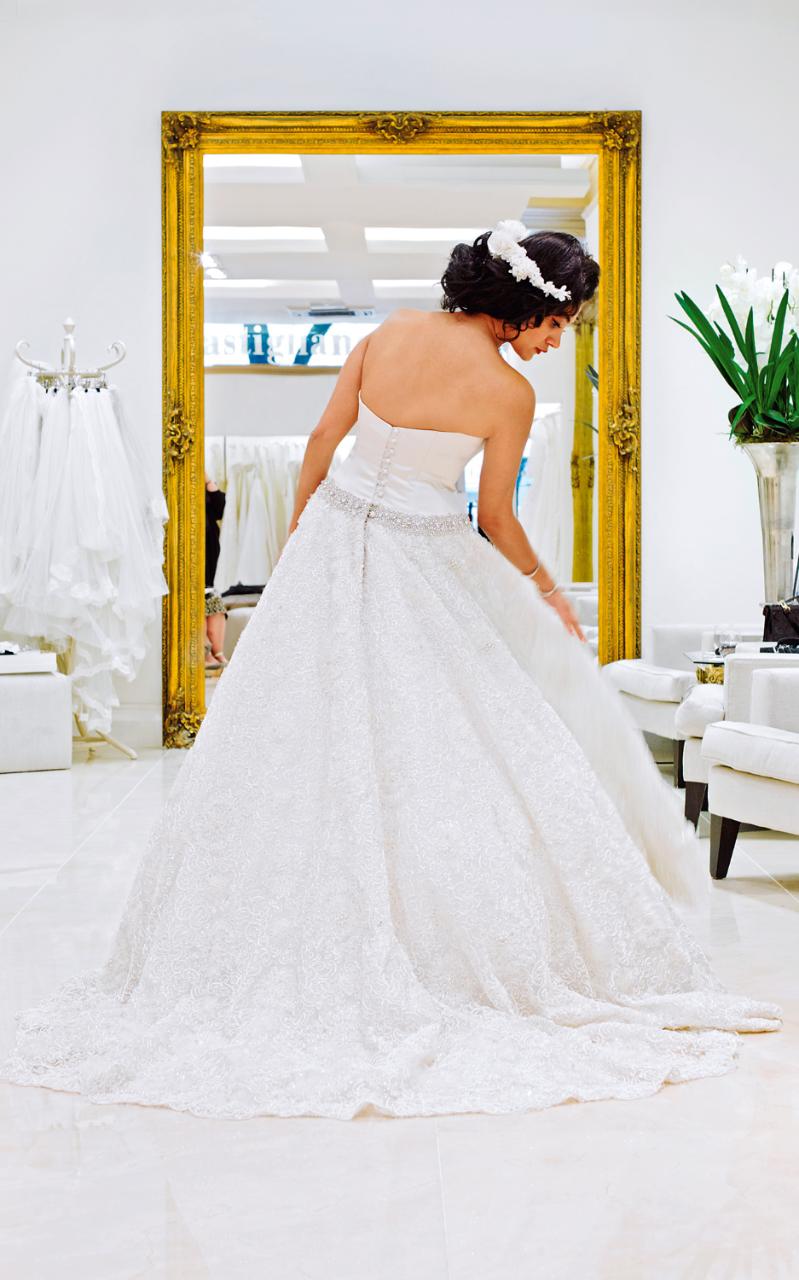 Meet the Caroline Castigliano brides paying up to £40,000 for couture wedding dresses
By Victoria Moss ACTING FASHION FEATURES EDITOR, The Telegraph, 23 AUGUST 2015
It's a Thursday afternoon in Caroline Castigliano's flagship Knightsbridge store. The bridal couture designer – whose clients have included the Duchess of Cambridge's friend Alice van Cutsem – is the subject of a new Channel 4 documentary, How the Other Half Wed, which follows her as she helps her affluent clients get ready for their seriously big days.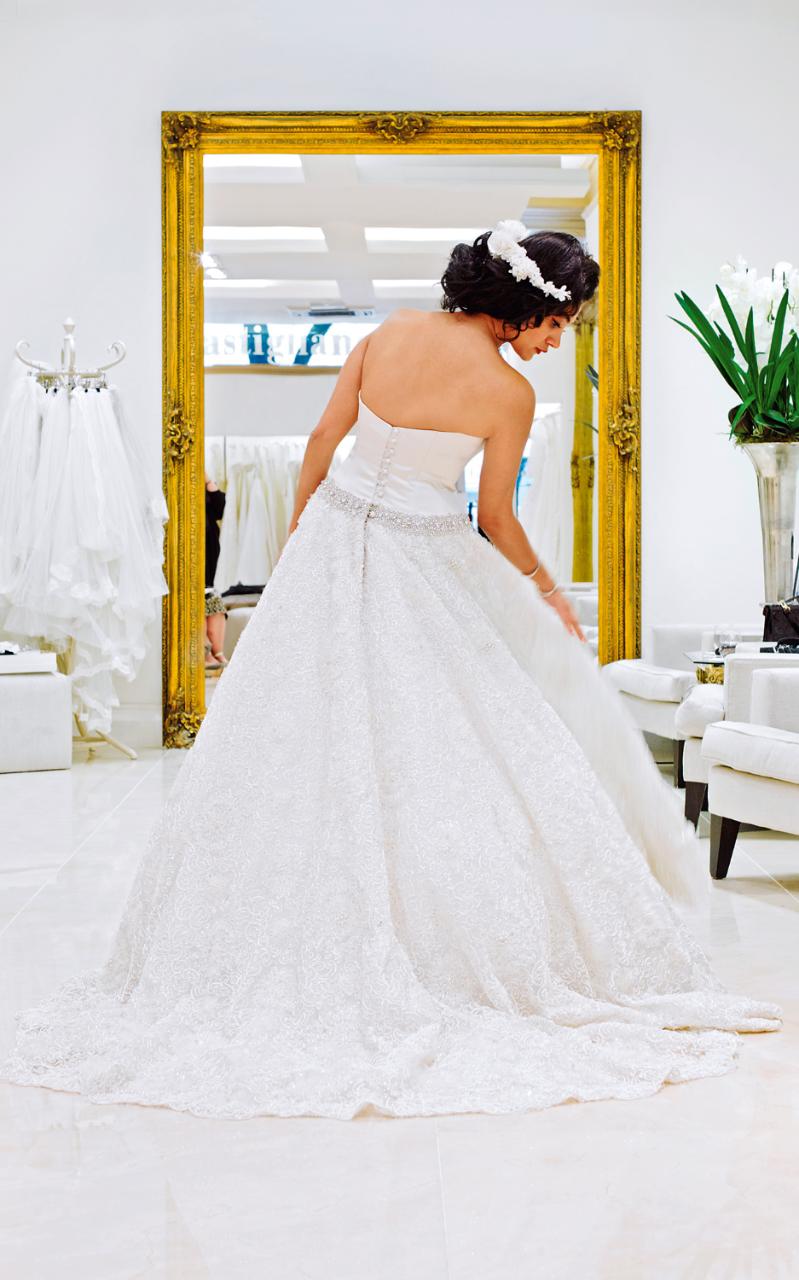 The formidable, glossy blonde, 55, today dressed in an electric-blue silk shirt and black trousers, is a veritable powerhouse of premium bridal wear, having designed it for almost 25 years. When asked to feature in the documentary, she agreed immediately. "I said, 'Absolutely, yes, come on in!'" she tells me, with something of a game-show host to her delivery, adding, "I was an actress in my youth, so I didn't find having a camera in my face a problem. At first my team were completely horrified, but it's been an excellent experience."
Caroline's clients are some of the wealthiest brides-to-be in the UK and beyond. Dresses she designs start at around £4,000, but can go up to £40,000 depending on the level of work involved. "We have a grouping of clients who are professional women who work in the City, or are maybe doctors," Caroline says. "But then we have a broad group who are tremendously wealthy – a lot of them foreign. Many of the British girls do still work, even if they're wealthy; with the foreign girls, you get a lot who don't."
Caroline describes her aesthetic as "very clean". "I always put a lot of structure into a dress," she says. "You want to look great from every angle."
For one of the brides in the show, 23-year-old caterer Jordan Roseberry, she created a custom dress from silk zibeline, one of the world's most expensive fabrics. That wedding took place at Jordan's family's hotel, Hardwick Hall in Derbyshire, and the couple had 300 guests, flew in over 6,000 hydrangeas, orchids and roses from Holland, put a full-size Victorian carousel on the front lawn and had a 12-piece brass band.
Another bride who appears is 29-year-old Londoner and corporate financier Katie Rose Davis, who wore a bespoke lace fishtail dress to her wedding at a Spanish finca near Alicante. The gown was hand-embellished with 250,000 beads and took more than 200 hours to make.
The store has a quintessentially bridal air to it: a marble-floored, cream-coloured backdrop dominated by the packed rails of dresses hanging around us. No music plays and there is a sort of heavy, hushed atmosphere to the place; compared to the high-concept luxury stores a stone's throw away on the Brompton Road (which it often outstrips on price per purchase), it feels almost quaintly old-fashioned.
One imagines it hasn't changed much since it opened in the early 1990s: there are floor-to-ceiling gilt-edged mirrors, glass occasion tables (for clients' champagne glasses, which rest on white napkins embossed with the Castigliano branding in gold) and plush cream armchairs for mothers and best friends of the brides-to-be.
Kashmir Cooper, 40, and her husband Tim, a former marketing agency owner, who also star in the show, are both here today. She holds out her arm so I can properly gawp at her giant yellow diamond engagement ring, cocooned on either side by eternity bands. "About six months before I met Tim, I did a vision board, on which I put a picture of a wedding band from Cartier," she tells me. "It wasn't so much that I wanted to get married, but I wanted to find love.
They only brought these [rings] out three months before we got married. They were presented to us in the Royal Suite [of Cartier] on Bond Street."
On the wall behind us is a 6ft portrait of a seated Kashmir in her wedding gown with extended train and full veil, painted by Caroline's friend Sherree Valentine Daines, which was unveiled at a party at the store in June (a commission by Daines costs from £10,000 to £75,000, depending on size). "We're looking for a house at the moment, and didn't want to put it in storage because that would break our hearts," says Kashmir. "So we asked Caroline if she'd like it in the store – it was win-win."
Kashmir and Tim have just celebrated their first wedding anniversary. "It was absolutely perfect," she says of their day. It was Tim who spearheaded the idea of a big wedding. "I got dragged kicking and screaming," Kashmir says, laughing. "I wanted to run off to a beach, just the two of us – either the Caribbean or the Maldives. He had to do a lot of coaching. He'd say 'What about this…?' and I would freak out but then, gently, he coerced me."
They were married at Woburn Abbey Sculpture Gallery, and their first dance was to Savage Garden's Truly Madly Deeply. "Tim had no budget restrictions – he was like, 'We will have what we have.' The only thing we argued over was table plans. I got to the point where I said, 'I'm not interested if people are talking to each other or not, we're just going to make it about us being happy.'"
We look up as a woman walks past us in a dress sample. "How do you feel?" purrs the sales assistant as her client stares at her reflection in her strapless, lace-covered, full-skirted potential wedding dress. "Close your eyes," instructs the assistant. "Let's do a walk," she adds firmly, gently angling the girl to face the mirror. "Now open your eyes." They walk together, and the bride breaks into a shy smile.
There is a veil swap – for one with more crystals edged around the bottom ("Doesn't it pick up the light beautifully?"). Someone sighs, then whispers those four magic words, "This is The One."
At the beginning of the dress-selection process, Caroline explains, "You've got to take the bride back to the emotion she felt when she decided on where she would have this amazing day, and ask her what she looks like [in her head].
'Do you look traditional? Do you look contemporary? Or boho? Are you very glamorous? Are you romantic and soft, elegant and sophisticated?' Once that word comes out of their mouth, it's very easy." The cost rises depending on how much alteration or customisation a bride wants. When it hits the £40,000 mark, a dress will have been fully customised – bespoke lace, the richest silks, piles of embellishment and embroidery.
"I've done dresses where I've got companies in to design a lace that's going to be 100 per cent unique to the bride. When you get into this level of detail, it's fabulous fun. Some people don't want anyone else to have had [their gown]. Some want to have real jewels put into their dresses. I did a dress that somebody begged us for that had monumental layers of tulle, a completely beaded Swarovski-crystal bodice and the most massive train. A lot of our Middle Eastern brides love long trains."
Weddings, Caroline says, "have changed enormously since I started 25 years ago. Back then, it was a church or synagogue, but now you can get married anywhere, so it's a castle, hotel, or on the beach. It's much more fun. It's lost that total sense of formality. We do many weddings where people have two or sometimes more dresses, as they have a three-day event."
Brides invariably come in with their mothers. "No matter what age, they want their mum," says Caroline, and if they're not in the country, they'll often have them on Skype in the fitting room. "Ninety per cent of the time it's a very positive, happy experience, but you do see different relationships between mums and their daughters that sometimes can be sad.
I've seen mothers sit there and say, 'If I got the opportunity again I'd never marry your father' or 'Are you really sure you want to do this?' or 'That makes you look fat' or 'You're not going out dressed like that, look at your bust!' Those exact words. It's not very helpful."
Harriet Mayne, a 27-year-old nurse, has come into the store with her sister on the off-chance of an appointment. Currently five months pregnant, she's getting married next summer and wants to get her dress out of the way before the baby comes.
"I knew what style of lace I wanted to go with, but I was surprised how much I liked the big gowns," she says. "It's been a very good experience. The assistants were very kind, and listened to what you wanted. We're getting married in a church in Wimbledon, where my fiancé is from, and then the reception will be on the Isle of Wight, where I'm from. I want to feel very special but not over the top."
Her dress will cost just over £4,000, once fittings are included. "We have got limits [on cost] but I thought the dress I liked would be a lot more, so that was quite surprising."
At the back of the store, 30-year-old PhD student Gissa Izadi has arrived for the final fitting of her strapless silk, full-skirted gown. It has a crystal-embellished waist, with more crystals on the skirt. She is getting married in 20 days. "It's a destination wedding in Turkey," she explains giddily. She has booked two extra seats on the plane for the dress. "Its passenger name on the ticket is Wedding Dress," she laughs.
Gissa's wedding, which she's been planning for over a year, will be a three-day event, and having grown up in Iran she has family flying in from all over the world. She spent four months looking for a dress, which she bought before deciding on a venue.
"Until I'd chosen the dress, I couldn't do anything else. When I was looking at venues, I was like, 'No, this one doesn't go with my dress.' I wanted something a little flashy with lots of crystals, which I couldn't find anywhere, then I came here and I was like, 'Wow. I love it, I don't want to take it off.'
I have very expensive taste so I kind of knew that it would end up costing a lot. I was hoping I might like something cheaper, but it didn't happen!"
The dress is packaged up into an enormous garment bag, which Gissa and her friend hold at each end as they make their way out of the store. It's emotional. There are kisses, hugs and clapping as Caroline and her team gather around her to say the final farewell. "It's like the end of term when they leave," says one of Caroline's team, looking over wistfully.
"How the Other Half Wed" airs on Channel 4 in September