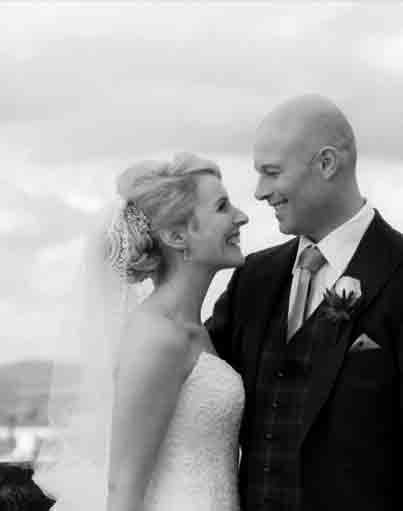 Mairi-Claire & Jasons Stunning Wedding at Dundas Castle
Castigliano bride Mairi-Claire married husband Jason at Dundas Castle on the 29th of August 2015. The castle, situated in the peaceful countryside outside of Edinburgh proved to be the venue for this stunning couple.
All photography by Blue Sky Photography.
Mairi-Claire looked beautiful in a bespoke Caroline Castigliano Fly me to the Moon designer wedding gown and the laced trimmed Grand Veil, bought the dress from the Knightsbridge flagship store. The bride picked the dress as she loved how the satin faced organza skirt moved and the way it caught the light together with the lace on the corset. She says "It was a sophisticated princess dress".
The morning of the wedding started with champagne for the bride, her mother and close friends as they prepared together;  "It was a lot more fun than I had anticipated – I loved that part of the day, we laughed all morning and had so much fun".
The intimate wedding ceremony was held in the castles keep, which Mairi-Claire says was her favourite part of the day.
A tip from the bride would recommend going away for a few days before the wedding. She enjoyed a few days at a spa with her mother before the big day which meant she was completely relaxed by the time the wedding came around.
Another tip for brides-to-be would be to buy a new perfume for the day of wedding. She comments "Every time I wear it, I am flooded with lovely memories from the day".
Wedding photography by Blue Sky Photography.