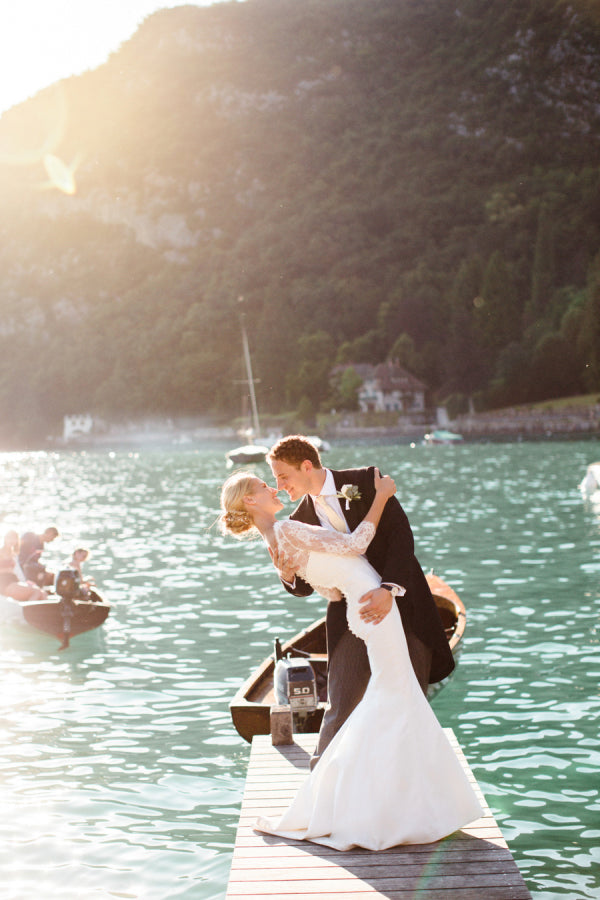 Kat & Sam's Romantic French Destination Wedding
Castigliano bride Katherine married husband Sam by Lake Annecy in Talloires, France.
The couple first met five years ago through mutual friends at a beach in Bali but romance didn't blossom until shortly after when they discovered their mutual love of sport and triathlon during the Summer Olympics in London.
How did Sam propose?
We stayed the night on a blow-up mattress with pizza take away and champagne at the flat we purchased 3 years ago before tenants moved in. We were toasting the future on the balcony and the next thing I knew he was on one knee.
The bride looked stunning in the January gown in crepe with the Karenina lace shrug.
What did you like the most about your dress and what was the reason for choosing it?
As soon as I tried it on I knew, it just felt right. The beautiful tail, the figuring hugging torso and the detailed laced top for the church, it was just perfect! When I brought my mum to the shop and she cried when she saw me in it we both knew it was the one!
How did you feel when you were wearing your bridal gown?
Words can't really describe the feeling. I felt truly special and blessed! This was highlighted by the fact that my dad burst into tears when he first saw me and he rarely shows his emotions!
What was the best moment of the day?
Too many to count!  Leaving the church in an Italian Riva in the gorgeous sunshine with our guests waving us off, dancing the night away with close friends and family and releasing the lanterns into the moonlit sky over Lake Annecy!
Any tips for brides-to-be?
Be careful of your veil – my father tripped over mine and nearly took my head with it! Keep smiling and don't get caught up in the details.
A big thank you to…
The wedding could not have happened without my wonderful mother. There every step of the way for me; from translating emails to French Mayors, making contingency plans when the church was changed at the last minute and creating the most memorable day of my life (she also wore a Caroline Castigliano dress and looked stunning!)
All photography by: Britt Rene Photography