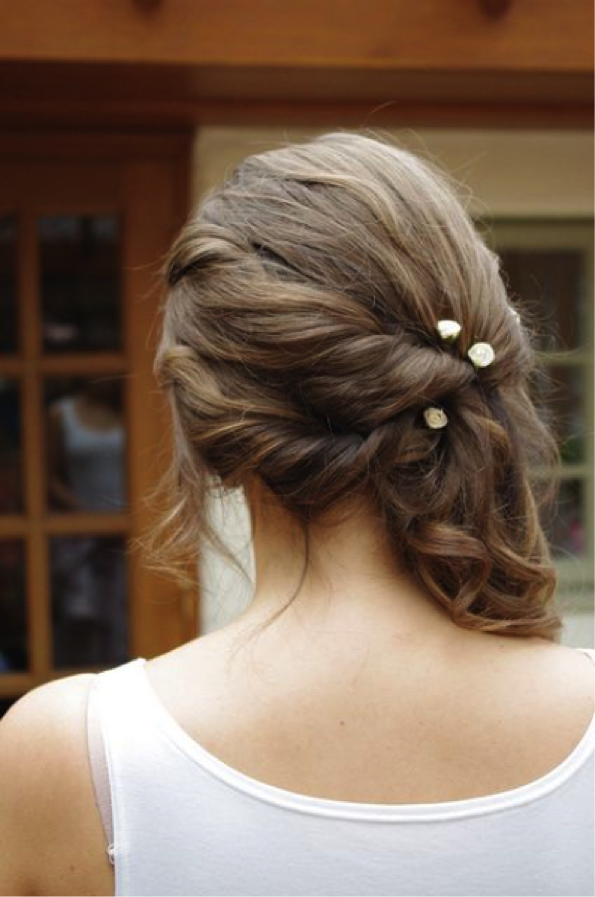 Hairway to Heaven
Sometimes a hairstyle can make or break an outfit, especially on your wedding day. Not only does it have to match your dress, but your personality as well. Traditional, quirky, or glamorous, your hairstyle MUST be perfect on the big day. Here are some ideas to get you started on finding the most suitable look. 
Strapless Dress Hair
If your wedding dress is strapless, wearing your hair down is always a good call. Wearing it up and showcasing your whole chest will add unflattering width to your shoulders, which one would hope you wouldn't want! Here's one idea that will perfectly compliment any strapless wedding dress.
Side Swept Beauty Hair Style
Step one:     Curl hair
Step two:    Sweep hair over the shoulder that is opposite your hair part
Step three: Twist and insert bobby pins
Step four:  Lightly hairspray
High Neck Dress Hair
If your wedding dress has a high neck, you'll want to keep your hair back and off your shoulders. Doing this will ensure an elegant, mature look. These hairstyles are also great if your dress is backless. You bought a backless dress for a reason, so show it off! Here's one possible option that looks like it took ages to complete, but is actually really simple.
Unbelievable Up-Do
Step one:     Curl hair
Step two:     Section off front section of hair and clip.
Step three:  Take the top half of your hair, make a poof, and clip.
Step four:    Gather all hair into a casual, slightly messy bun and tie with a hair tie.
Step five:     Unclip the front section of hair from earlier and french braid it back to the bun, wrap it, and secure in place with decorative pin.
Step six:      Pull out random bits of hair at the front and style as you like. 
V-neck Dress Hair
It's easy to rock almost any hairstyle with a v-neck gown, but one timeless style is half up, half down. It keeps your hair out of your face and keeps you beautiful all in one. You'd be amazed at how powerful such a simple hairstyle can be. Here's one idea to inspire you.
Belle of the Ball
Step one:      Lightly curl hair
Step two:      Section off one piece of hair at the front on each side.
Step three:   Braid both sections.
Step four:    Wrap both sections around to the back, wrapping underneath each other so that the ends are hidden.
Step five:     Secure with pins.