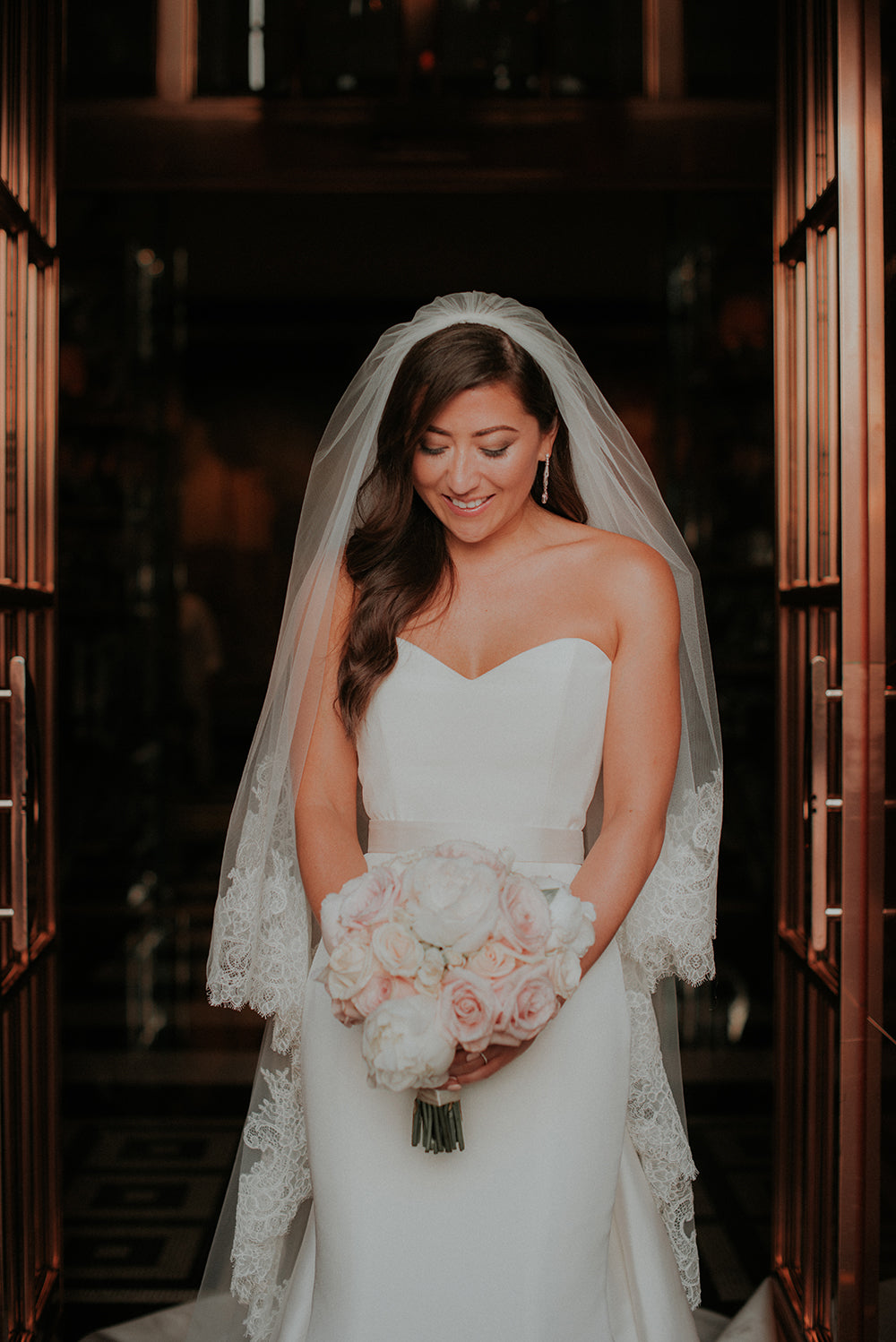 Frances & Laurie's Chic & Glamorous City Wedding
We are delighted to share Frances and Laurie's gorgeous, glamorous and chic wedding at The Rosewood London with you today.
Castigliano bride Frances met husband Laurie thirteen years ago at Bristol University and have been together ever since. Laurie proposed during a mini break in Mallorca. Frances had reluctantly agreed to go for a walk up the hills to end the day and as they reached a beautiful spot under a tree Laurie stopped to get some 'water' in his bag.
I was taking in the sights when I turned around and realised that Laurie was on his knee with a ring in one hand and a note in the other. The note read 'Will you marry me?' with and tick box for 'yes' and a tick box for 'no'. The note has particular meaning as Laurie had written me the same note back in university, which I have kept to this day. Back then the note was a sweet declaration of his commitment at 19, only now he was holding a ring a REALLY asking. I started to cry and then managed to get out a yes before he popped the ring on my finger. It will go down as the best holiday ever! 
Frances looked stunning in a Caroline Castigliano January gown in crepe with the detachable Joy train.
What did you enjoy most about your Caroline Castigliano experience?
Firstly, trying on all of the dresses! You don't truly feel like a bride until you start trying on wedding dresses and what a treat it was to try on Caroline's. Each gown was absolutely exquisite and I felt so special being able to try them on. I started my dress search not really having a clear idea on what I wanted so it was really helpful (not to mention fun!) to try on a variety of dresses with different silhouettes to see what best suited me.
Secondly, the service. Our first appointment was with Bal who immediately made us feel welcome and at ease that we were in safe hands. She was absolutely fantastic from start to finish and did such a good job in helping me in my search. She was attentive and tactfully honest as well as great with my bridal party and family, to the extent that my mum misses her even now! Bal made the experience so special and I came out of my appointment elated and feeling like a million dollars, a feeling that I'm sure every bride should feel when picking the dress.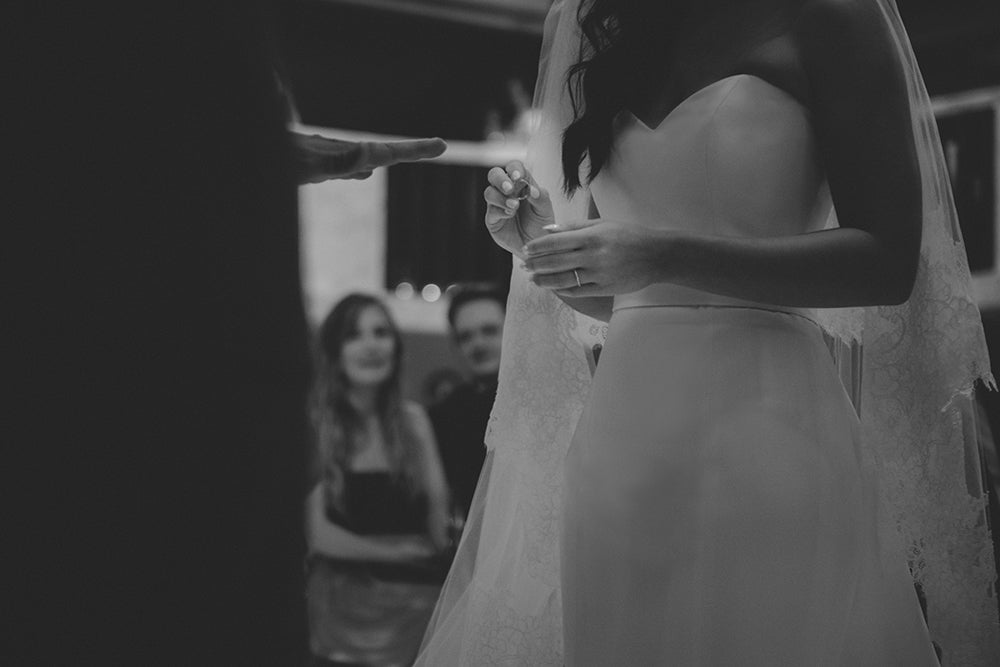 What did you like the most about your Caroline Castigliano designer wedding dress and what was the reason for choosing it?
I had tried on quite a few dresses and they were all so beautiful I was convinced that I wouldn't be able to choose, until I found the ONE. It was simple, no lace, no detail but absolutely stunning. I loved the simplicity of the dress as it was so beautifully crafted it didn't need anything else apart from the delicate buttons down the back. The dress hugged in all the right places and made me feel sexy yet elegant. I also loved the soft ivory, almost champagne colour, which complimented my complexion and seemed to make my skin glow.
 The dress was also versatile and allowed me to have two dresses in one! I had always dreamt of the big dress when walking down the aisle but knew that a more streamlined figure hugging dress suited me best. With this dress I was able to attach a beautiful train which not only synched the waist but also gave the dress the drama I wanted for the aisle. It could later be removed and replaced with a delicate crystal belt that set the dress off perfectly for the evening. 
The final touch to the dress, was the veil. The veil, with its beautiful lace detail around the edge, softened the dress by bringing an element of delicate romanticism and definitely completed the look. I have to say that only when trying on the dress with the veil did my heart jump and I had to hold back the tears. 
I absolutely loved my dress and felt the best kind of me in it. It made me feel beautiful, confident and I was ready to step into the next chapter of my life in it.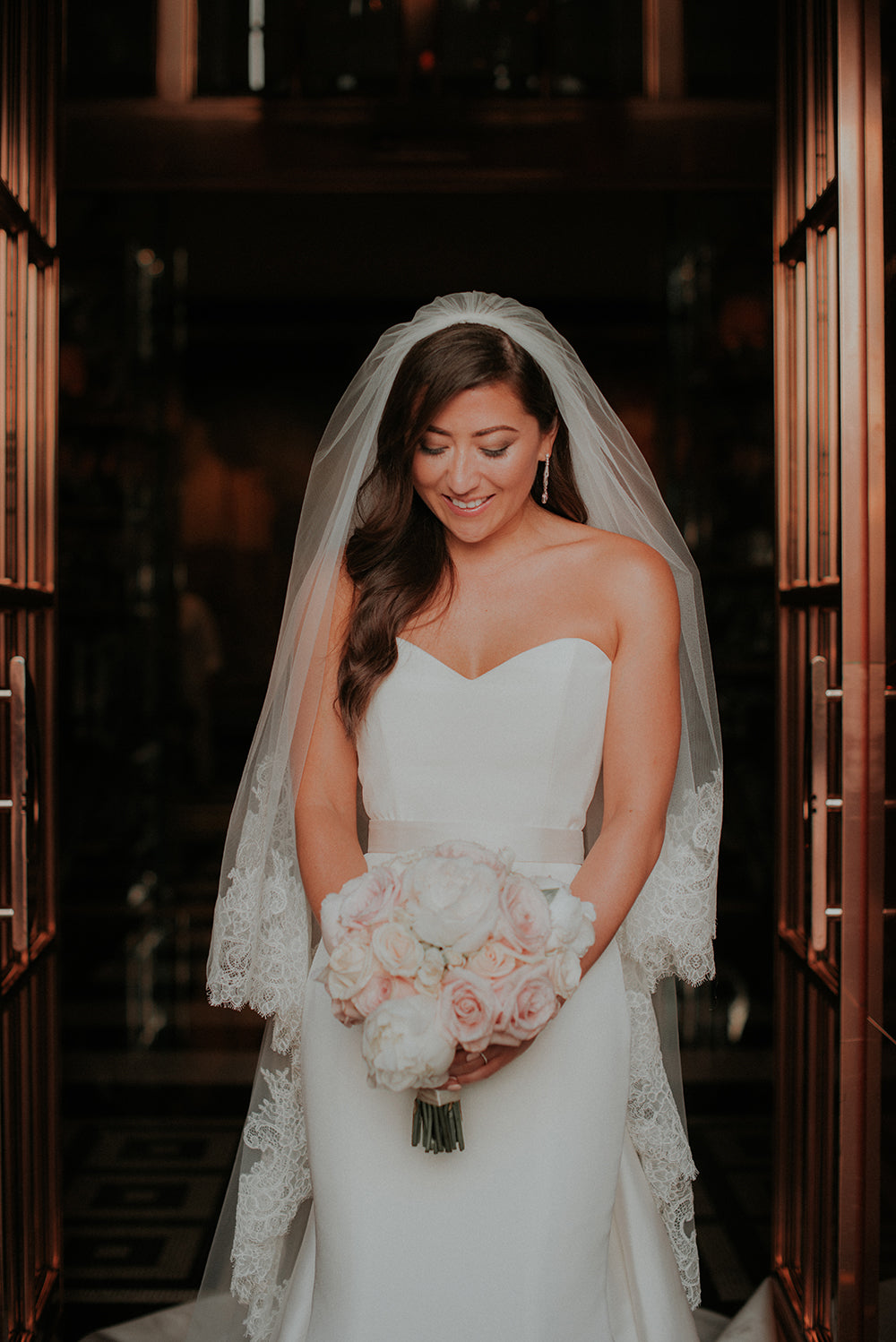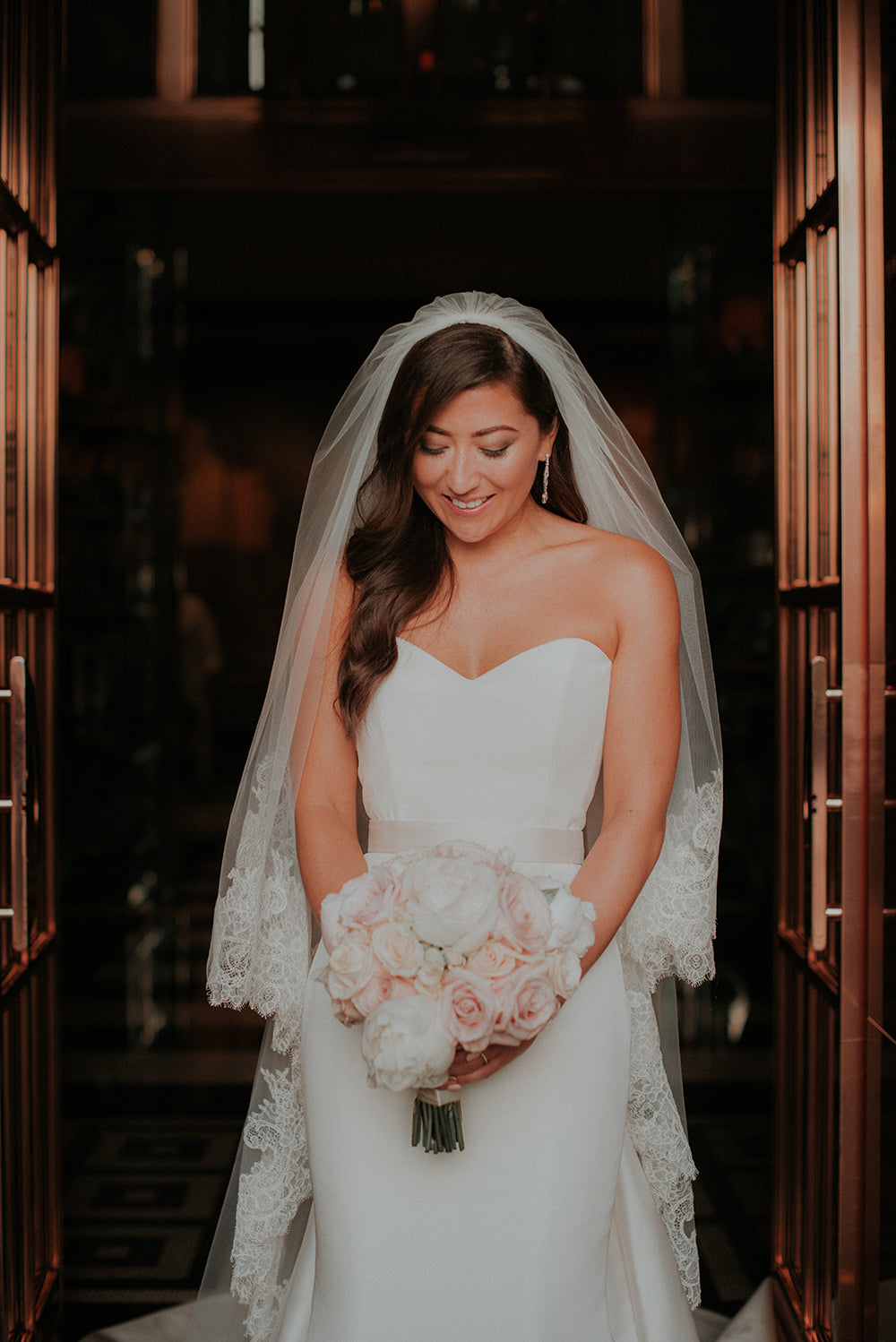 How did you pick your wedding venue?
The Rosewood London was everything we could have dreamt of for a venue. The hotel is in the heart of London and oozes cool and city chic. We had seen quite a few London hotels and found that they were, whilst impressive and beautiful in their own right, very traditional and perhaps a little dated. What made the Rosewood stick out to us was its undeniable quality and stylish decor. Everything was impeccable from the beautiful lobby and rose gold entrance to the flower arrangements. It was effortlessly cool and exactly the vibe that we wanted for our city wedding. 
The food and drink were also delicious, which was a big factor as we wanted our guests to have the best cocktails in London and experience a three course meal of the highest quality.  Furthermore, the Rosewood was more than happy to make a bespoke Canape menu for us as our hearts were set on incorporating my Asian heritage and have Dim Sum during the drinks reception. These were presented in gorgeous mini bamboo steamers and Asian style spoons. We sampled all of the food in the lead up to the wedding in an amazing tasting which involved our own private dining room, sommelier, chef and personalised notepads to make notes on all of the dishes and give our feedback. It was such a great experience and fun for the whole wedding party to take part in. 
Best moment of the day?
Saying I DO!  I was so nervous as I made my way down to the ceremony room but all nerves evaporated when I saw Laurie and a sea of friendly faces. Saying our vows (and even me messing up my lines!) will remain as the best moment of the day. 
Another moment that I will cherish was my Mum's speech. My dad isn't with us anymore and it was a really special to have my mum fill in and make a wonderful speech that had everyone in tears.  
Any tips for brides-to-be?
Organisation is key. Keep a spreadsheet, which will help you keep on top of everything from quotes to costs. There are loads of great spreadsheet templates online that you can download, it really helped me and I promise it didn't take the fun out of it! 
Prioritise. Wedmin can be so overwhelming and it's difficult to know where to start. I split the wedding tasks into digestible chunks and prioritised with the big tasks first like venue, florist, band. Once those are done and booked, you can move on to the next. It kept me calm and focused and I didn't feel stressed throughout the whole time.
Do your research. This can get tedious but it is so important to research and make sure you get a few quotes for everything. It gives you an idea of what is the right price and good indication of best value for money. You will be surprised at how different all of my florists quotes were for essentially the same thing. You can also pick out the best ideas of all of the different quotes even if you're not going with that supplier. Once you get through this exercise you will feel confident that you have made the right choice and the money is well spent! 
Look at Venue supplier lists. If you search in Google 'wedding supplier', 'wedding venue', wedding anything…. you will start to see the same things come up and it can be restrictive and not quite what you are looking for. I found that by looking at venue supplier lists and then following the supplier's other venues and vendors, there was so much more out there they just didn't have strong 'wedding' SEO which is why it wouldn't come up on Google. That's actually how I found out about Rosewood London. 
Set payment reminders in your diary. You will be dealing with so many suppliers and there will be so many deposits / staged payments that it can be hard to keep on top of it. By setting reminders you can forget about it and just pay when the reminder comes up on your phone (set it up for the week before if you time to arrange funds). There will be a lot to do so the last thing you need is to be chased for payment and stressed about your suppliers. Don't forget to always update the spreadsheet on each payment to keep track. 
Allocate an emergency budget. There will be things that you didn't realise you wanted and suddenly 'have to have!'. Beware of the inner diva that you didn't think existed and try not to get too carried away. Remember what the day is really about. And if you don't spend it, it's a bonus! 
Most importantly, enjoy every moment and don't sweat the small stuff. Not everything will run on time and more people than you could ever anticipate will want a photo but just enjoy it and don't get stressed. The day flies by so quickly, you should just savour every minute and have the time of your life!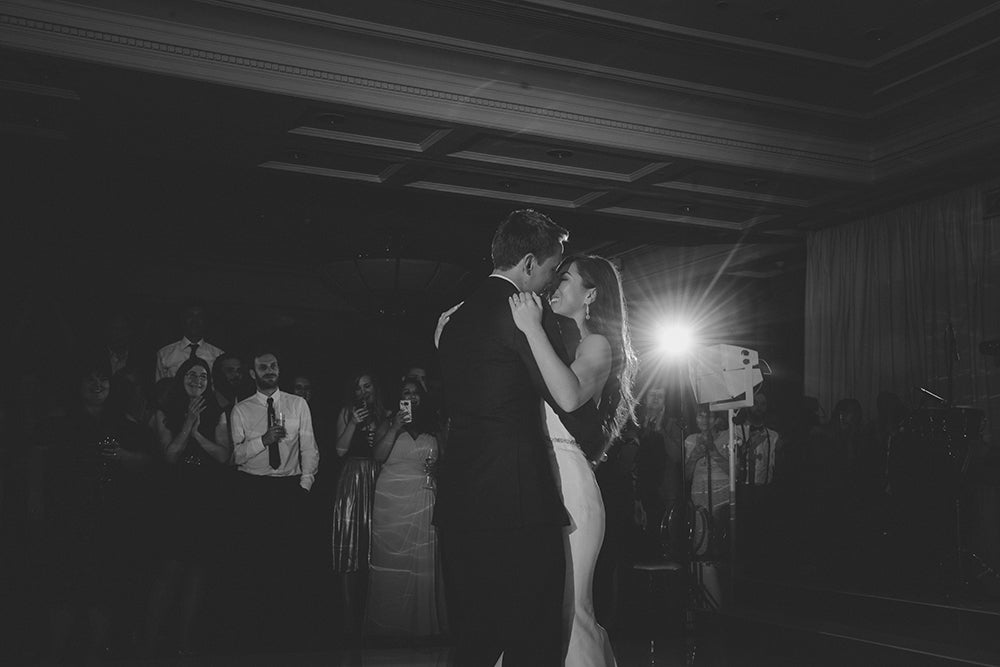 A big thank you to:
Tove of Mary Jane Vaughan
Dean of VNV Live
Beat our fantastic band
Lizzie of Slater Picture Co.
Amanda our wedding coordinator at The Rosewood
Gown selected in the Caroline Castigliano Knightsbridge flagship store.