Formula 1's Claire Williams marries Marc Harris
Claire Williams, the deputy team principal of Williams Formula One team, married husband Marc Harris in a beautiful ceremony at Claridge's London.
The bride looked stunning in a bespoke Caroline Castigliano gown featuring exquisitely hand embellished embroidery with Swarovski crystals on a light tulle paired with a silk zibeline skirt. The look was finished with a lace edge cathedral veil.
How did your husband propose?
My husband proposed on the sofa at home with a Haribo ring. I was 8 months pregnant so couldn't buy me a proper ring! It was a total surprise, yet had always said that was where I wanted him to do it.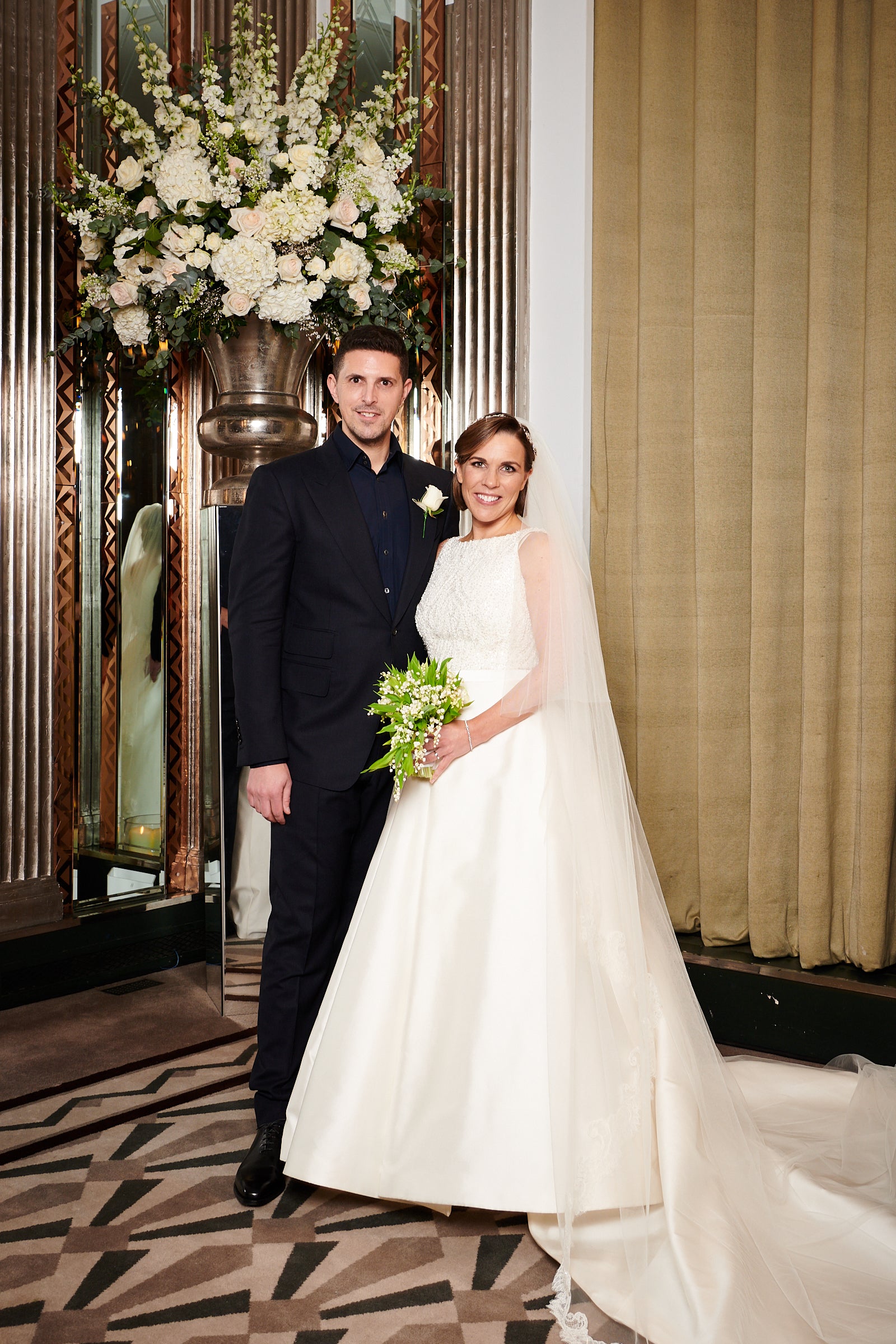 How did you feel in you Caroline Castigliano gown?
I felt amazing in my wedding dress! My dress was beyond my expectations, I didn't want to take it off and fully intend on wearing it every year on our anniversary! 
What did you enjoy the most about your Caroline Castigliano Knightsbridge Experience?
The best thing about my Castigliano experience was the people. From the moment, I walked into the store I felt instantly at ease. As a not very girlie girl I was dreading wedding dress shopping. I also only had 3 months to get a dress sorted! I was looked after so wonderfully by Bal who guided me through the process the whole way and helped me find the perfect dress for my shape and style. The fittings were easy thanks to Jan's expertise and efficiency – she quickly realised I'm not a very patient person so making me stand around for ages wasn't going to happen! For my final couple of fittings, Caroline looked after me herself which was so special and really says everything about the whole Castigliano experience – that everyone really cares about you, your dress and your big day. Even on the big day Vicki delivered my dress to me personally and made sure it was perfect. I was so well looked after I can't thank the team enough.