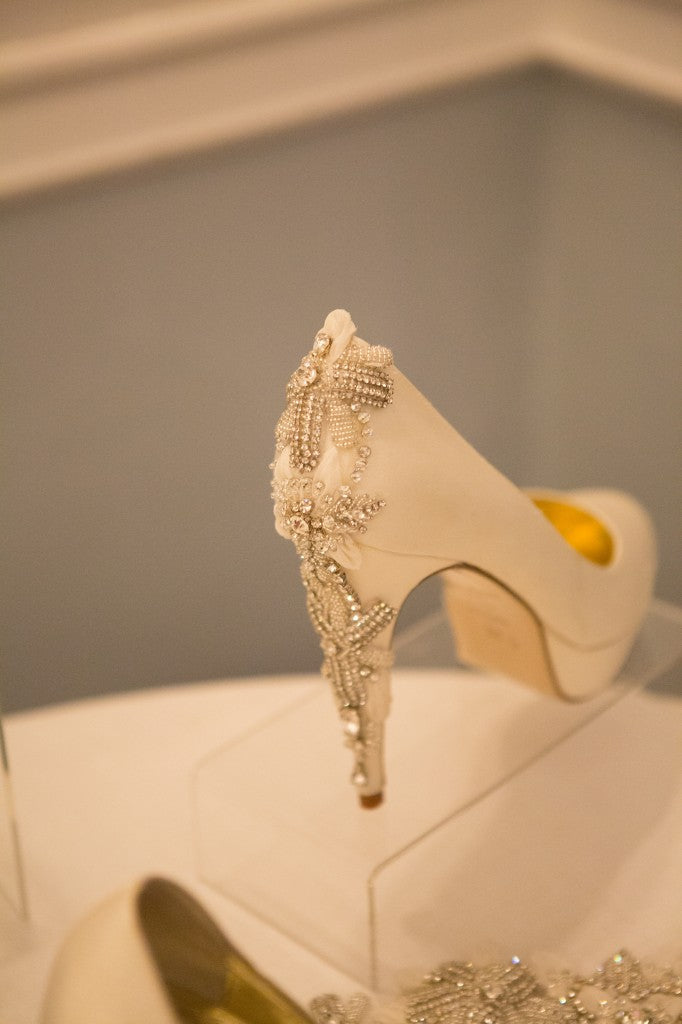 Finding the perfect shoe for your Designer Wedding Dress – Freya Rose at The Dorchester
On the 22nd February the Caroline Castigliano team spent the day with some amazing brides to be, beautiful models and of course reknowned experts  at the Dorchester in London. The event was to showcase the Caroline Castigliano 2015 Wedding Dress range, as well as our first Little Black Dress Unveiling.
Our models swept through the Dorchester room wearing the designer wedding dresses as well as our little black dresses whilst the brides-to-be enjoyed high tea, lashings of champagne and viewed the delicate collection on display from renowned shoe designer Freya Rose.
Internationally regarded for her intricate detailing and innovative approach to couture shoe design, Freya Rose is fast becoming known as one of the UK's leading shoe couturiers. Her inherent use of bejeweled and opulent embroidered designs relates to her childhood.  Born into a family of fine jewellers she was consistently surrounded by and exposed to creative artistic references and inspiration.
The Freya Rose signature is synonymous with luxurious and bejeweled glamour, inspired particularly by the fine jewelry of the Art Deco, Orientalism and French Bohemian eras. Freya Rose creates inspirational embroidery and perfected lines through the application of the highest levels of specialist technique in her London studio. Lustrous fresh water pearls, Swarovski crystal and shimmering mother of Peal heels are all key components of the brand's core offering. If you're a bride-to-be searching for the perfect shoes to go with your wedding dress then you need to view her latest Freya Rose 2015 Bridal Campaign.
Choosing wedding shoes for you designer wedding dress is never easy, but it can be great fun! There are such a wide variety of shapes, sizes, styles and colours. Even if your dress is floor length, you'll still  be able to have your shoes peek out under the hem.
At Freya Rose, their dedicated team is on hand to help you find the perfect shoes for your designer wedding dress. At Caroline Castigliano's, we also want to make sure you have everything you need to make the right decision, so speak to our experts about how your shoes can complement the style you want to evoke on your wedding day.