Choosing The Flowers For Your Special Day
Since the beginning of time flowers have played an important role in wedding ceremonies. A way to show love and well wishes to everyone. The earliest recording is from the Ancient Greeks who would make a crown for the bride from flowers as a gift from nature, the bridesmaids would make poesies for the guests as a symbol of thanks.
Your choice of flowers for your wedding day is an important consideration. Flowers hold much more meaning than simply looking pretty in photographs and colour matching the bridal gown.
Wedding day flowers should add amusement and glamour. They should astonish and complement. Flowers can be big, bold and extravagant or simple, classic statements.
Whatever your taste your flowers deserve to be luxurious, fragrant, charming and decadent. Most of all your flowers should reflect your personality and express emotion and thought.
Take Kate Middleton for example.  Her exquisite bridal arrangement consisted of:
Lily of the Valley – meaning return of happiness
Sweet William! – meaning Gallantry
Hyacinths – meaning constancy of love
Ivy – meaning fidelity, marriage, friendship and affection
Mrytle – the emblem of marriage and love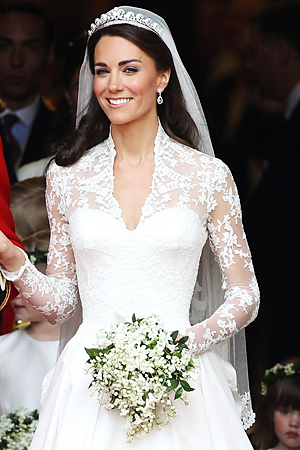 So perfect in every way for the Royal occasion. There are literally hundreds of flowers available, all with very different meanings.  You could consider, Lilies meaning virtue, Tulips for passion, Iris for warmth and affection, not to mention Roses for love.
Additionally there are some flowers that are thought should be avoided due to their historic meanings, take striped carnations meaning refusal, Lavender meaning distrust and Rhododendron meaning beware. Also in some countries there are discrepancies about Crysthanthamum, which is said to be the flower of death or grieving.
Here at Caroline Castigliano we design beautiful bespoke wedding gowns for your perfect day. Taking care of every little detail that means you have more time to explore and decide on your perfect wedding day flowers and everything else you need to make your day just as special as you always imagined it would be.