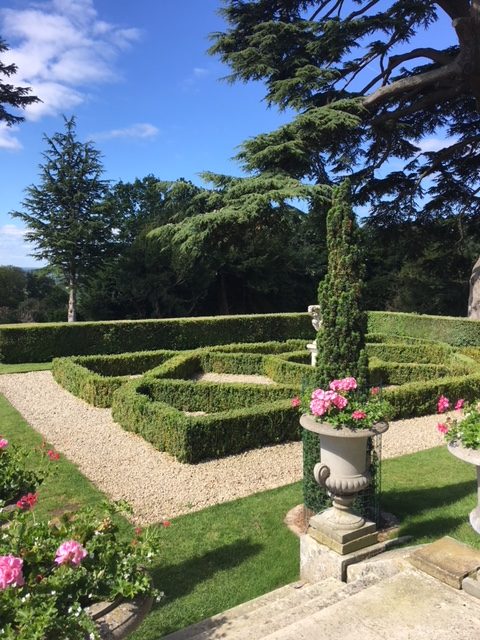 Caroline Castigliano Top UK Wedding Venues
Welcome to the home of luxury weddings.
With over 28 years' experience in the world of exclusive and luxury bridal, London-based couture wedding dress designer – Caroline Castigliano – has carefully curated a series of her insider hints and tips, to help you create the perfect wedding.
In this edition, Caroline shares her top luxury British and Irish wedding venues. So, whether you're looking for a country estate or an iconic capital landmark, this unique guide gives you the insight into some of the UK and Ireland's most outstanding wedding locations.
Hedsor House is an Italianate-style mansion in Buckinghamshire, housed by royalty in the 18th Century including Princess Augusta, Dowager Princess of Wales, mother of George III an the founder of Kew Gardens.  Perched high above the River Thames and set in over 100 acres of historic parkland, Hedsor House has proved to be simply the perfect wedding venue for civil ceremonies, blessings and receptions.  Located a stone throw from central London, Hedsor House is ideally located close to all the amenities of the city and Heathrow Airport. But as you drive down a kilometre-long, rhododendron-lined driveway, you and your guests will feel a whole world away from the bustle of the city.
No list of luxury wedding venues would be complete without this historically British landmark hotel. Set in the heart of London, this five star luxury hotel is synonymous with timeless elegance. Famed for its affiliation with the Royals and movie stars alike, its glamorous and impressive architecture provides everything you can expect from a historic venue, with the unique blend of innovation and modern design. There are multiple rooms to choose from, making it the perfect venue for either an intimate setting or a grand event. If you're interested in the extra details, this venue also has a spa package, on-site gym and even an in-residence choreographer to create an effortless and elegant routine.
"To my mind, Claridge's represents ultimate luxury in a timeless British setting. Being aptly located just a short distance away from our flagship Knightsbridge store, many of our brides have selected this elegant and historic venue. All you need to add is a timeless and elegant designer wedding dress" Caroline Castigliano, Wedding Dress Designer, London.
Another Mayfair landmark is the desirable and equally luxurious Dorchester Hotel. As one of the most desirable places in the world to stay, this classic venue has remained the pinnacle of British charm and elegance for the last century. From the grand and breathtaking ballroom, to the penthouse and pavilion, you have the ability to create your perfect and ideal setting. What makes the Dorchester exceptional, goes beyond the beautiful architecture and exquisite interior design, to encompass a unique and impeccable experience. So if you're looking for an iconic setting in one of London's chicest hotels, this is the perfect venue for you.
"The Dorchester has always been a London favourite of mine, having returned to the venue several times for unique events and photo shoots, this truly is an iconic Landmark for London's most exclusive weddings. Pair with an iconic designer gown to match this equally iconic venue" Caroline Castigliano, Wedding Dress Designer, London.
When selecting your ultimate wedding venue, the intricate details make all the difference. Set in the heart of London, The Savoy Hotel is not only a world-famous establishment, but one that can be tailored to your specifications in order to create unique and magical memories to last a lifetime. Their host of wedding services is considered to be among the highest level of service that you can expect from a wedding venue. Situated alongside the river Thames, provides a romantic setting for both intimate and opulent ceremonies and receptions.
"The Savoy Hotel is a venue that will always be a British classic. So many icons have walked through the doors of this unrivalled hotel including Marylin Monroe & Bob Dylan, which creates an extra special feeling from the moment you arrive." Caroline Castigliano, Wedding Dress Designer, London.
An extravagant estate in the middle of the British countryside, Aynhoe Park is a blend of historic opulence and modern whimsy that creates a unique environment. Personalised in their approach to each individual wedding, every detail is catered towards your unique set of preferences, whether that's a classical fairy-tale or a story of rock and roll, Aynhoe park has hosted several high-profile weddings including the daughter of Rolling Stones legend – Mick Jagger. Here you can have the option of a marquee in their beautifully immaculate grounds, or choose from a range of their interior rooms, such as the grand ballroom, filled with quirky works of art complete with unicorns, polar bears and rocking zebra. With extensive grounds, impeccable architecture and a creative and quirky touch, this unique wedding venue provides the guaranteed WOW factor.
"The true uniqueness of this venue shines throughout all elements of this incredible country home. This venue will take your breath away the moment you arrive through the gates, it's full of surprises and unexpected features." Caroline Castigliano, Wedding Dress Designer, London.
If you're looking for a venue that exudes ultimate grandeur, look no further than Blenheim Palace. As one of England's largest houses and built in 1722 as a gift from Queen Anne to the 1st Duke of Marlborough, John Churchill, the palace is said to be the birthplace and home of Sir Winston Churchill. This monumental country home is situated in the heart of the Oxfordshire countryside and has over 2000 acres of picturesque grounds and award-winning formal gardens, this incredible location will create a stunning background for wedding photos. The venue itself has six spaces available, to cater for a variety of different sizes and tastes, from the Orangery to the Great Hall, you'll be sure to find a perfect match for your dream wedding. This wedding venue truly is the height of luxury in the most idyllic of British settings.
"A truly impressive venue both outside and in. What I find special about Blenheim Palace is the unbelievably stunning grounds and scenery, that makes it the striking backdrop to any wedding photo." Caroline Castigliano, Wedding Dress Designer, London.
For a rural retreat in the countryside, Babington House is the Soho House Group's original hotel and is set amongst an idyllic scene Somerset. Complete with a lake and picturesque woodland, this beautifully honey-coloured Georgian house was built in 1705 and holds everything you'd expect from a country home. The interior décor has a luxurious shabby-chic feel, with impeccable attention to detail. With 18 acres of British countryside, an indoor and outdoor pool, cricket pitch and Cowshed Spa, this venue has plenty to extra touches to make your day even more special. As a slightly more intimate setting, the venue can host up to 120 guests, giving you the run of the house.
"Babington House is the perfect location for a classic, rural and English setting. Its quaint appearance by no means dampens the luxurious details that make up this beautiful venue." Caroline Castigliano, Wedding Dress Designer, London.
A Grade I-listed classic country house, dating back to 1239, Brocket Hall is amongst the richest in history of Caroline's selected top 10 wedding venues. What was previously the home of Mary Queen of England's sister – Elizabeth back in the 1500s, the venue has been the home to two Prime Ministers and various lords throughout British history. Brocket Hall is now an exclusive and unique venue that provides the perfect location to create memories that last a lifetime. With over 540 acres of rolling British countryside and a short 22 miles from Central London, this uniquely quintessential home in Hertfordshire provides the ideal location for your wedding. Brocket Hall hosts 3 stunning venues within the estate that can accommodate a varying wedding party from less than 30 to 150 guests. The full-service offering provides everything you need for your special day.
"This venue exudes romance and glamour, but also adds a touch of drama. A venue so full of British history, provides an incredibly unique and unrivalled feeling from the moment you arrive." Caroline Castigliano, Wedding Dress Designer, London.
Experience the real-life setting of the world-renowned TV series, Downton Abbey and turn your dreams into reality in this beautiful and dramatic venue. What was once the real-life relic that served for the award-winning TV show, now plays host to some of the UK's most prestigious and glamourous events. The venue can cater for smaller parties of 30, to receptions of up to 140 guests. Guaranteed provide your memorable entrance descending the sweeping oak staircase or set the dramatic backdrop to your memorable wedding photos, this venue allows you to live the real-life destination wedding and provides a truly memorable experience.
"Aside from its fame, this stunning location is both surprisingly peacefully and equally breathtaking. Highclere Castle is the perfect venue for a bride looking for that real life fairy-tale setting." Caroline Castigliano, Wedding Dress Designer, London.
Continuing the dramatic and fairy-tail theme, raise the bar high with this truly awe-inspiring location. This medieval and Victorian castle, located in Ireland, was founded in 1228 and became a first-class hotel in 1939. The hotel was restored in 1951 and is now complete with golf course, spa, clay shooting and horse riding. Within its expansive 350-acre estate, sits a beautifully-seeping lake and impeccably-kept grounds. This venue is better suited to the more extravagant wedding event of up to 160 guests, allowing you to enjoy the full castle experience. Guests will also be able to be enjoy a host of unforgettable activities from golf and fishing, to river cruising and spa treatments. Experience life as a princess in this stylish and dramatic wedding venue.
"Ashford Castle is the pinnacle of breathtaking style and natural elegance. It is both traditional and striking, with an air of significant grandeur." Caroline Castigliano, Wedding Dress Designer, London.
Rising out of the Emerald Isle's luscious greenery, Dromoland Castle is the ultimate picturesque storybook scene. A unique blend of history, grandeur and pure luxury, create your truly bespoke experience. Whether arriving by horse drawn carriage or dreaming of a one-of-a-kind marquee on the lawn, this extraordinary venue has the potential to create the wedding day of your dreams. With over 450-acres of magical surroundings, the Castle provides a tranquil sanctuary for both you and your guests. Escape reality and enter a world of your own.
"Medieval romance at it's best, this venue goes beyond all expectations. It is both dramatic and breathtaking and the moment you arrive. Transport yourself to a different world." Caroline Castigliano, Wedding Dress Designer, London.
A name synonymous with grace and luxury since the 18th century, Ballyfin is a 600-acre estate complete with church, lake, foundations and woodland. The regency mansion is considered to be the most admired and lavish in Ireland and the beautiful grounds come together to provide the perfect place for your special day. The interior setting gives off a spirit of refined elegance, decorated with Irish art and antiques. This vast location allows you to make your wedding day, truly unique and the venue provides a wide array of activities for both pre and post wedding gatherings. A true destination wedding in the heart of the Irish countryside, live the life of luxury in this exquisitely unique and elegant setting.
"For a wedding that pulls out all the stops and provides an unforgettable experience, Ballyfin Hotel is the perfect choice. Every inch of this Hotel is magnificent, from the sweeping lake and private gardens, to the grand and lavish interior" Caroline Castigliano, Wedding Dress Designer, London.