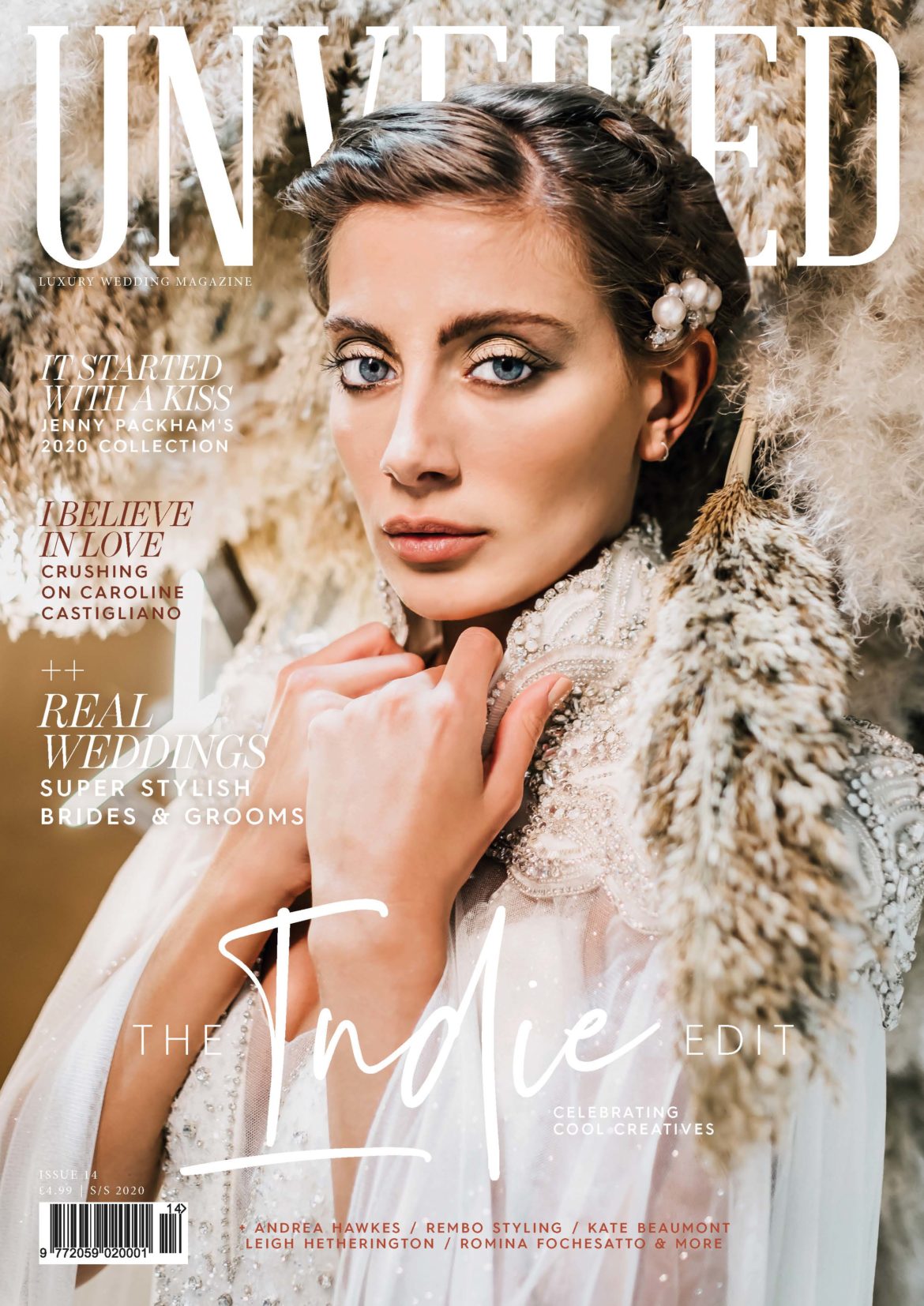 Caroline Castigliano featured in Unveiled Magazine
Caroline was interviewed for the latest issue of Unveiled magazine. Visit the Unveiled website here, or read the article in full below .
Style Statement with Caroline Castigliano
Designed to create impact from the moment a bride walks into a room, Caroline Castigliano's breath-taking collections are known for their expert corsetry, faultless fit and deep sense of style. UNVEILED'S Editor-In-Chief, Julia Braime hears from the leading designer about her how signature look and couture techniques have kept her at the forefront of British bridalwear for almost three decades, whilst showcasing the beautiful 'I Believe In Love' 2020 Collection.
When I set up Caroline Castigliano 29 years ago, my aim was to offer beautiful, understated bridal gowns in luxury fabrics, whilst delivering a high-end and personal service.
Structure, cut and fit are key elements of a Castigliano gown. When putting a collection together we focus on silhouettes that will flatter and enhance a women's body shape to make her proportions look well-balanced.
Without question the feature that continues to be loved by our brides is the corsetry that we place in our gowns. Well-constructed, the corset lifts the bust and shapes the contours of the body, defining the waist and really making a bride feel her most confident. Comfort is of the utmost importance too, and so we have developed corsets that are fully boned but extremely comfortable.
To me the cut of a gown and the movement of the fabric are such a huge part of the beauty of a dress. So, if the architecture of the design is correct and the fabrics are luxurious, then the result overall is a stunning gown that moves in truly magical way.
I search the world for unusual laces and unique fabrics to enhance my collections. In particular, I love to work with beautiful crepes and soft satin faced silk organza. I also have a leaning towards silk Mikado, it's such a wonderful, structured fabric.
Though I incorporate elements of emerging fashions into my classically cut gowns, I refuse to be led by trends. Being aware of the continual changes is of course important, but still staying true to my values as a designer and my signature look is crucial.
I am so lucky to do a job I love. Nothing can beat a bride looking in the mirror when she has found her dress and being part of the most important day in a girl's life… what an honour!