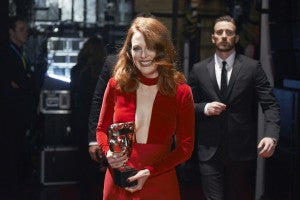 The BAFTAs 2015- A round up of the (Style) Winners!
Last night was the star studded Bafta awards….
The British Academy of Film and Television Arts is an independent charity that supports, develops and promotes the art forms of the moving image by identifying and rewarding excellence, inspiring practitioners and benefiting the public.
In addition to its Awards ceremonies, BAFTA has a year-round, international programme of learning events and initiatives that offers unique access to some of the world's most inspiring talent through workshops, masterclasses, scholarships, lectures and mentoring schemes, connecting with audiences of all ages and backgrounds across the UK, Los Angeles and New York.
So the great and the good descended on Covent Garden last night to witness and receive their unique Bafta awards…and we wanted to bring you a round up of the best dressed of the night! The evening gowns on display last night were truly beautiful, they've mirrored Caroline Castigliano's latest 2015 Evening wear collection too, don't forget to have a look at those on our main website: www.carolinecastigliano.com
The beautiful Julianne Moore looks stunning in this Tom Ford gown:
Another beautiful gown featured on the red carpet last night was Reese Witherspoon's Stella McCartney number…in a deep purple, it certainly seems that block colour gowns were the order of the day!
And again, confirming this colour block trend is Lea Seydoux in this beautiful 'yellow' Prada gown, just getting ready backstage:
Here's another (we couldn't resist sharing another of the beautiful Bond girl-to-be):
If you are looking to follow the beautiful trends on the Bafta red carpet last night, then why not come and visit Caroline Castigliano's team in our Knightsbridge Flagship store? Our stunning array of evening gowns and red carpet couture will certainly stir your fashion senses! Don't hesitate to pop in and see us in Knightsbridge for all of your evening wear needs.