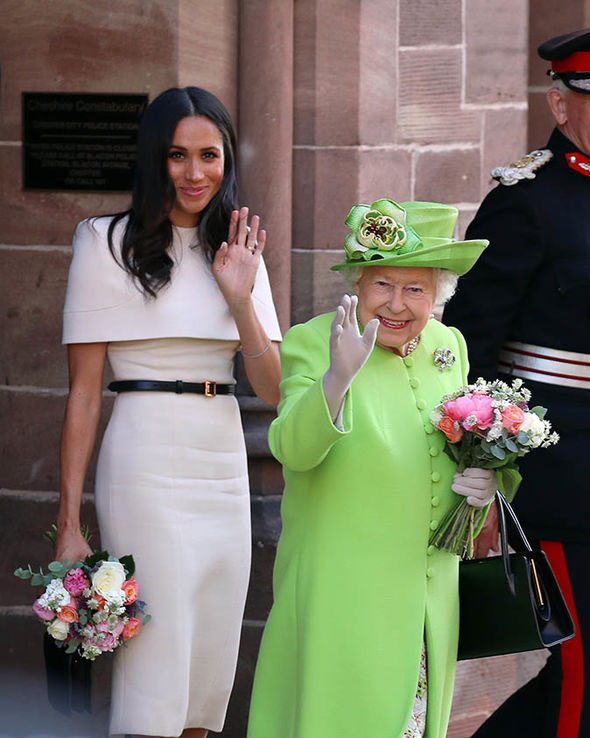 Meghan Markle latest: Has Meghan CHANGED her style to adhere to royal protocol?
July 20th, 2018 by Caroline Castigliano
Caroline spoke exclusively to Express.co.uk about Meghan's new royal style and what we can expect the new Duchess to wear in the future.
---
Meghan Markle's fashion choices have been under the spotlight ever since she said 'I do' to Prince Harry on May 19, but has her style had to evolve and change since she became a Windsor?
Before the wedding, Meghan was still emulating a casual, chic style with her choice of ensembles, from high street pieces including a Marks and Spencer bell sleeve jumper to an Alexander McQueen suit and a burgundy Strathberry bag, many of which sold out instantly online.
So does this mean she has lost her sense of style now she is a duchess and member of the Windsor family?
However since becoming a member of the royal family, her style has had to develop and she has ditched the effortless cool look in favour of a tailored and demure style, opting for French designers and nude dresses.
Caroline Castigliano, bridal couture designer, told Express.co.uk exclusively she does not believe this is the case.
She said: "I don't she has lost her sense of style, I think she is in a very difficult place, she has got to show her total respect of the royal family and the family she is part of and married into, and so it is such a new learning curve as how to actually achieve that.
"She has a sense of style that was developed, as a young, beautiful actress in a highly successful television series, going everywhere looking super glamorous, but in a style that wouldn't suit official outings as a member of the royal family."
Caroline explained Meghan will be "trying to fit in with what's expected" and protocol for the royal family means dresses falling to the knee or below the knee, natural coloured nail varnish, a small clutch bag which tones in with what ever she is wearing, neutral shoes and classic earrings – everything "very beautiful and very natural."
Kate went through a similar experience when she first became a royal and had to learn to adapt her style as the future queen of the country.
Caroline believe the two female royals could be using the same fashion assistant – Kate Archer – to source clothing, which is why Meghan's style is mirroring Kate's and she is dressing like the Duchess of Cambridge.
"I think after a year, after she has found her feet, so to speak, she will find a way to develop a Meghan style, with protocol, the two will come together. In the second year, you will start to see a slightly different slant on things," Caroline explained.
Critics of the Duchess of Sussex's style decisions have been pointing to the ill-fitting clothes she has been seen in, notably the blue and white Oscar de la Renta dress she wore to Prince Harry's cousin Celia McCorquodale's wedding.
People thought the dress drowned her with its frumpy waistline and she has been criticised for her choice of hats and fascinators and hems which hit at an odd point on her calves.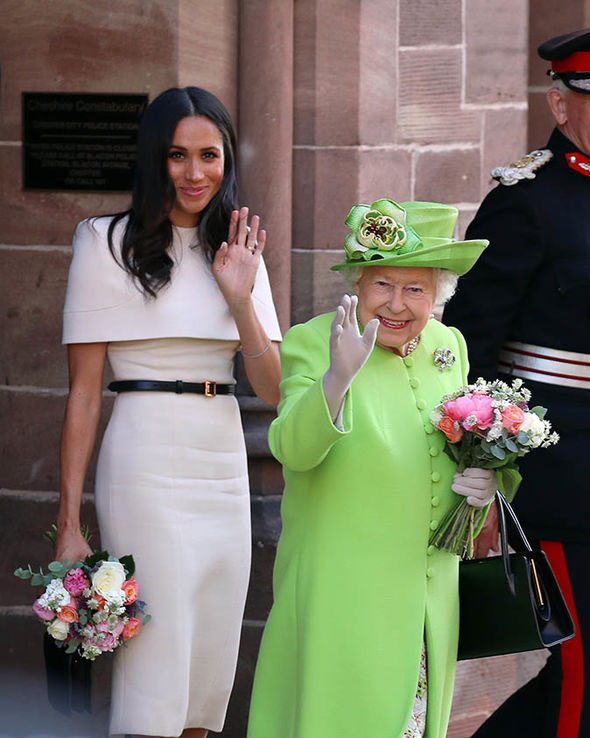 However one reason this could be the case is the fact brands do not know her size yet and she is still developing relationships with them, so it will take time for clothes to come in and be a suitable fit.
Caroline explained clothes may be coming in at a fast rate and there is not enough time for Meghan to be fitted into pieces.
She said: "I think she is going to a lot of functions, maybe things are coming in and decisions are being made, before there is time to completely fit the dress.
"She looks to me if she is losing weight or has lost quite a bit of weight, she is super slim right now, and although I am sure she is the happiest girl in the world I think there is a huge amount of stress.
"Everybody is honing in on what the royals are doing, she is getting a lot of attention and it is a different sort of attention compared to being a well known actress, maybe that is affecting her weight a bit, and things are sent in and they are too big."
The duchess is also opting for a lot of neutral shades for a lot of functions she has been attending, choosing blush shades, ivories and cream instead of the rich shades – forest green, stripes, midnight blue – she was seen in before the wedding.
This could be a mark of respect to the queen, who is often in bright colours, and Meghan is simply choosing a palette which sits well at events where the monarch is present.
Caroline said: "The queen wears bright colours that is her trademark, if you are in a neutral shade it doesn't matter what you do, you're not going to clash, you'll just blend. I think that will have a strong effect on the choices Meghan has worn."
The wedding dress designer believes Meghan's style will develop over time but right now she is playing it safe to adhere and fit in with the royal family.
"I truly believe she is doing her best to play it safe, within her new role, develop her own sense of style, not step out of line, not get too criticised, and find her way,"she said.
"Meghan is a very strong woman and I think without question she will find a way. I do think most of the time she looks absolutely fabulous, she is very beautiful, and I just think she needs to be given a bit of time and space."
See more from the Royal Wedding here>