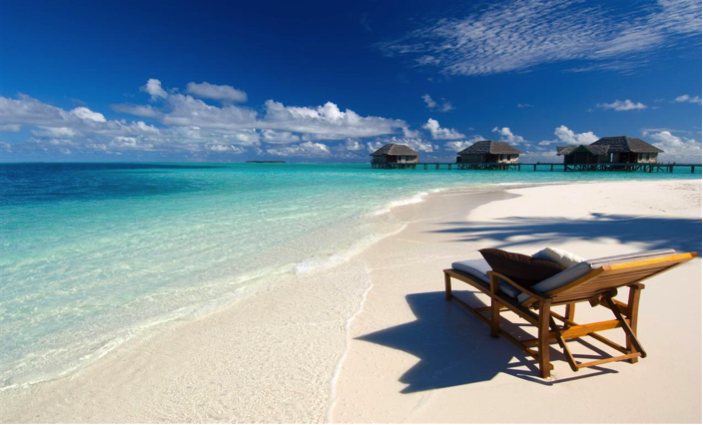 When it comes to thinking about your honeymoon, what do you envision? Somewhere tropical? Secluded? Or are you more of a city person? Do you crave adventure? The world is a big place, so it's no question that there is a "perfect paradise" out there for every couple. Here are some places that just might turn your dreams into reality.
On the Coast
Maldives
The pure, white sand between your toes, the warm, turquoise water. . . Nothing beats this tropical beach paradise. Having a minimum temperature of 26 degrees, Maldives is a perfect location for a summertime honeymoon. Its vast, private beaches make it a highly desirable romantic getaway, with no sounds of trains, cars, or planes.
Malaysia
When traveling to Malaysia, you want to make sure you're on the correct side of the island. The east side brings rainand stormy weather, while the west side brings blue skies and 30 degree weather, which doesn't make it a very difficult choice. Here, you can have the best of both worlds; one moment you could be relaxing on a private beach and the next you could be trekking through a dense forest. Malaysia is perfect for the loungers and the adventure-seekers.
Crete
Looking for scorching hot weather? In the summertime, the island of Crete has an average daily temperature of 34 degrees! But fear not, you can easily cool off by their gorgeous coastline, soaking in the sun and the views of neighboring islands. The traditional Greek architecture gives you a taste of the culture while keeping you comfortable. Although not tropical and dense with wildlife, this city by the sea is a perfect option for someone who wants a little bit city life and ocean leisure all in one.
French Polynesia
The summer weather in the French Polynesia is beautiful, ranging from 22-27 degrees. Similar to Maldives, the French Polynesian islands are the perfect place to kick up your feet and let your worries slide. The coastlines go from lush and green to sandy and isolated, giving you more than just one option. A popular time to visit these beautiful islands starts from May 1st and extends through the majority of October, which gives you plenty of months to choose from.
In the City
Malta
This beautiful city by the sea is rich with history and fantastic sights. Dating back all the way to the dawn of civilisation, Malta is perfect for those who crave knowledge of the past, while also feeling like their on and island getaway. There is such a wide variety of activities such as water sports and hiking in the countryside of the island, you'll never be bored.
Rome
Ahh, Rome. Such a classic holiday destination yet filled with endless sights. An artist's dream land, Rome is filled with colossal art history museums and beautiful architecture; sculptures from thousands of years ago line every street. Whether you're taking a relaxing stroll through the city center or rapidly moving from sight to sight, Rome will satisfy all your holiday cravings. Not to mention you simply can't beat fresh and genuine Italian cuisine!
Paris
The city of love. . . what better place for a honeymoon could there be? The heart of France is always beating, with amazing sights around every corner. Become engulfed in french culture as you step out of your luxury city hotel and immediately blend with the daily rush of life. Paris unites romance and excitement with its upbeat tempo of life and stunning landmarks, making it a highly desirable city vacation destination. The ideal time to travel here is during the summer, unless you like a little snow during the winter!
Adventure
Africa
For all of the adventure-seekers out there, look no further. Immerse yourself in African culture and wildlife and go on a safari where you'll be at nature's front door at every turn. High season in central Africa is June-September and hot, dry weather is always expected. It is impossible not to feel like you're on an adventure every second in Africa.
Bali
Bali, Indonesia: the land of a thousand temples. Love to walk or climb? Bali has literally thousands of temples that you can venture up and around. Besides being absolutely jaw-dropping, these Indonesian temples hold thousands of years of history. Reside to your secluded resort after a long day of walking in and around these glorious landmarks in the hot summer sunshine.
Peru
Scattered across its vast, mountainous landscape, Peru holds incredible ancient ruins that you have to see to believe. The historic treasures that Peru holds make it an adventure-filled place to be. Share romantic views of the unique landscape as you soak up the perfect weather of 21 degrees at the peak of summer.