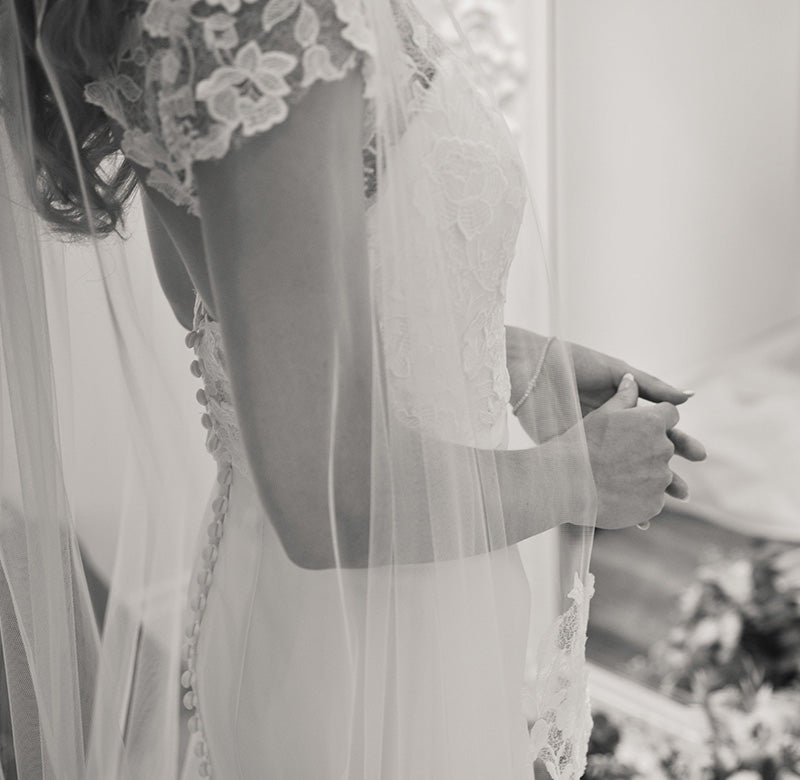 The Ultimate Wedding Checklist
Your big day, is an accumulation of all the small details. There is so much to think about so let us break it down for you with the ultimate wedding checklist.
We all have that romantic wedding vision, don't we? It's time to turn those daydreams into reality. Let your imagination run wild, and trust the process. Explore other real couples' weddings, think about what you have always wanted and ponder the things you didn't ever think about.
Inspiration Boards: Begin with platforms like Pinterest, or wedding platforms like Rock My Wedding and Hitched. Collect fabric samples, and browse our bridal collection.
Budget Setting: Understand your limits. This includes dress costs, venue bookings, and other expenditures. Research the costs that you may not have thought about like, registrar fees, corkage or wedding insurance.
Guest List: Start with an initial list. Venue choices might be influenced by guest numbers. If this part is tricky, we recommend having a will, should, could list and narrow it down from there based on budget, venue and personal preferences.
Research Vendors: Look for photographers, videographers, florists, and musicians, entertainment.
Booking the basics is like setting the stage. Once done, you'll feel a sense of accomplishment and the excitement will become very real!  Remember, the early bird not only gets the worm but the best venues and vendors too!
Venue Confirmation: Secure your date and get a contract. Be sure to check out every part of the venue and ask lots of questions to ensure there are no hidden details.
Dress Shopping: Visit Caroline Castigliano's boutiques for the perfect gown. Have a think about what want to feel like on your big day but don't be afraid to think out of the box. Brides often find they choose a dress they never imagined.
Engagement Photos: Consider a pre-wedding photoshoot. It could help you to feel more relaxed when the big day comes and a great way to celebrate your engagement.
Wedding Insurance: Protect against the unexpected. You can find the right one for you on comparison sites.
Details, darling! It's these finer elements that give your wedding its unique flavour. It's like selecting the perfect accessories for your outfit—each choice is a reflection of your style.
Invitations: Delve into designs, themes, and paper quality. Try and choose a design that sets the tone for your big day.
Menu & Cake Tasting: Visit your caterer and decide on your cake. This has to be one of the most fun parts, what's not to love about cake tasting?
Entertainment: Settle on a band, DJ, or other entertainment. Think about your schedule for the day and evening so you can plan your entertainment around that.
Registry Creation: Curate your wishlist. Your wedding guests will want to buy you a gift, help them choose something that you want and need.
It's crunch time, and the momentum is building. Every stitch, every petal, every song choice is weaving the tapestry of your big day. Feel the excitement; you're almost there!
Dress Fittings: Schedule appointments at our boutique.
Honeymoon Planning: Dream of your post-wedding escape. Where is on your bucket list?
Hair & Makeup Trials: Experiment with looks. This will ensure you feel you on the day.
The anticipation is palpable! Every RSVP is a note of love, each plan falling into place is a step closer to your dream day. Breathe, laugh, and maybe even dance a little—it's all coming together.
RSVPs: Tally all replies and confirm guest numbers.
Rehearsal Dinner: Organise a pre-wedding practice.
Final Touches: Make sure everything aligns with your vision.
The sunrise on your wedding day will be like no other. Emotions will surge, your heart will flutter, and as you step into your exquisite Caroline Castigliano gown, remember to pause and soak in every beautiful moment.
Relax & Pamper: Start with self-care.
Timelines: Adhere to schedules for hair, makeup, and arrivals.
Savor Every Moment: Cherish every second.
Your wedding journey, filled with moments of joy, choices, and anticipation, deserves the most thoughtful planning. We hope this checklist will help you on the road to "I do". Drive in, celebrate love, and remember, amidst the whirlwind of preparations, it's the love stories that shine the brightest. Cheers to crafting yours!
Each Caroline Castigliano gown is meticulously handcrafted in the United Kingdom for a flawless result.